—
1 Muhyiddin, who was sacked as Deputy Prime Minister on July 28
2 Kedah Menteri Besar Mukhriz Mahathir
3 MP Aziz Sheikh Fadzir, who heads the Kulim/Bandar Baru division
4 Former Terengganu Menteri Besar Ahmad Said
5 Former Perak Exco Hamidah Othman
6 Vice-President Shafie Apdal from Sabah
7 Sepanggar MP Jumat Idris, who heads the Sepanggar division
—
5 September 2015
Muhyiddin's team prepares defence against rumoured sacking
Muhyiddin's team prepares defence against rumoured sacking http://twib.in/l/r8j68BRbG75  | https://twibble.io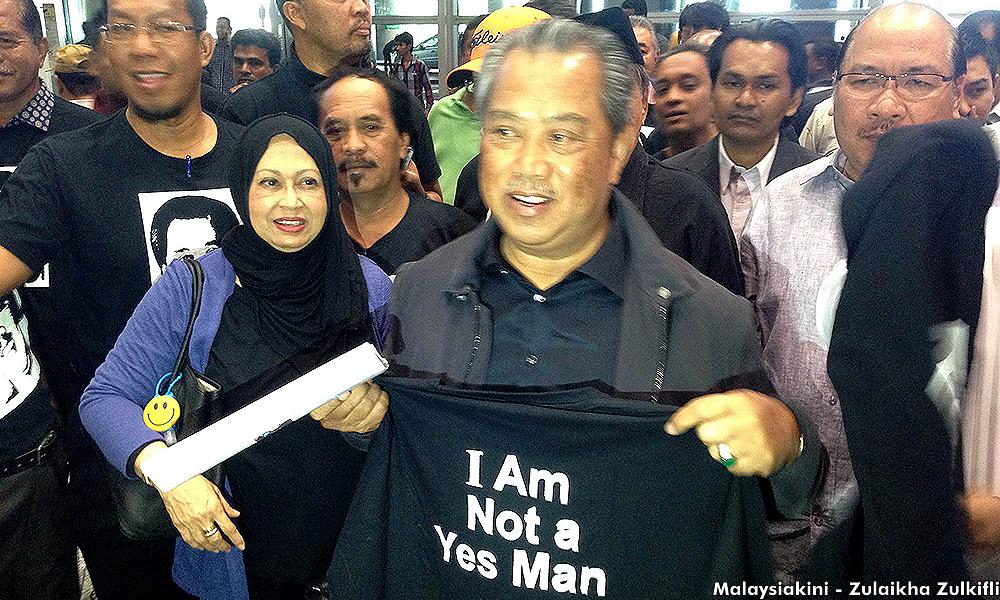 Umno deputy president Muhyiddin Yassin does not think there are valid reasons for the party to sack him when the party supreme council meets on Sept 9 over his stand against party president Najib Abdul Razak over the 1MDB scandal.
Nevertheless, the number two in the party is said to have appointed lawyers and a public relations consultant to review all the speeches he had made on the issue to see if they went against the party.
Malaysiakini understands that Muhyiddin, who just returned from Australia, held a meeting with his team recently to discuss the Umno showdown on Wednesday.
"There is no mention of any supreme council agenda on the matter (sacking of Muhyiddin). However, we are not taking any chances.
"Muhyiddin has hired a team of lawyers and PR consultants to analyse all his speeches and prepare his legal and factual defences if necessary. We are reviewing the recording all of his speeches and transcripts," said a source from with the party deputy president's team on condition of anonymity.
—
Free Malaysia Today
Umno leaders to be 'axed' goes viral in WhatsApp
Sacked DPM Muhyiddin Yassin heads the list which also includes two Sabahans and Kedah MB Mukhriz Mahathir.
KUALA LUMPUR: A WhatsApp message with the names of seven Umno leaders, reportedly to be sacked by its Supreme Council during its meeting on September 9, has gone viral in the social media and caused considerable alarm in the party and country.
"Umno should not sack Deputy President Muhyiddin Yassin and Vice-President from Sabah Shafie Apdal," warned Umno Deputy Permanent Chairman Mohamed Aziz against the party making any "unwise moves". "Umno should not be for an elitist group. The members expect the Supreme Council to make the right decision."
"Their sackings from the Cabinet have already caused considerable unease at the grassroots level and if they are removed from the party as well, it would cause even greater divisions."
The names on the list, including the two from Sabah, appear to indicate that the party was ready for a purge over the 1MDB and RM2.6 billion issues and probably the blood bath and internal blood-letting which would follow.
Five of the seven names have been listed in order as Muhyiddin, who was sacked as Deputy Prime Minister on July 28; Kedah Menteri Besar Mukhriz Mahathir; MP Aziz Sheikh Fadzir, who also heads the party's Kulim/Bandar Baru division; former Terengganu Menteri Besar Ahmad Said; and former Perak Exco Hamidah Othman. Ahmad has promised several times in the media to tell all regarding the Terengganu Investment Authority (TIA) which was eventually renamed 1Malaysia Development Berhad (1MDB). Ahmad claims that Najib wanted to mortgage Terengganu's oil resources in return for loans.
Shafie was one of the two Sabahans listed in the WhatsApp. Also listed is Sepanggar MP Jumat Idris who also heads the party's Sepanggar division. Shafie is listed number two and Jumat the seventh or last. Shafie was sacked as Rural and Regional Development Minister at the same time as Muhyiddin.
Mukhriz, the son of former Prime Minister Mahathir Mohamad, is listed as number three on the list.
According to notes attached to the list, he may be first removed as Menteri Besar before being stripped of his party membership. "I can't comment until it becomes reality," said Mukhriz in remarks reported in the media. "This list makes all sorts of claims. I have not been notified so far on anything by party headquarters."
"There are all sorts of things in WhatsApp. I read them."
http://www.freemalaysiatoday.com/category/nation/2015/09/03/umno-leaders-to-be-axed-goes-viral-in-whatsapp/
—
Free Malaysia Today
Umno veep: No truth in rumour of Muhyiddin being sacked
Hishammuddin Hussein says there are more pressing issues affecting the country currently.
BATU PAHAT: The Umno supreme council will not sack its deputy president Muhyiddin Yassin or vice-president Shafie Apdal, said the party's vice-president Hishammuddin Hussein today.
In a report in The Star Online, Hishammuddin said there were more pressing issues affecting the country economically and politically as well as from a security perspective rather than the sacking of any of its leading members.
He also said, "The Umno supreme council meeting is a closed door event and matters brought up in the meeting should not be discussed in a public forum."
He told reporters this at a press conference at Universiti Tun Hussein Onn Malaysia, when asked if there was any truth to the rumour currently circulating about Muhyiddin and Shafie facing the prospect of getting sacked from Umno.
http://www.freemalaysiatoday.com/category/nation/2015/09/03/umno-veep-no-truth-in-rumour-of-muhyiddin-being-sacked/
—
Unwise to sack @MuhyiddinYassin and @mohdshafieapdal, warns Umno leader https://www.malaysiakini.com/news/310972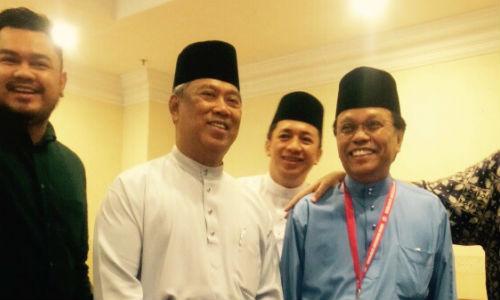 —