—
Tengku Adnan, "Let mat rempit race on K.L. streets!"
Mat rempit crash at the Kesas Highway, Tuesday 22 September 2015
Death of Insp Margaret Tagum Goen: Was it a Mat Rempit gang revenge killing?
Malaysia has MAT REMPIT and SUPERBIKERS!
—
http://www.thestar.com.my/news/nation/2016/05/07/mat-rempit-rams-cop-on-bike-patrol/?utm_source=twitterfeed&utm_medium=twitter
—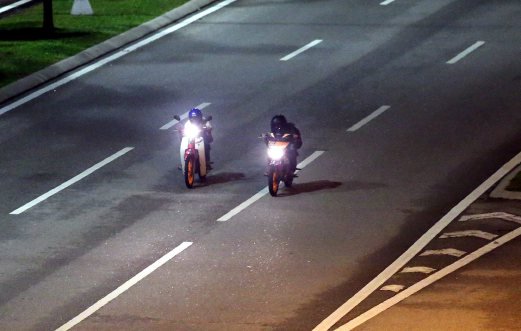 —
KEMAMAN: A 'mat rempit' illegal street racer rammed the rear of a motorcycle of a policeman on patrol here early today in a hit-and-run accident, resulting in the lance corporal injuring his hands.
.
Mohd Daud Abd Shukor, 27, is in stable condition at the Kemaman Hospital, said Kemaman Police chief Supt Mohd Said Ibrahim.
.
He said the accident occurred at about 5am at Km1 Jalan Chukai-Air Putih near the Veterinary Office. Mohd Daud had been on patrol with two other policemen, also on motorcycles, he said.
.
…
BULETIN PERAK ‏@BuletinPerak 6h6 hours ago
Anggota URB Cedera Dirempuh Mat Rempit: KEMAMAN – Seorang anggota Unit Rondaan Bermotorsikal (URB) Kem…
Anggota URB Cedera Dirempuh Mat Rempit
---
Published on Dec 31, 2015
—