—
"Are you going to reign, Prime Minister?"
Home Videos VIDEO: Malaysian Prime Minister refused to answer questions when confronted on media… VideosWorld NewsVIDEO: Malaysian Prime Minister refused…
europeanpressagency.com
|
By Y F
…
Go to the Facebook Page and look for the video…
https://www.facebook.com/Channel4News
—
In March 2016, two journalists from the Australian Broadcasting Corpo­ration were arrested after they tried to approach Najib to ask him questions.
—
8 May 2016
Star
British news team ordered to leave building
KUCHING: A team claiming to be from a news channel in Britain were sent out by security from the old State Assembly building after they tried to ask Datuk Seri Najib Tun Razak questions on allegations of corruption.
The reporter – Jonathan Miller, the Asian correspondent for Britain's Channel 4 News – and his cameraman were seen being asked by security personnel to leave the building where the Prime Minister had just arrived to join other leaders following Barisan Nasional's win in the state polls.
http://www.thestar.com.my/news/nation/2016/05/08/british-news-team-ordered-to-leave-building/?utm_source=dlvr.it&utm_medium=twitter
—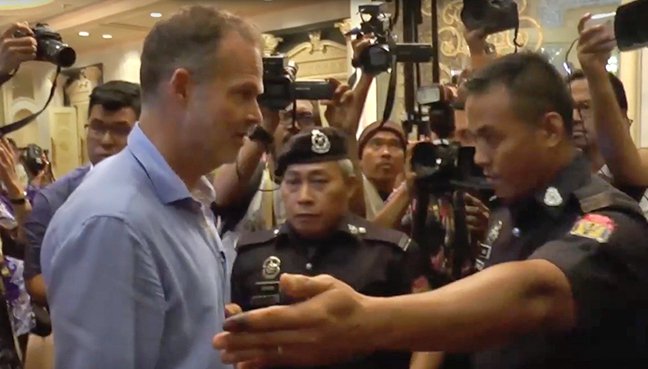 —