—
Star
MD of Malaysia's latest airline talks about its finances and investors
The Bombardier CS 100 airplane is displayed at the company's production facility in Quebec, Canada recently. Fly Mojo is buying 20 units of the plane. Janardhanan (inset) owns 90% of Fly Mojo
PETALING JAYA: Fly Mojo Sdn Bhd, Malaysia's latest addition to the growing number of companies in the airline industry, dismissed concerns over its ability to start and sustain operations and poured cold water on speculation that it was owned by influential figures.
Managing director Datuk Janardhanan Gopala Krishnan said that the company has lined up adequate cash to fund its operations and it would come from seven investors including himself.
"All the investors are Malaysians and it is a mix of four individuals and two corporates and me. They believe in the concept and idea and are excited about Fly Mojo's potential.
"The available cash is about RM50mil now. We would not have made the announcement last week if the funding was not covered… it would be foolish to do that," Janardhanan said in an interview with StarBiz.
…
Janardhanan scoffed at suggestions that he was the "front man" for several tycoons and prominent names that have been have been linked to him and Fly Mojo.
The list includes Tan Sri Ravi Menon who is the major shareholder of a company operating Subang Skypark, Johor's Tengku Makhota, billionaire T. Ananda Krishnan, and MBf shareholder Tan Sri Mogan Lourderain.
…
Ravi Menon and Lourderain are people Janardhanan had worked for in the past. He was with Subang Skypark Sdn Bhd from 2007 to 2011 and before that with MBf group. He had also worked previously in Shell Malaysia, Azmi & Co Building Services Sdn Bhd and also in London for nearly five years.
"Neither of them are involved. I am also not the front man for anyone. It is an idea but I had worked with several other people, some have come and left. We went through the mill to be here," he said.
http://www.thestar.com.my/Business/Business-News/2015/03/23/Flymojo-here-to-stay/?style=biz
—
flymojo
The airline will begin flying in the first quarter of 2016 and focus on regional routes, managing director Janardhanan Gopala Krishnan said, without disclosing details about its owners. The full-service airline will be based at Senai International Airport in Johor, near Singapore.
It intends to buy 20 Bombardier Inc CS100 aircraft for US$1.5 billion, in what could be the Canadian planemaker's first order in South-East Asia for its long-delayed CSeries passenger jet programme.
The airline, called flymojo, could also buy 20 more aircraft, which would raise the value of the deal to US$2.94 billion, according to a letter of intent announced today at the Langkawi International Maritime and Aerospace show.
http://www.malaysiakini.com/news/292255
—
New Malaysian airline flymojo to operate from Senai International Airport in Johor by October http://shar.es/1fk1RG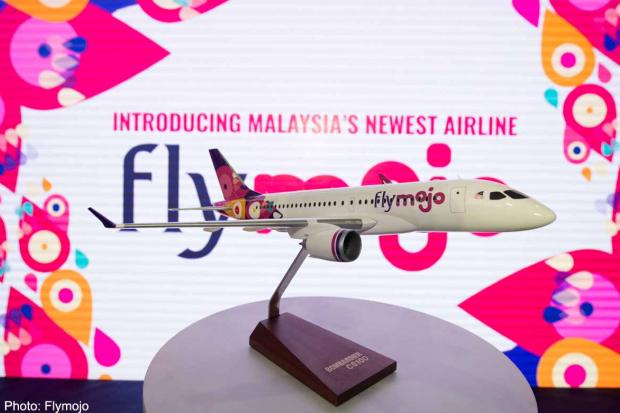 …
By Pauline Ng
The Business Times | Wed, Mar 18 2015
KUALA LUMPUR – The battle for air passengers in Malaysia is set to heat up with the entry of a new airline, flymojo.
Leveraging on the billions of ringgit invested in the economic zone of Iskandar Malaysia, it will use Senai International Airport in Johor as its primary hub, which is expected to give Singapore-based carriers a run for their money on certain regional routes.
flymojo plans to start commercial operations by October. Its managing director Janardhanan Gopala Krishnan told The Business Times he is confident that, crowded skies notwithstanding, there is a market for an airline that can bring back "the magic of flying", backed by seamless service.
Fares will be priced between that of full-service and low-cost carriers', he said on Tuesday, following the signing of a letter of intent in Langkawi with Canada's Bombardier Commercial Aircraft. The deal is for the sale and purchase of 20 CS100 planes, with an option for an additional 20.
He signed the document on behalf of Fly Mojo Sdn Bhd; Bombardier was represented by its regional vice-president of Asia-Pacific sales, Frank Baistrocchi.
Malaysia's Prime Minister Najib Razak and Transport minister Liow Tiong Lai were also at the signing, held on the sidelines of the annual Langkawi International Maritime & Aerospace (Lima) exhibition.
– See more at: http://travel.asiaone.com/article/news/new-malaysian-airline-flymojo-to-operate-from-senai-by-october#sthash.8FP9glXC.H7ljR8jx.dpuf
—
After MAS, Airasia, FireFly, Malindo & Maswing. Here we go FlyMojo!. Another Malaysia own airline.
 —
New airline flymojo inks RM5 bil deal with Bombardier http://bit.ly/1O20dM4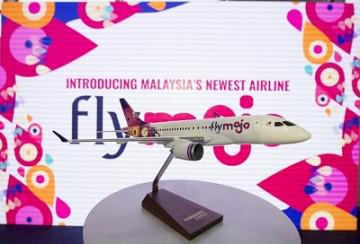 —
KiniBiz
Analysts do not believe that new airline Flymojo will be a threat to Malaysia's other carriers.
The new Malaysian owned airline was introduced to the public at the LIMA airshow yesterday and is expected to focus on intra-Asean routes and its bordering regions.
…
Commenting on the airline's chosen airports, RHB Research said "while Kota Kinabalu makes rational sense as a hub with feeder traffic from smaller Tier 2 and 3 cities, we doubt that making Senai as a hub will work in the near term due to lack of sizeable feeder traffic."
With the high-speed rail link between Singapore and Kuala Lumpur likely to happen this will pose another challenge towards making Senai a sizeable hub for carriers.
http://www.kinibiz.com/story/corporate/154650/flymojo-unlikely-to-be-a-threat-to-airasia-say-analysts.html
———————————————————————————————————–
——————————