—
We've heard of fake Ringgit notes and fake Panadol but now, there is fake Milo!
—
HOW ABOUT ASKING YOUR SINGAPOREAN RELATIVES OR FRIENDS TO BRING YOU GENUINE MILO ON THEIR NEXT TRIP TO JB?
—
Nestlé Malaysia: Purchase #Milo from reputable retailers http://bit.ly/1GXV4Tp  #FakeMilo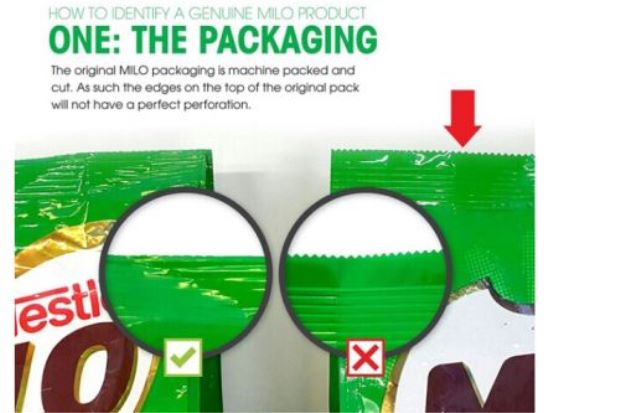 PETALING JAYA: Nestlé Malaysia has urged consumers to only purchase Milo products from reputable and major retailers in the country following the seizure of fake Milo packets during a recent raid.
In an e-mail to The Star, Nestlé said it is mobilising its sales team to identify the counterfeit product and the company will continue to cooperate fully with the authorities and render assistance wherever possible.
"Nestlé takes this issue very seriously as counterfeiting of products is an illegal activity that deliberately misleads the public.
"Nestlé does not have information on how the counterfeit Milo was produced; therefore we are unable to comment on this.
"We understand that there is an official investigation underway and we trust the authorities will issue further information once this is complete," said the statement on Tuesday.
http://www.thestar.com.my/News/Nation/2015/03/17/Milo-Nestle-Malaysia/
—
Bought a packet of Milo at Tesco Extra this morning. Yes, it's GENUINE. Look at the perforated edge…
…
Fake Milo production in Negeri Sembilan, Malaysia https://youtu.be/eEkUkbkJS-8 — Singaporeans get genuine Milo, made in Singapore…
—
Milo Malaysia educates customers how to spot fake products
Astro Awani | Updated: March 16, 2015 (First published on: March 16, 2015 10:39 MYT)
Milo Malaysia educates customers how to spot fake products – http://english.astroawani.com/malaysia-news/milo-malaysia-educates-customers-how-spot-fake-products-55725?cp …
KUALA LUMPUR: Milo Malaysia has uploaded an image to help its customers differentiate between the original and fake product.
The image uploaded on its official Facebook page was also shared on Nestle's Facebook page. "The original Milo packaging is machine packed and cut. As such the edges on the top of the original pack will not have a perfect perforation," it said.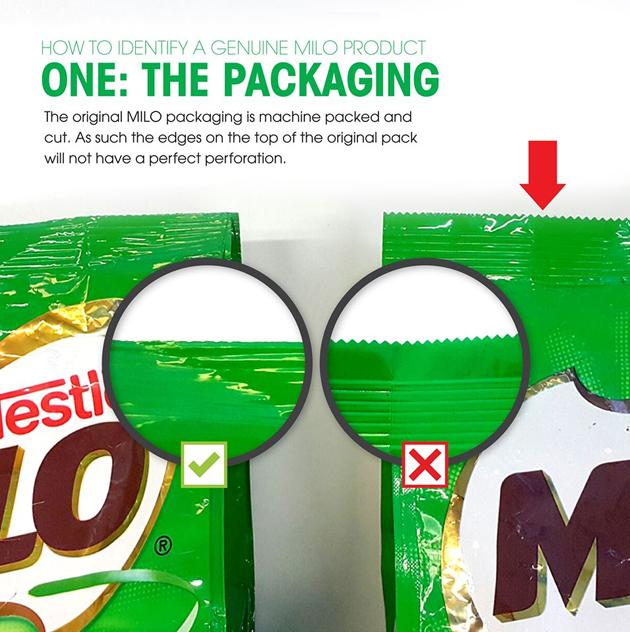 The original product (left) alongside a fake packet (right). -Photo: Facebook/Milo Malaysia
Based on a report by Sinar Harian, Domestic Trade, Cooperatives and Consumerism Ministry on Friday seized RM250,000 worth of fake Milo products at an elite residential area in Mantin, Negeri Sembilan. State chief enforcer Saifulbahri Abdul Kadir said this was done after receiving many complaints from members of the public.
—
Fake Milo found in Malaysia; Nestle teaches consumers how to spot the fake
Published on Mar 16, 2015 9:05 AM
—
Share & RT. Know the difference between Fake & Real MILO packaging. @SanjeevanSS @twt_malaysia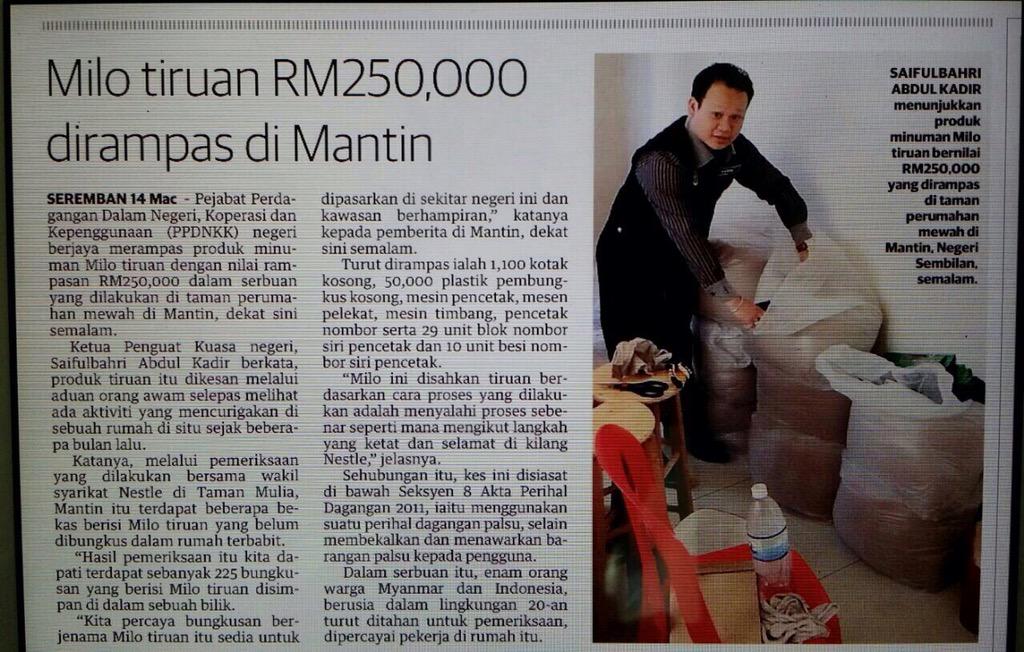 ——————————————————————————————————–