—
Naked in the Forbidden City, Beijing, China
—
IF HIS FRIENDS DID THIS TO HIM, WHAT ABOUT HIS ENEMIES?
'Friends' tie naked groom to pole and throw eggs at him as crowd watches in Shandong http://bit.ly/1eUb3qp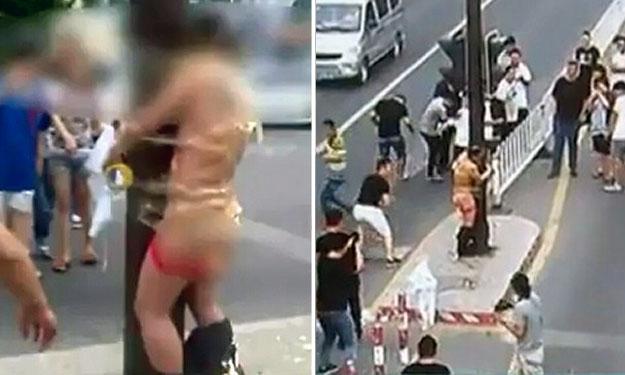 Security footage has captured a cringe-worthy scene of "marriage teasing" on a Shandong province street, where the groom's friends took his clothes off and strapped him onto a traffic pole. As if that wasn't humiliating enough, they then threw eggs and cake at him.
After around five minutes, crowds of people who'd gathered to watch slowly dispersed and the groom was untied. He was in such a hurry to leave that he left his pants behind.
http://singaporeseen.stomp.com.sg/singaporeseen/this-urban-jungle/friends-tie-naked-groom-to-pole-and-throw-eggs-at-him-as-crowd-watches-in-shandong#xtor=CS2-4
—
Tltltl police busy pulling a naked man by his tjonko while trying to commit suicide in Hefel, China. Police have time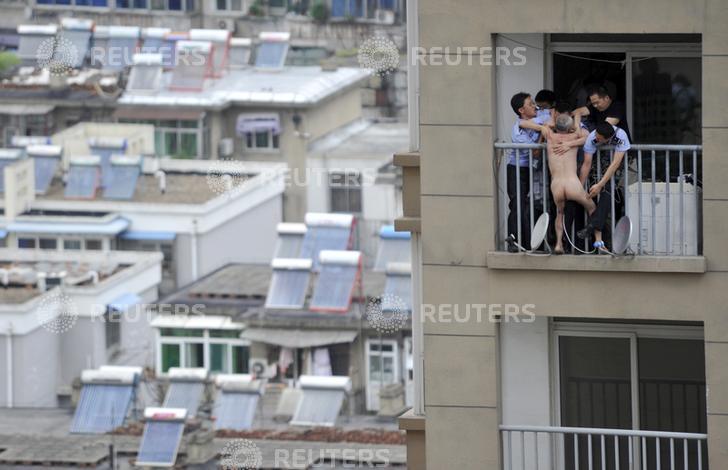 —
Many couple got married in underwear in Zhejiang, as a protest against modern Chinese values. http://www.scmp.com/news/china-digest/article/1746571/around-nation-chinese-naked-wedding-celebrations-focus-love-not …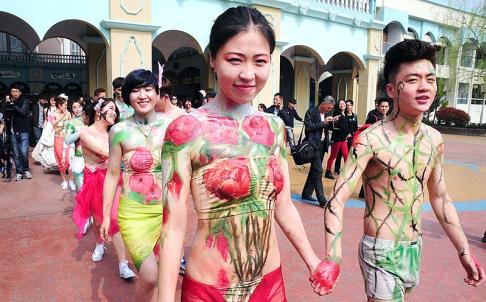 Around the nation: Chinese 'naked' wedding celebrations focus on love – not money
Couples, covered in body paint and dressed in underwear, celebrate 'naked weddings' in Zhejiang province to protest against modern China's values, which focus more on money than love
PUBLISHED : Tuesday, 24 March, 2015, 10:50pm
UPDATED : Tuesday, 24 March, 2015, 10:54pm
Angela Meng
angela.meng@scmp.com
ZHEJIANG
'Naked' marriage vows
Ten couples covered in body paint wearing only their underwear have celebrated their "naked weddings" at Hangzhou Paradise amusement park in Zhejiang province, news website China.org.cn reports. The couples, some of whom have been married for many years, said they were rejecting modern Chinese values, which place greater value on money than love. In China, a naked wedding involves a couple marrying without owning a house or car
http://www.scmp.com/news/china-digest/article/1746571/around-nation-chinese-naked-wedding-celebrations-focus-love-not
…
—
Man's mistress is stripped and beaten in street by his wife and her friends http://shr.gs/Q4ckeaM