—
16 September 2015
Remaja didakwa bunuh ASP Margaret
Kluang: Remaja berusia 17 tahun didakwa di Mahkamah Majistret Kluang, di sini, hari ini atas tuduhan membunuh Asisten Superintendan (ASP) Margaret Tagum Goen dengan merempuhnya dengan motosikal di sekatan jalan raya di Kilometer 58 Jalan Batu Pahat-Mersing, di sini, 6 September lalu.
TERTUDUH berasal dari Taman Sri Kluang itu didakwa di hadapan Majistret Nurhuda Mohd Yusof.
Bagaimanapun tiada pengakuan direkodkan daripada tertuduh yang diwakili peguam, S Vijaya.
Mengikut pertuduhan, tertuduh didakwa menyebabkan kematian dengan niat untuk membunuh mendiang Margaret Tagum Goen.
– See more at: http://www.hmetro.com.my/node/77707#sthash.fLTIJCcx.dpuf
—
8 September 2015
—
Mat rempit's FB post leads cop's hubby to suspect revenge
Mat Rempit's Facebook post leads policewoman's hubby to suspect revenge http://www.malaysiakini.com/news/311492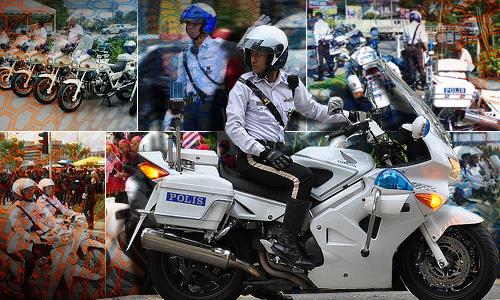 The husband of a traffic policewoman who was killed when a 'mat rempit' rammed his motorcycle into her during a traffic operation in Johor on Sunday, suspects revenge as the motive behind her death.
Margaret Tagum Goen's husband, Kem Mahkota army officer Leon Bahak, 37, said: "I suspect an element of revenge on the part of a 'mat rempit' gang against my wife.
"I read a posting on Facebook which had been uploaded by a member of the social media that he was satisfied with Margaret's death as she had confiscated his motorcycle before Hari Raya Aidilfitri.
"I urge the authorities to take stern and appropriate action against those responsible for my wife's death."
He was speaking to Bernama when met at his wife's home in Kampung Bogag, Jalan Srikin near in Bau.
—
Free Malaysia Today
Remaja hina polis di Facebook ditahan
Remaja lelaki itu memuatnaik status di Facebook yang menghina kematian mendiam Tagum akibat dirempuh mat rempit.
PETALING JAYA: Polis menahan seorang remaja lelaki kerana menghina mendiang Inspektor Margaret Tagum Goen yang meninggal dunai akibat dirempuh mat rempit dalam operasi sekatan jalan raya pada Ahad.
Tagum meninggal dunia pada pukul 12.45 tengah hari Ahad semasa dirawat di Hospital Enche' Besar Hajjah Khalsom (HEBHK), Kluang selepas dirempuh seorang mat rempit dalam Ops Roda/Rempit di KM 58, Jalan Batu Pahat-Mersing, Johor.
Suspek itu ditahan kerana membuat kenyataan menghina "Mampus juga kau … setelah sekian lama menyusahkan orang' yang dimuatnaik di status Faceboknya.
Ketua Polis Negara, Tan Sri Khalid Abu Bakar mengesahkan penahanan itu menerusi akaun twitternya dan mengucapkan syabas kepada Jabatan Siasatan Jenayah Daerah Kluang atas kejayaan menahan suspek itu.
"Syabas JSJ@PDRM Kluang yang berjaya tangkap orang yang menghina mendiang Inspektor Margaret-Trafik Kluang sebentar tadi (semalam)," katanya menerusi laman twitter rasminya.
http://www.freemalaysiatoday.com/category/bahasa/2015/09/07/remaja-hina-polis-di-facebook-ditahan/
—
Because of one mat rempit, all mat rempit spoiled.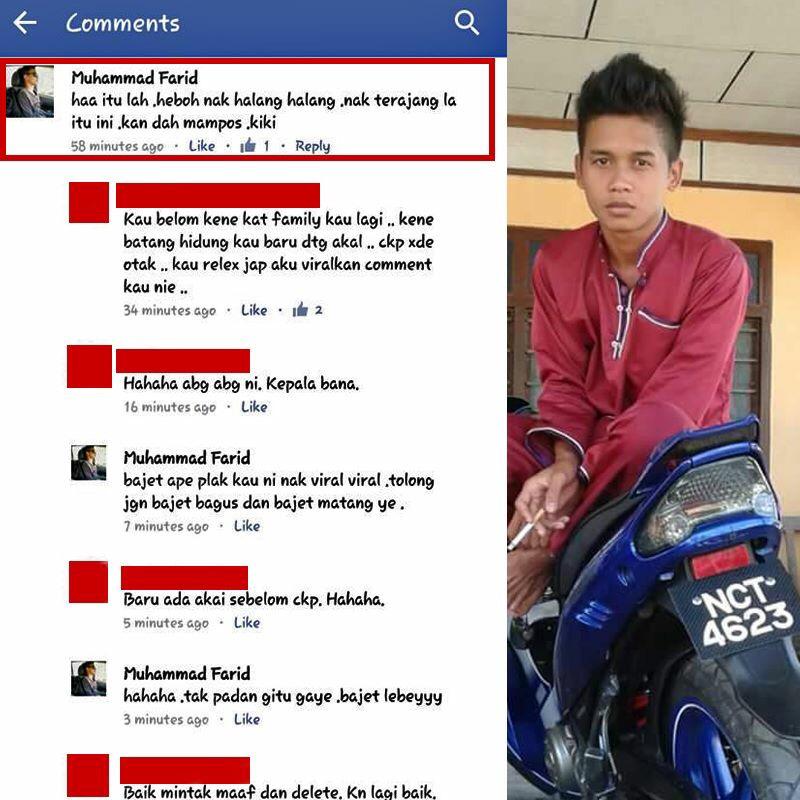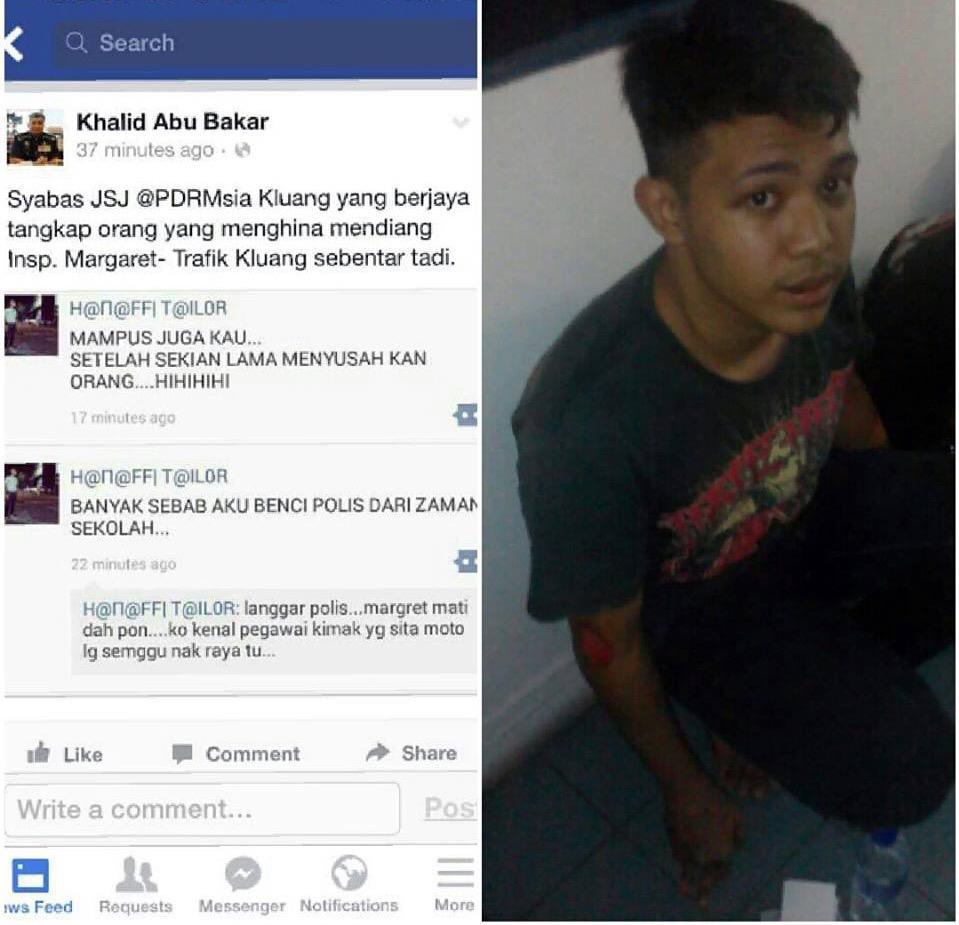 —
Syabas JSJ @PDRMsia Kluang yg berjaya t'kap org yg menghina Mendiang Insp Margaret – Trafik Kluang sebentar tadi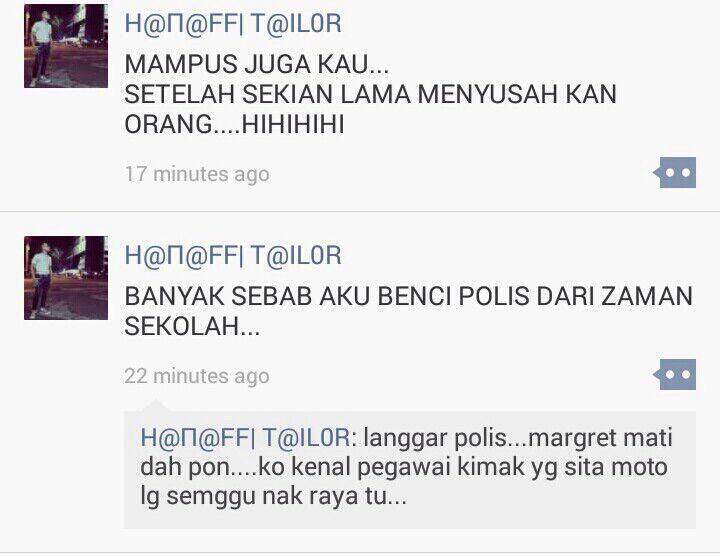 —
7 September 2015
Traffic policewoman dies after run over in 'rempit rage'. Motorcyclists aged 14 to 20 were arrested.

Traffic policewoman dies after run over in 'rempit rage' http://twib.in/l/dM5XnXyx5aR  | https://twibble.io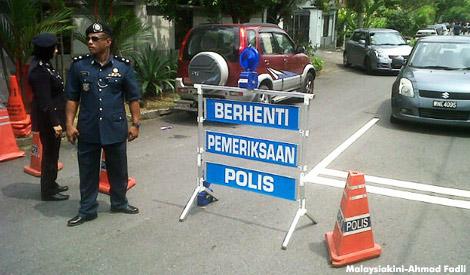 A traffic enforcement officer who was run over by a Mat Rempit during 'Ops Roda/Rempit' at Km 58, Jalan Batu Pahat-Mersing, early this morning has died in hospital.
Johor police chief, Rusli Ahmad said the incident occurred at 2.40 am while Inspector Margaret Tagum Anak Goen, 32, from the Kluang district police headquarters, was conducting a roadblock along with 20 traffic police personnel and a team of volunteer police.
"The Ops started at 1.30 am, an hour later there was a group of bikers heading from Mersing towards Kluang trying to escape the roadblock when one of them rammed into Margaret," he said when contacted today.
Tagum suffered a broken arm, hip bone and leg from the impact of the collision in addition to internal bleeding and was reported to be critical. She died at 12.45 pm at Hospital Enche Besar Hajjah Khalsom (HEBHK), he said.
…
Rusli said the rider involved, aged 17 years, was arrested soon after he fell from his motorcycle, while six of his friends, aged between 14 and 20 years, who had fled the scene were arrested later.
None of them had a licence and they were believed to be racing during the incident. All of them tested negative for drugs and have been remanded for four days, said Rusli.
…
Star
Sunday September 6, 2015 MYT 7:09:12 PM
Female traffic officer killed after being run over by Mat Rempit
KLUANG: A female police traffic officer died after she was hit by a Mat Rempit during a roadblock at KM58 along Jalan Batu Pahat-Mersing here.
Johor police chief Senior Deputy Comm Rusli Ahmad said on Sunday that the incident happened at around 2.40am on Sunday when the officer, Insp Margaret Tagum Goen, aged 32, was manning the roadblock together with 20 other traffic officers and personnel.
"A group from Mersing, on their way to town, tried pass through the roadblock by speeding when one of them hit Insp Margaret.
"The impact caused the victim together with the suspect to fall where she suffered a broken left hand and internal injuries," he said.
SCDP Rusli said Margaret, who has been stationed at the Kluang IPD traffic unit for the last five years was immediately sent to the  Hospital Enche' Besar Hajjah Khalsom here where she died due to her injuries at around 12.45pm.
"Police detained the suspect, who is a school dropout, together with six of his friends, between the ages of 17 and 20, where we seized their motorcycles as well.
http://www.thestar.com.my/News/Nation/2015/09/06/Accident-Female-traffic-Mat-Rempit/
—
#kluang #takziah #rip Insp Margaret Tagum, 32, melakukan sekatan jalan bersama 20 anggota http://hmtro.com/1LRtSpC 
—
32歲女助理警監參與路障檢舉行動時,遭飆車族撞倒,重傷昏迷入院,經醫生診斷出現內出血及左手骨折,並在送院後10小時逝世… http://bit.ly/1IRkKwz
32 year old female Assistant Commissioner involved in the roadblock at the Prosecutor's action, was knocked down by racing, seriously injured hospitalized in a coma, doctors diagnose internal bleeding and his left hand appears fractures and died in hospital 10 hours after … http://bit.ly/1IRkKwz
—