—
Will the police TASER you at Bersih 4? No, they'll use just tear gas, water cannons and batons…
—
Star Graphics
http://www.thestar.com.my/News/Nation/2015/09/12/Owning-a-stun-gun-is-so-simple-Electroshock-weapons-openly-sold-at-pasar-malam-and-electronics-outle/
—
Star
Saturday September 12, 2015 MYT 8:19:59 AM
Electroshock weapons openly sold at pasar malam and electronics outlets
Published on Sep 11, 2015
Stun guns is fairly known as a self-defense tool but robbers are using it to their advantage. Recently in Penang, a woman was robbed and immobilized by stun gun robbers. Following the case, our team investigate how these robbers easily get the weapons.
…
…
GEORGE TOWN: It is shockingly easy to buy a stun gun even if it is illegal to own one without a permit.
They are available at pasar ma­­­­­lam and electronics shops in Penang and can be bought for as little as RM40.
But while these electroshock wea­­­­­pons are meant for personal defence to incapacitate assailants, criminals are also finding them useful.
On Sunday, robbers immobilised a woman with a stun gun here before stealing her handbag.
A check by The Star on Tuesday revealed just how easy it is to buy the gadget.
Just an hour of enquiries led to information about a wholesaler in George Town's heritage enclave.
A reporter and photographer went undercover, one asking to buy a stun gun for his girlfriend and another posing as a night market trader wanting to buy in bulk.
It was needless pretence. The wholesaler led the team to a shelf near the shop's entrance with about 50 boxes of stun guns in plain sight.
"I have two models, 800 Type is RM40 and 669 Type is RM50. If you only buy one, I give RM1 discount. If you buy a dozen, I give half price," the wholesaler said.
Both models are about the size of a small handphone and fit snugly in the palm. They have LED light bulbs so they double up as a flashlight.
Their boxes do not show any manufacturer's details beyond "Made in China".
http://www.thestar.com.my/News/Nation/2015/09/12/Owning-a-stun-gun-is-so-simple-Electroshock-weapons-openly-sold-at-pasar-malam-and-electronics-outle/
—
Watch what happened when someone is tasered.
—
Officers who killed #MatthewAbijade will be indicted for lying to grand jury about taser death http://bet.us/1VS8DZz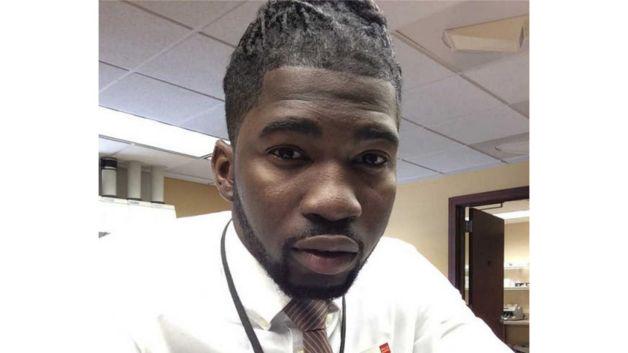 Officers Charged in Death of Mathew Ajibade Indicted for Lying to Grand Jury
Officers face perjury charges in addition to manslaughter.
Initially, former officers Jason Paul Kenny and Maxine Evans were indicted on involuntary manslaughter charges and went before a grand jury on June 24. During the proceeding, Kenny said he had tasered Ajibade before he was restrained. He actually tased the 22-year-old while he was being restrained, according to the Savannah Morning News. He faces one count of perjury for the statement.
Evans is facing three counts of perjury based on three statements made, including that "she recorded the checks in the restraint chair log as they happened," according to court documents.
Ajibade, 22, died New Year's Day after police placed him in a restraining chair while he was having a manic episode. He had bipolar disorder and was at his girlfriend's house when the couple got into a fight. She called the police to take Ajidabe to the hospital.
Instead, police took him to the Chatham County Detention Center, where he was placed in a restraining chair after fighting them during his booking. Gregory Brown, a nurse, is also facing involuntary manslaughter charges in connection to his death.
http://www.bet.com/news/national/2015/09/10/officers-charged-in-killing-of-mathew-ajibade-indicted-for-lying-to-grand-jury.html?sf12997718=1
—
HOW TASERS ARE IMPORTED.
Star
Saturday September 12, 2015 MYT 6:51:20 AM
Importer sheds light on how gadgets are brought in
GEORGE TOWN: Unscrupulous im­porters have been declaring stun guns as flashlights to get by the Ro­­yal Malaysian Customs Depart­ment.
Nearly all stun guns come with LED bulbs to provide a flashlight function, with some looking exactly like flashlights, and it seems the importers have been using this tactic for years.
"Importers who do it will not bring in a whole container. Out of perhaps 10,000 items loaded into every container at the source country, only a few hundred are stun guns while the rest are actual flashlights," said an importer, speaking on condition of anonymity.
"There are hundreds of containers coming into Malaysia every day and it is not humanly possible for Customs officers to inspect every single item in every container."
He said even when they imported something like hunting knives and daggers, they would declare it as tableware or kitchen knives to avoid the need for special import permits.
"All that is needed is the cooperation of the exporter. We need their help to word the invoices carefully.
"If the exporters are from countries like the United States with strict standards, they seldom want to do that.
"But if the exporter is from China, they
http://www.thestar.com.my/News/Nation/2015/09/12/Importer-sheds-light-on-how-gadgets-are-brought-in/
—
1 Did the robbers use something like this?
BEWARE OF THE COPS' NEW WEAPON: TASERS
2 Could they have used something like this instead?
Stun Gun Flashlight With Safety Disable Pin Non lethal Self Defense Weapon. Top Rated Pocket Stun Guns With FREE Holster & Case. High Volt & Amp Best Stun Gun Taser Alternative, (PURPLE) Coated Grip.
http://www.amazon.com/Flashlight-Disable-Defense-Weapon-Alternative/dp/B014QA9TUQ/ref=sr_1_131?ie=UTF8&qid=1441678588&sr=8-131&keywords=self+defense+weapon
3 This is likely the model: Taser C2
—
theSundaily
Beware! Robbers now armed with tasers, police say
GEORGE TOWN, Sept 8 — Robbers are resorting to using taser guns to attack their victims, police said.
City OCPD Mior Faridlatrash Wahid said athough only one case had been reported in George Town,  a number of cases had been reported in the state. He would not reveal the actual number or where the incidents took place.
The taser guns are believed to have been brought in from Thailand.
"Robbers have gone advanced and people need to be more careful," he told reporters at the city police headquarters in Jalan Patani yesterday.
On Sunday, a 53-year-old woman was robbed by two men using a taser gun at Taman Brown in Gelugor at 5am.
She lost her identity card, two ATM cards, RM200 and a mobile phone, worth a total of about RM2,000.
Although he did not disclose the actual voltage of the taser gun used, Mior said the victim suffered temporary weakness of the limbs but had recovered. She did not seek medical treatment.
Police have identified two men in their early 20s as the main suspects in the case. They are believed to be moving around the city on a Honda Dash motorcycle.
"The one who tased the victim was the pillion rider. They approached the victim and greeted her in a friendly manner, before tasing her," Mior said.
– See more at: http://www.themalaymailonline.com/malaysia/article/beware-robbers-now-armed-with-tasers-police-say?utm_medium=twitter&utm_source=twitterfeed#sthash.g1Sr655y.dpuf
—