..
https://twitter.com/WilliamYang120/status/130429553708924
..
..
..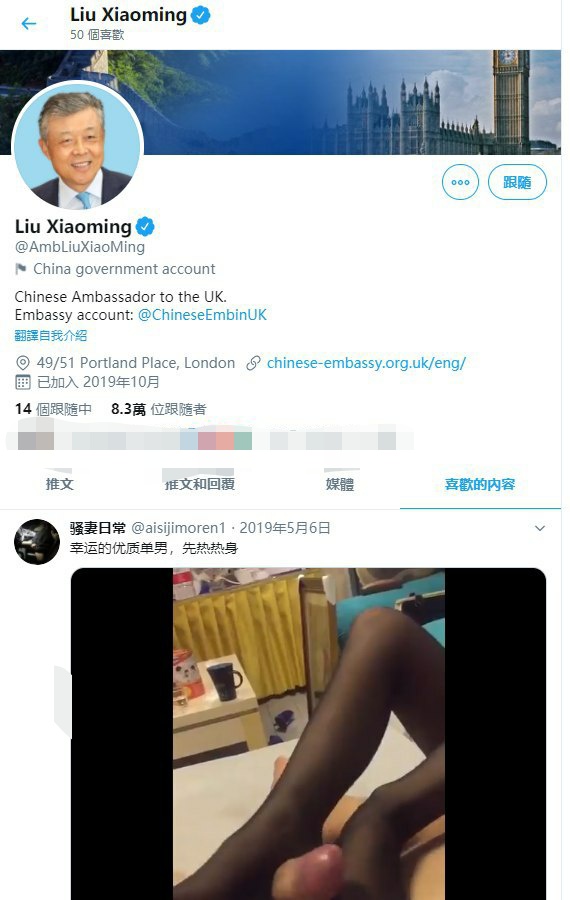 ..
PUT HIS FOOT IN IT
Firebrand Chinese Ambassador to the UK 'likes' porn tweet on his official account
9 Sep 2020, 11:52
Updated: 9 Sep 2020, 14:08
The Chinese ambassador to Britain put his foot in it after he liked an X-rated clip on his official Twitter account.
Firebrand Liu Xiaoming is known for spouting his nation's rhetoric on Hong Kong, Coronavirus and the treatment of Uighur Muslims in China, but late last night he used the social network for more personal perusal.
–

The top Communist diplomat "liked" a ten-second clip of a woman wearing stockings performing a sex act too rude to describe in a family newspaper.
The clip in Chinese is roughly translated as: "Lucky quality single guy, warm up first."
The Chinese language account is for fans of "Beautiful legs in stockings."
It was for all his 83,500 followers all morning before being removed.
Mr Liu has the face of China as relations between London and Beijing have soured over the last few months.
He has repeatedly accused the UK is "dancing to USA's tune" after Boris Johnson banned Chinese tech firm Huawei from Britain's 5G networks.

https://www.thesun.co.uk/news/politics/12622925/china-ambassador-likes-porn-tweet/

..