..
..
https://twitter.com/KittySn52889207/status/1289911433560432640?s=20
..
Eric Newcomer/Bloomberg
July 29, 2020 08:38 am +08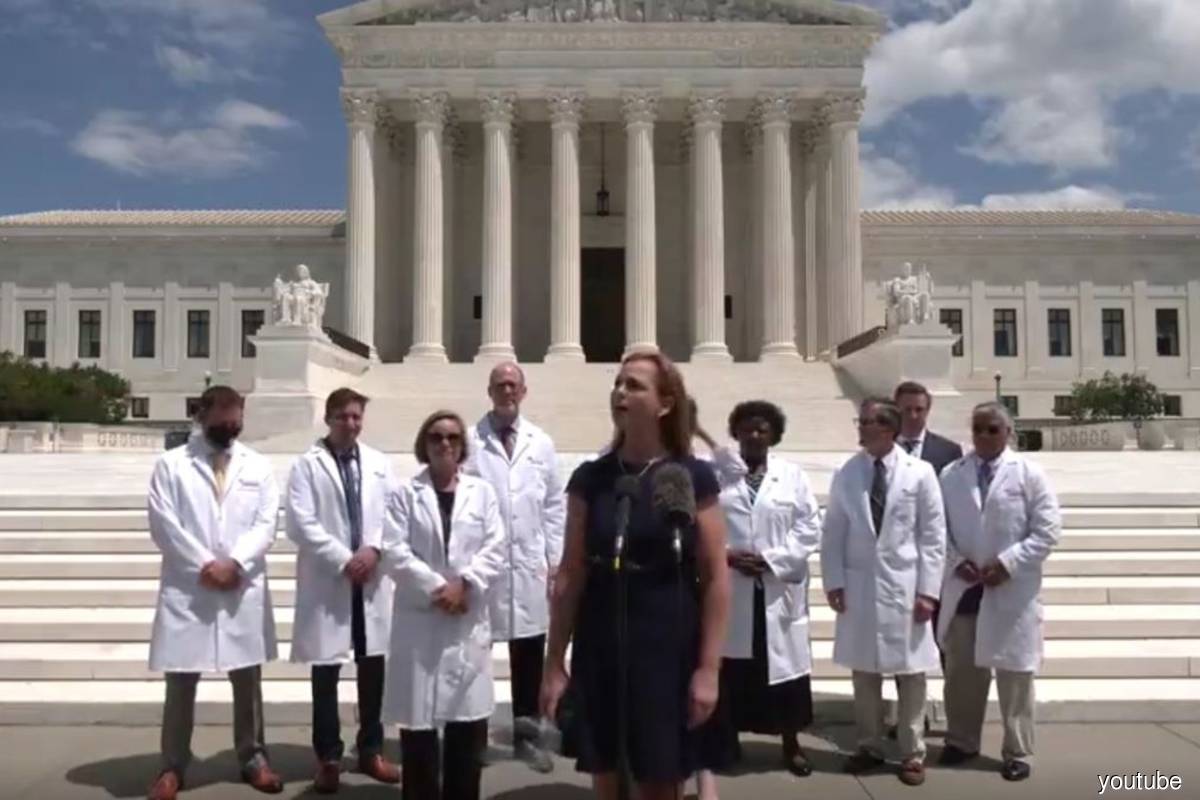 (July 29): A video containing dubious information about the coronavirus that was widely shared on social media Monday, including by President Donald Trump, is backed by a conservative activist group called the Tea Party Patriots.
Facebook Inc., Twitter Inc. and YouTube pulled the video, which featured a group calling itself America's Frontline Doctors touting the drug hydroxychloroquine as an effective treatment, from their websites because it violated their rules on spreading misinformation about the virus. Twitter also temporarily suspended Trump's son from the site Tuesday after he tweeted a link to the video, prompting a rebuke from his adviser saying that tech companies are stifling conservative voices.
In the video, which quickly racked up millions of views and was posted on the right-wing media outlet Breitbart News, the doctors give very little context about their medical expertise or backgrounds. Republican Congressman Ralph Norman introduces the group, about a dozen people in white coats, who take turns at the microphone speaking in front of a small crowd.
The group asserts that hydroxychloroquine should be prescribed to treat the coronavirus even though double-blind studies have not so far shown it to be effective. The group's leader, Simone Gold, says that people don't need to wear masks, contradicting recommendations from the National Institute of Allergy and Infectious Diseases.
The event was hosted by the Tea Party Patriots, a right-wing nonprofit group co-founded by Jenny Beth Martin, who has crusaded against government spending and has said she believes the government is over reacting to the Covid-19 pandemic.
"The people who are in Washington are doing what they always do, they ring their hands, they worry and they spend more money," she said in an interview on C-Span.
For more:

https://www.theedgemarkets.com/article/tea-party-group-behind-banned-viral-doctors-video
..
..
A group of doctors dressed in white coats have quickly gone viral after one of them claimed to have cured COVID-19.
Dr Stella Immanuel, a Houston GP in the United States, stood with several others on the steps of Capitol Hill in Washington to say she had successfully treated more than 350 people with coronavirus using hydroxychloroquine.
The "Deliverance Minister" said she went to medical school in Nigeria where she treated malaria patients with the drug, which President Donald Trump claimed could prevent or treat COVID-19.
Dr Immanuel claimed the drug worked, in the video which got more than 20 million views on Facebook and continues to spread after being removed.
"I'm here because I have personally treated over 350 patients with COVID," she said.
"Patients that have diabetes, patients that have high blood pressure, patients that have asthma, old people … I think my oldest patient is 92 … 87 year olds. And the result has been the same. I put them on hydroxychloroquine, I put them on zinc, I put them on Zithromax, and they're all well."
She said she put herself, her staff and other doctors she knew on hydroxychloroquine for prevention of COVID-19.
"We see patients, 10 to 15 COVID patients, everyday," she said.
"We give them breathing treatments. We only wear surgical mask. None of us has gotten sick. It works."
Dr Immanuel said no one needed to die, as America's death toll for the virus reaches 148,000.
But her views – connected to a group called America's Frontline Doctors – quickly came under fire.
The group only recently created its website which says it wants to "empower Americans to stop living in fear".
https://www.news.com.au/lifestyle/health/health-problems/coronavirus-us-doctor-claims-shes-cured-covid19/news-story/e18cc2609a7aa322104227f53734eb81
..
..
..
..
..