..
theedgemarkets.com / theedgemarkets.com
March 18, 2020 17:50 pm +08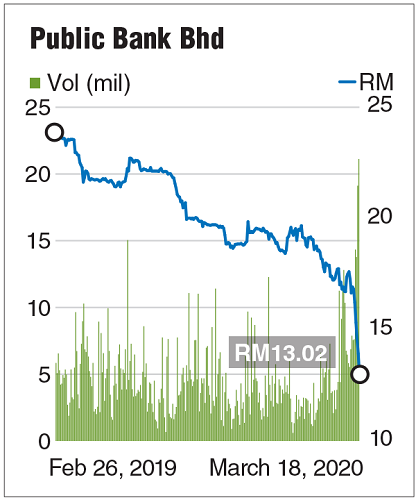 KUALA LUMPUR (March 18): The share price of Public Bank Bhd, a banking stock that is perceived to be solid like a rock, is now falling like a rock.
The banking group's shares slid further today, down 6.33%, or 88 sen, to RM13.02 — the lowest level since August 2013. Year to date, it has plunged 33% in less than three years.
Trading volume on Public Bank has been ballooning to above 10 million shares in the past four trading days. Today's volume swells to 21.6 million — the highest level since May 30, 2018.
Banking stocks have come under selling pressure given it is a cyclical sector that is highly sensitive to the economic weather. The current harsh economic weather raises concerns on banks' earnings prospects and asset quality as well.
Most of its banking peers are heading south as well, however, Public Bank appears to lose the most.
Still, Public Bank is currently trading at above one time book value while other banks on Bursa Malaysia are mostly below that level. Based on its book value per share of RM11.23, Public Bank still fetches a premium price-book value of 1.16 times.
Analysts said it could be the premium valuation that the bank has enjoyed for long; it now becomes the selling target as investment funds need liquidity to meet redemptions, they will have to let go any shares.
After the sharp fall, Public Bank's dividend yield has gone up to 5.6% from below 3% previously.
At today's closing of RM13.02, Public Bank is way below most analysts' target prices, according to Bloomberg. The average target price for Public Bank is RM18.80 with the lowest at RM13.85.
https://www.theedgemarkets.com/article/solid-rock-public-bank-falls-rock-now
..
..
Tuesday, March 17th, 2020 at , Markets | News
Oil and gas stock PetChem is the worst hit stock in EPF's investment value
by DASHVEENJIT KAUR / pic by MUHD AMIN NAHARUL
THE Employees Provident Fund's (EPF) investment value in 219 public listed companies fell by as much as RM23 billion since January this year as the novel coronavirus pandemic hammers the stock market.
A check by The Malaysian Reserve yesterday showed that the total equity value of EPF's stocks declined to RM135.6 billion compared to RM158.5 billion at the end of the fourth quarter of 2019, erasing a staggering RM22.9 billion in total value. Only 42 stocks posted an increase in investment value for EPF in the same period.
The local stock market, like all equities, had been battered after the coronavirus became a pandemic. The FTSE Bursa Malaysia KLCI (FBM KLCI) dropped to 1,280.63 points yesterday, the lowest in more than a decade.
This year alone, the index had shed 19.39% while against the one year return, it fell 21.05%.
The stock market has been going through its biggest fall since 2010 as investors scurried for safe haven instruments following the double threat of a coronavirus-driven global recession and the Saudi-Russia oil-price war.
Foreign investors dumped local equities as fears about the worsening worldwide economic slowdown. Saudi Arabia's decision to increase oil production to drive Russia and the US out of the market sent further shockwaves into the equity markets.
The EPF's 10 worst performing stocks in last three months are Petronas Chemicals Group Bhd (PetChem), Sime Darby Plantation Bhd, Public Bank Bhd, Tenaga Nasional Bhd (TNB), RHB Bank Bhd, CIMB Group Holdings Bhd, Hong Leong Bank Bhd, Malayan Banking Bhd (Maybank), Hartalega Holdings Bhd and Malaysia Building Society Bhd.
By industry sector, EPF's largest current exposures are in the financials (38.4%) and consumer staples (14.9%).

The sector that took the heaviest beating was banking, with a total of RM7.75 billion decrease yearto-date (YTD).
Interest in banking stocks plummeted as world financial regulators cut interest rates to keep their economies floating.
Bank Negara Malaysia (BNM) had cut a total 50 basis points (bps) this year alone.
According to Bloomberg's data, EPF's stakes in Public Bank dropped the most, amounting to RM1.4 billion within the last three months, followed by CIMB Group (RM1.3 billion), Hong Leong Bank (RM1.24 billion) and Maybank (RM1.17 billion).
Oil and gas (O&G) stock PetChem was the worst hit stock with RM1.63 billion lost in EPF's investment value since January 2020.
The EPF in early March raised its stake in the company to above 8%, comprising of 640.5 million shares in PetChem after acquiring additional 5.81 million shares. It is believed EPF bought the stake from PetChem parent company Petroliam Nasional Bhd. The state-owned energy firm reduced its shareholding in a few of its subsidiaries late last year.
https://themalaysianreserve.com/2020/03/17/battered-share-market-sees-epf-losing-rm23b/
..