..
3 May 2020
..
abc news
Bill Gates COVID-19 conspiracy theories
RMIT ABC Fact CheckPosted Yesterday, updated Yesterday
No, Bill Gates isn't trying to plant microchips in us
Microsoft founder, philanthropist and world's third-richest man Bill Gates has been the subject of an overwhelming volume of coronavirus-related misinformation.
Conspiracies around Bill Gates and the coronavirus started circulating as early as January with claims the Gates Foundation had predicted 65 million deaths in a pandemic simulation (it didn't) and have continued to spread throughout April with claims that a Gates Foundation-funded vaccine paralysed nearly 500,000 children (also false) and that Mr Gates is being sued by India (wrong again).
In another example, a Facebook post claimed Mr Gates was freely able to prescribe drugs. However, given Mr Gates is not a medical doctor, the claim was rated false by fact checkers at Lead Stories.
The multi-billionaire, whose foundation has so far promised $250 million in funding for the coronavirus response, is also not trying to "microchip" the world's population through a coronavirus vaccine, nor is he using invisible tattoos and monitoring bracelets to track Americans.
Speaking of the Gates Foundation — despite helping fund the vaccine search, it doesn't hold a patent for such a jab. Microsoft also doesn't own "patent 666" for a microchip to be inserted into people for cryptocurrency purposes.
https://www.abc.net.au/news/2020-05-02/coronacheck-clive-palmer-hydroxychloroquine-covid-19/12203608
..
Excerpts from:
Snopes
Are Bill Gates and the ID2020 Coalition Using COVID-19 To Build Global Surveillance State?
Conspiracy theorists misrepresent Bill Gates' funding of vaccination and digital-identity research as evidence of a nefarious global surveillance plan foretold in the Book of Revelations.
Claim
Bill Gates — along with a coalition dubbed "ID 2020" — seeks to "microchip" the world population using a COVID-19 vaccine.
Rating
False
In part because of his advocacy for vaccines, Gates has also been a major recipient of the anti-vaccine movement's vitriol for well over a decade. Years of manufactured animosity built by false claims from these anti-vaccine groups have, as the COVID-19 pandemic unfolded, combined with the dubious claims of doomsday soothsayers and cryptocurrency Youtubers to create a sprawling COVID-19 conspiracy theory centered on Gates.
The basic allegation against Gates goes like this: He is using the COVID-19 pandemic as a pretext to push a vaccine with a microchip capable of tracking you along with the rest of the world population.
The Quick Facts
From a factual standpoint, Gates has never proposed or funded research into the development of a vaccine — for COVID-19 or for anything else — that includes the injection of a device that could actively track your location, monitor anything you are doing, or "control" you.
The Bill and Melinda Gates Foundation did fund a pilot study conducted by MIT and Rice University researchers into a potential vaccine-delivery device that could impart an invisible mark detectable by a smartphone. This study was theoretical, the technology described was passive, and the device was incapable of any sort of tracking or monitoring. Still, much of the credence lent to the false notion that Gates has designs to track you using vaccines comes from mixing the existence of that pilot study with another public health concept Gates is actively involved in researching called a "digital identity."
The basic premise behind a digital (or decentralized) identity in the context of Gates' work is simple: It would involve some sort of cloud-based storage of medical and/or personal-identification documents accessible only with the consent of the owner but available anywhere in the world. Crucially, such a concept, whose central scientific challenges are in the realm of encryption and blockchains, has nothing to do with anything injected into the body. Despite this, conspiracy theorists falsely use Gates' support for digital identity initiatives as evidence of his intentions to build a vaccine-enabled surveillance state.
..
PolitiFact
Facebook postsstated on April 20, 2020 in an image:The Gates Foundation "has the patent for this coronavirus."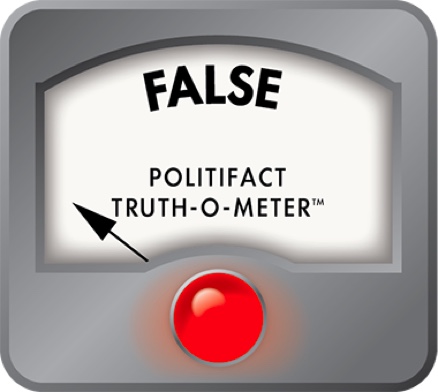 The Gates Foundation does not have a patent for the coronavirus
Bill Gates is one of the leading voices on a timeline for a coronavirus vaccine. Some Facebook users say that's because the billionaire philanthropist stands to profit from one.
An April 20 post includes several claims about Gates and his connection to the COVID-19 pandemic. The one that caught our eye says the Bill & Melinda Gates Foundation "has the patent for this coronavirus."
"Pay attention will ya," reads the title of the image.
The post was flagged as part of Facebook's efforts to combat false news and misinformation on its News Feed. (Read more about our partnership with Facebook.)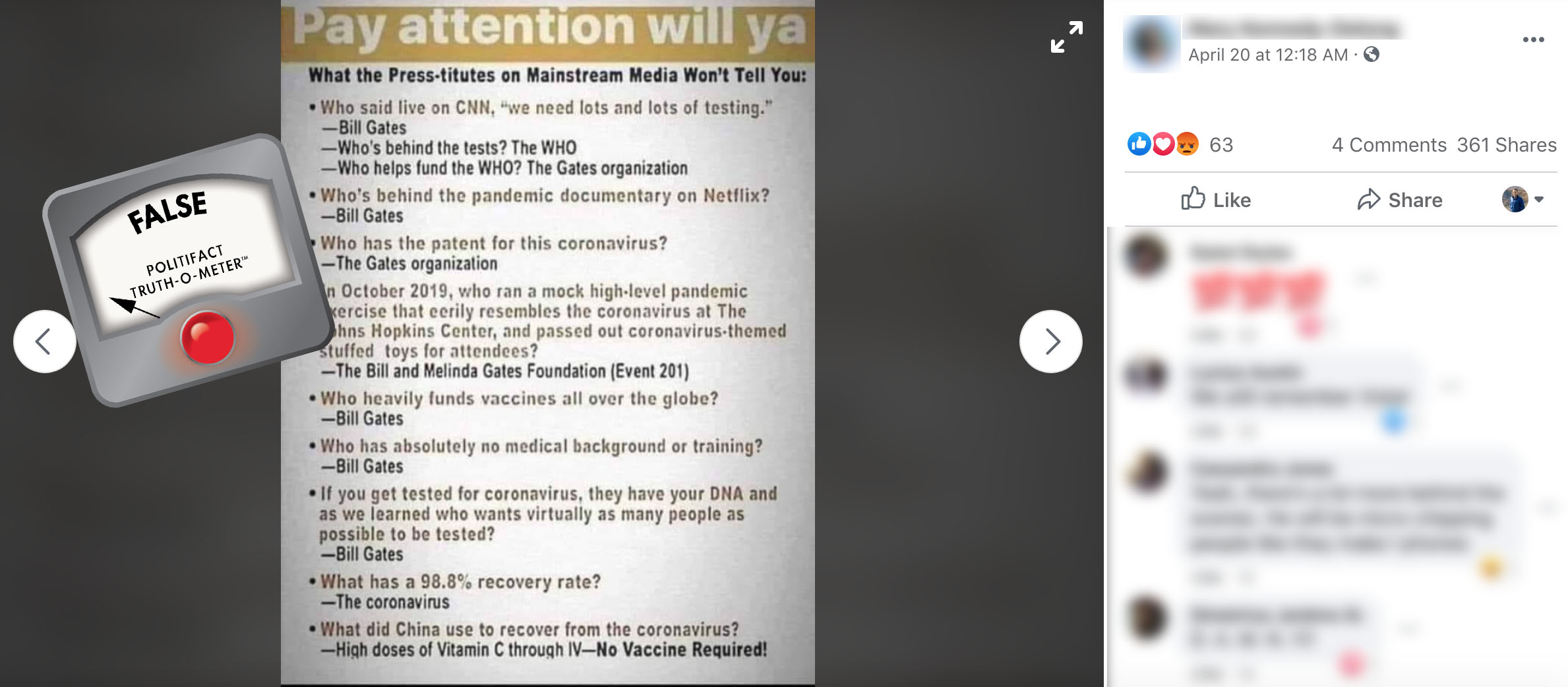 (Screenshot from Facebook)
We've fact-checked several false or misleading claims about the Gates Foundation's connection to the coronavirus and a potential vaccine. The charity is a frequent target for online disinformation about the pandemic.
This Facebook post is also bogus. It's similar to one of the earliest hoaxes we saw about the coronavirus in January, which originated on the conspiracy website Infowars.
We looked through all of the patents assigned to both Gates and his foundation by the United States Patent and Trademark Office. As of now, none of them have to do with the novel coronavirus.
Federal guidelines stipulate that there is an 18-month confidentiality period after the first filing date. That means Gates or his foundation could have applied for a patent within the past 18 months and it would not be publicly listed.
There is no known treatment or vaccine for the coronavirus. Dr. Anthony Fauci, director of the National Institute of Allergy and Infectious Diseases, has said a vaccine could take at least a year and a half to roll out.
The Gates Foundation is funding some of the 70 potential vaccines that are currently in development. The philanthropy said in a Feb. 5 statement that it is investing up to $60 million to "accelerate the discovery, development and testing of vaccines, treatments and diagnostics" for the coronavirus.
Gates and his philanthropy frequently apply for patents with partner organizations. But as of now, they're not listed on a future vaccine patent.
We reached out to the Gates Foundation for comment. It pointed us to a fact-check from USA Today that debunks a similar claim.
The Facebook post is inaccurate. We rate it False.
https://www.politifact.com/factchecks/2020/apr/23/facebook-posts/gates-foundation-does-not-have-patent-coronavirus/
..