..
Wong Chin Huat
Published 10:16 am
Modified 12:01 pm30
COMMENT | In theory, yes, but Prime Minister Muhyiddin Yassin is acting as if he does not command a majority. 
–
That is why our Parliament will be convened for only one day on May 18.
A 10-week pushback from the original date (March 9), the May 18 seating has to happen for one reason. If not reconvened, the Parliament will stand dissolved by June 5, six months from Dec 5, 2019 when it was last in session.
That's the constitutional mechanism in Article 55 (1) – to make sure the government cannot be unaccountable to the Parliament for more than six months.
–
On May 18, only government bills and motions are scheduled, with no further details on Parliament's official website till now.
Neither questions nor motions are allowed. Of course, no debate and voting on Muhyiddin's Covid-19 stimulus package – announced in three stages on March 16, March 27 and April 6 and totalling RM261 billion, which is what any honourable government would proudly do.
To prevent any motion of no-confidence to be mooted, parliamentarians are deprived of their right to question ministers.
Since a budget rejected is equivalent to a motion of no-confidence passed, parliamentarians are further deprived of their right to "be prihatin" (care) and vote on Muhyiddin's Prihatin budget.
In short, Muhyiddin disables two functions – scrutinising government and approving budget – of the Parliament to prevent its most important one – retaining or firing the prime minister.
Counting Muhyiddin's changing number
Muhyiddin should have confidence of his own survival because, in theory, he should have 113 out of 222 votes, based on his administrative lineup.
–

…ministers and deputy ministers must always vote with the government, because of collective responsibility. Because they are on the government's payroll, they are also called payroll votes.
–
On March 9, Muhyiddin announced a 70-member frontbench including six senators. The remaining 64 parliamentarians come from four main blocs and three one-MP parties – BN with 42 (of which 39 from Umno); Muhyiddin's Bersatu with 31; PAS (18), GPS (18); PBS (1), PBRS (1) and Star (1).
Adding up these numbers, Muhyiddin would have secured a 112-vote majority in the 222-member House. Two more, Bukit Gantang MP (ex-Umno independent) and Sri Aman MP (PSB) voiced their support for Muhyiddin on March 1 but the latter's party soon announced a U-turn.
Adding Bukit Gantang MP on a "confidence and supply" basis, Muhyiddin has a 113 majority in Dewan Rakyat.

–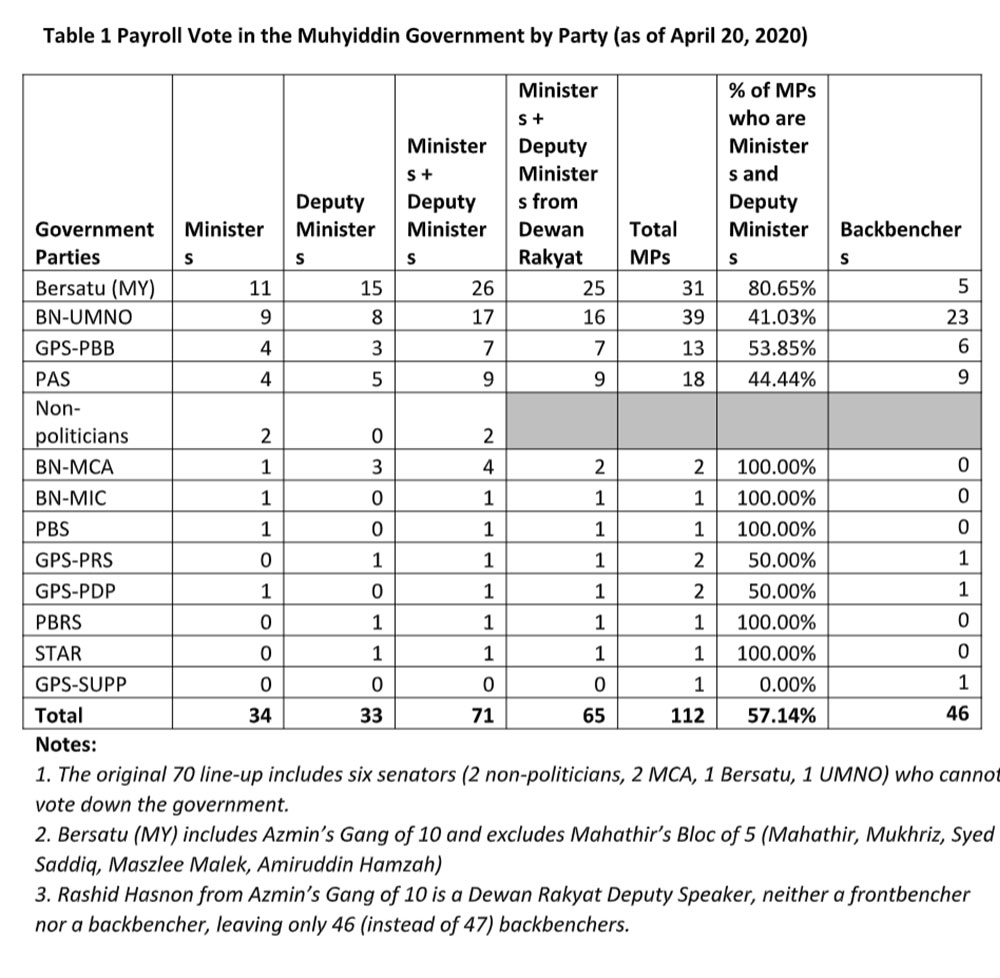 –
However, since Muhyiddin fears anyone of them voting against him, he will not leave any PN backbencher behind. Sooner or later, everyone will get a second salary.
–
By the way, are you thinking what I am thinking? Which GLC will Muhyiddin let P085 Pekan and P075 Bagan Datoh manage now that the US has returned RM1.3 billion of 1MDB money to Malaysia?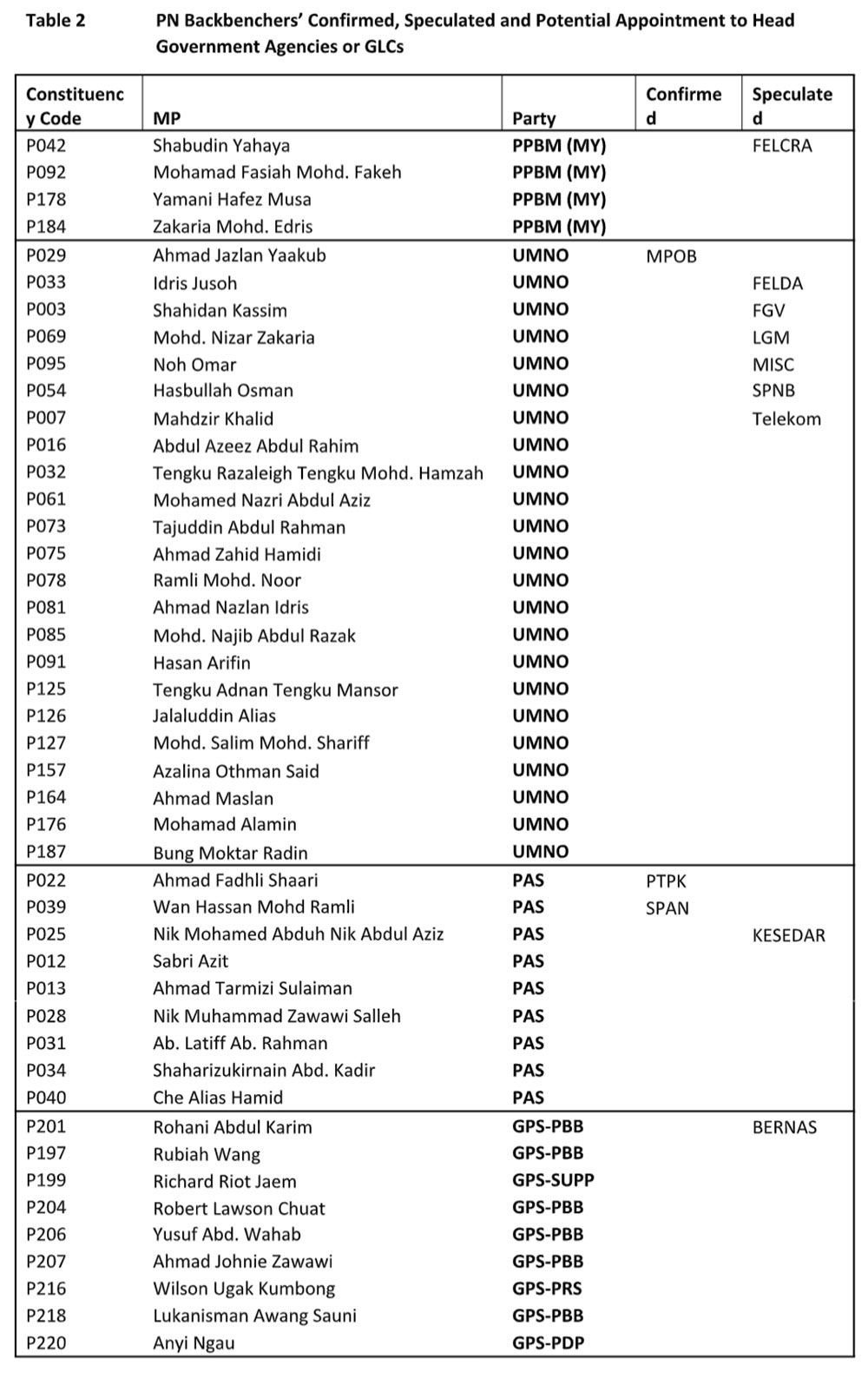 ---
WONG CHIN HUAT is an electoral system expert at Jeffrey Sachs Centre on Sustainable Development, Sunway University. He also leads the clusters on electoral systems and constituency delimitation as part of the government's Electoral Reform Committee (ERC).
The views expressed here are those of the author/contributor and do not necessarily represent the views of Malaysiakini.
https://www.malaysiakini.com/news/522459
..
..
.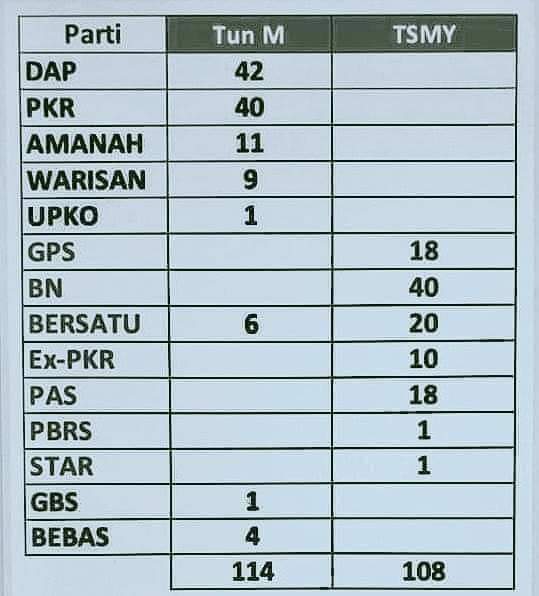 ..
Bersatu may sit on both sides in Parliament

Published on: Tuesday, April 21, 2020By: Malay Mail
KUALA LUMPUR: Parti Pribumi Bersatu Malaysia's MPs are set to have a tricky time coordinating their seats at the upcoming Dewan Rakyat sitting as clear factions exist within the party, said Tun Dr Mahathir Mohamad (pic).
The former Prime Minister said the difference in allegiances would ultimately restrict party colleagues from being seated together as several MPs are in support of the government while there are others still aligned with Pakatan Harapan."So, the faction against the government cannot sit together with the faction with the government.
"So, it should be among the opposition together with Pakatan, but not as a member of Pakatan," he was quoted in the report.
"When you have more than two parties, for example, the opposition will be made up of many different parties, it is up to them who will lead them as opposition (leader). So, this faction of Bersatu will have to accept the leader chosen by the opposition (MPs)," he added.
Dr Mahathir pointed out how opposition MPs would also need to officially appoint an Opposition Leader, and warned that the question of whether or not Prime Minister Tan Sri Muhyiddin Yassin enjoys the support of majority lawmakers might prop up during the upcoming May 18 sitting.
He highlighted this despite only matters concerning to the management of the Covid-19 outbreak would be allowed during the next sitting, adding the Perikatan Nasional (PN) government has yet to be mandated by the Dewan Rakyat.
"What the Dewan Rakyat needs to do is to show whether they support Prime Minister Tan Sri Muhyiddin Yassin's claims that he gets the support of the majority, not today, but at the time when he was sworn in to become the PM, at that time did he have a majority or not?," Dr Mahathir said.
He said the one day sitting dedicated to issues pertaining to the outbreak would be beneficial for healthcare purposes, but not politically beneficial for the opposition bloc, adding the one-day session is too short for anything meaningful to be achieved.
http://www.dailyexpress.com.my/news/151138/bersatu-may-sit-on-both-sides-in-parliament/
..
Excerpts from:
APRIL 20, 2020
ByJOCELINE TAN
THE STAR/ASIA NEWS NETWORK
However, Muhyiddin needs to win the numbers game in a convincing fashion on May 18.
Everyone will be counting how many MPs are with Perikatan Nasional and more important, where Malaysia's grand old man Tun Dr Mahathir Mohamad will be seated.
The ice between the Bersatu chairman and his party president has yet to thaw and he has resisted attempts at a reconciliation.
–

But a Bersatu insider said the Langkawi MP did not want to be seated on the government bench because "he does not want to sit with the kleptocrats".
The insider said Dr Mahathir preferred to be seated on the Opposition bench rather than on the same side as his arch-nemesis Datuk Seri Najib Razak.
The Bersatu MPs who are likely to go along with Dr Mahathir are Datuk Seri Mukhriz Mahathir, Syed Saddiq Syed Abdul Rahman and Datuk Amiruddin Hamzah.
But the thing is that many in Pakatan want to move on without Dr Mahathir.
"Those in PKR do not want to engage him anymore. They feel betrayed, they think it is time to move forward, " said Dr Redzuan.
–
But Muhyiddin would want him on the government bench. It will help to paper over the perception that the party is split.
"I am sure he will be given a respectful place on the government bench as a Bersatu leader and former PM, " said PKR politician Lee Chin Cheh.
Despite the pandemic, many things have fallen into place for Muhyiddin since he took over Putrajaya but will his first Parliament sitting as Prime Minister go his way?
The views expressed here are entirely the writer's own.
..