..
..
..
..
Sabah gov't: Cleanliness of quarantine centres not up to par
Kow Gah Chie
Published 1 Apr 2020, 3:05 pm
Modified 1 Apr 2020, 3:11 pm
CORONAVIRUS | Sabah Health and People's Wellbeing Minister Frankie Poon has admitted that basic facilities at a few Covid-19 quarantine centres in the state were not up to mark.
He said this following viral videos which highlighted poor living conditions and cleanliness for those required to undergo 14 days of quarantine at the centres.
In one of the videos, a student took a recording of dirty toilets and poor living conditions of his accommodation (photo) at the Penampang District Education Centre.
Poon, who referred to the video clip, said the condition of the student's quarantine centre was unacceptable.
"We found some of the centres unsuitable, particularly the toilets. We are repairing and cleaning up some of the quarantine centres," he told Malaysiakini when contacted.
Poon, however, said he had visited one of the quarantine centres and found that none of the people there were unhappy with the living conditions and amenities.
The Bomba Academy in Sepanggar, Health Ministry Training Institute in Bukit Padang and Kota Kinabalu Polytechnic are among the quarantine centres in Sabah.
He said all 28 gazetted quarantine centres are federal government buildings, including quarters for nurses and the Fire and Rescue Department.
"Even though these are (federal) government properties, we are assisting (Putrajaya) to do the necessary work in certain units," he said.
Besides repairing the basic amenities, he said the state government is also working to set up WiFi connectivity, improve the food quality and provide water kettles for those undergoing quarantine.
Poon said the state government also provides an option for those willing to undergo the 14-day quarantine at three hotels in Kota Kinabalu on their own expense.
The state government would not provide them with food and they have to pay for their sustenance.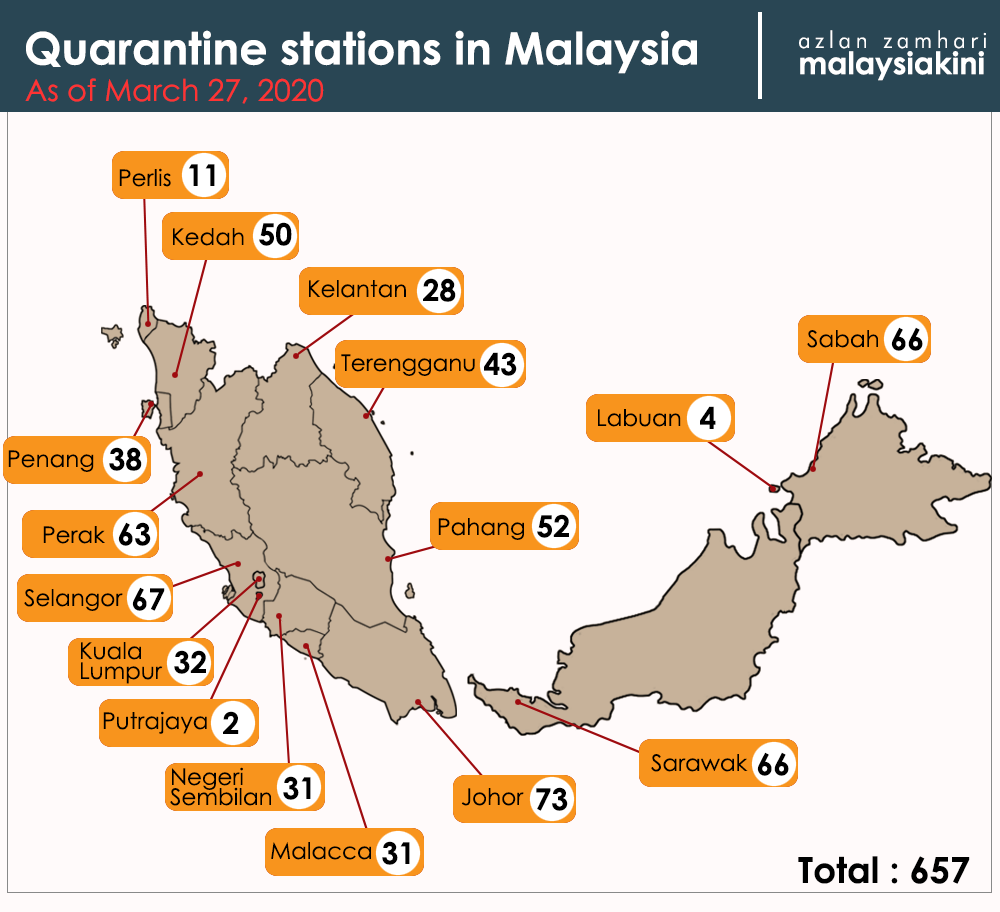 https://www.malaysiakini.com/news/518113
..
Received via WhatsApp.
..
..