—
4 May 2016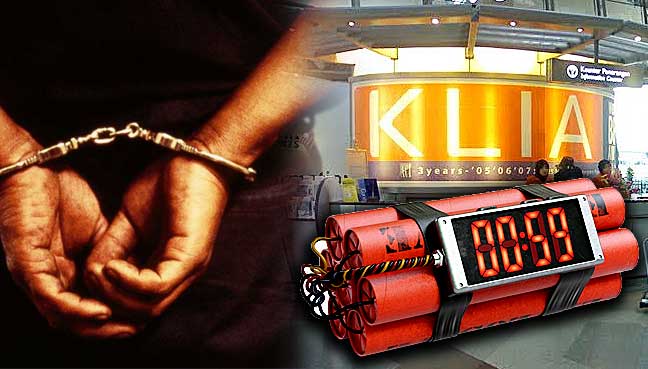 …
15 passengers have been arrested since early last year.
SEPANG: Sepang police have reminded the public not to utter the word "bomb", even in jest when at the KL International Airport (KLIA) and KL International Airport 2 (klia2) as it constituted a serious offence.
Its police chief, ACP Abdul Aziz Ali, said uttering "bomb" at the two places would cause an individual to be detained and taken to the Sepang police headquarters (IPD), resulting in one missing the flight.
"They will incur losses when they miss their flight and need to buy new (flight) tickets," he told reporters at the Sepang IPD here today.
He said the latest case was reported at klia2 two days ago.
He said uttering the word "bomb" was categorised as a threat and it was a serious offence even if it was meant as a joke or showing dissatisfaction, under Code 92 of the Airport Emergency Plan.
…
"Last year, there were seven cases of individuals using the word 'bomb', in KLIA (four) and klia2 (three), while this year, there were eight cases from Jan 1 to May 3 in KLIA (two) and klia2 (six)."
Abdul Aziz said all 15 individuals had been charged at the Sepang Magistrate's Court.
"Of the 15 detained, two were foreigners. Most of them were detained by Malaysia Airport Holdings Berhad Auxiliary policemen while at the baggage inspection areas."
http://www.freemalaysiatoday.com/category/nation/2016/05/04/police-dont-utter-bomb-at-klia-or-klia2/
—
Bomb scares in Malaysia and Singapore: We are all nervous but please don't blame us…
KLCC: Another bomb scare. The 2 so-called 'explosives' were Petrosains science projects
Bomb scare in Malacca: At Aeon Big
KLCC Bomb scare: No, you can't take a chance that it is nothing!
Bank in Sg Patani receives bomb threat
False alarm! No bomb threat at K L Sentral.
—