—
29 March 2016
…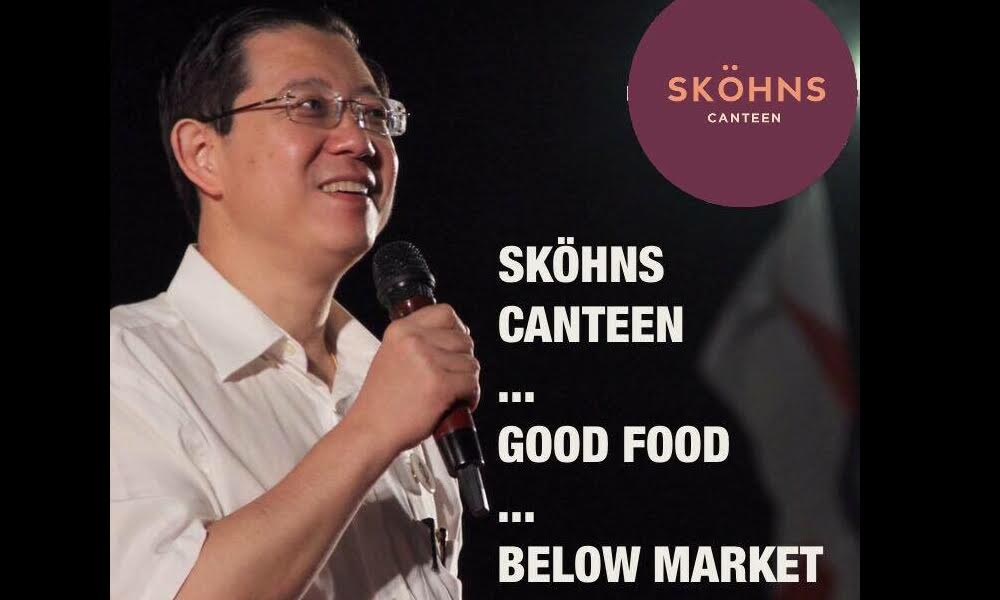 —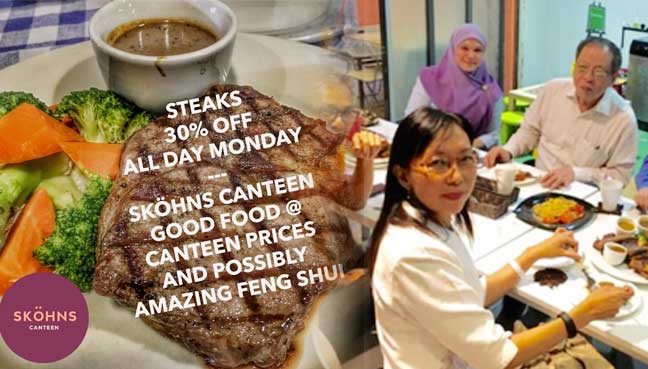 …
'Controversial' Skohns Canteen draws Kit Siang and company for dinner
DAP MPs just can't resist Skohn's signature lamb stew 'at below market prices' despite restaurant's advertisements poking fun at Lim Guan Eng's bungalow purchase.
PETALING JAYA: The Skohns Canteen has done it again.
After their first controversial poster of "Good Food, Below Market Price", the operators have put up another poster, this time on feng shui.
The second poster read: "30 per cent off, Good Food, Possibly Amazing Feng Shui".
Both these posters on the restaurant's Facebook were obviously referring to Penang Chief Minister Lim Guan Eng's purchase of a bungalow in Jalan Pinhorn, Penang.
Lim is alleged to have bought the property at below the market value last year. He was renting the house before that.
DAP MP Teresa Kok claimed yesterday that the bungalow was sold at below the market price due to bad feng shui surrounding it because BN members were always using it as their venue to voice their unhappiness about DAP and the state government.
Despite the restaurant obviously targeting their posters at Lim's "misfortune", DAP members did not shy away from the place. They went to the restaurant in Damansara Perdana to have their dinner today.
…
Earlier today, the restaurant's management took to Facebook to inform its customers not to take their posters seriously and offered a free meal to those featured in its advertisements, including former Chinese President Jiang Zemin.
It read: "As all of you may know, we kicked up a storm over the weekend (unintentionally, of course). Lady Boss has reprimanded the employee involved in starting the whole thing.
"However, we believe this issue has been blown out of proportion and is being unscrupulously used by certain parties to further their own agenda.
"We at Sköhns Canteen remain apolitical and will uphold honesty & justice and most of all a sense of humour for all Malaysians, irregardless of race or religion.
"With that in mind, if our ads have caused you any sleepless nights, we would like to offer a free meal to anyone who has appeared in our poster, including Ex-President of China Jiang Zemin (this was Google's fault)."
http://www.freemalaysiatoday.com/category/nation/2016/03/28/controversial-skohns-canteen-draws-kit-siang-and-company-for-dinner/
—
DAP reps eat at cafe mocking Guan Eng
…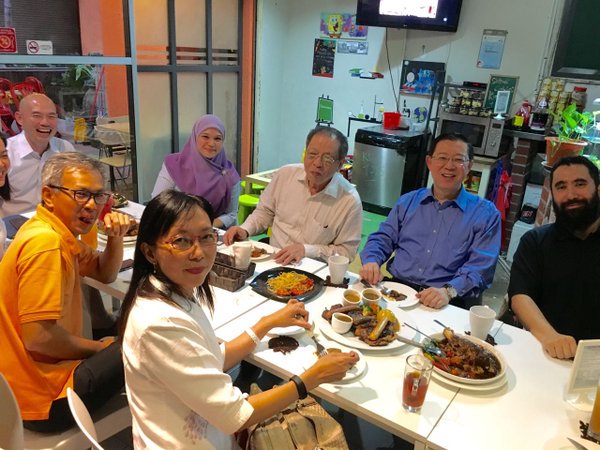 …
KUALA LUMPUR, March 28 — After earning criticism for telling a restaurant to remove an advertisement that poked fun at Lim Guan Eng, several DAP leaders led by Guan Eng himself dined at the eatery tonight to prove they can take a joke, even if it's at their expense.
In a snapshot of their dinner session that was posted on social media, lawmakers Guan Eng, his father Lim Kit Siang, Seputeh MP Teresa Kok, Petaling Jaya Utara MP Tony Pua, Segambut MP Lim Lip Eng and several others, can be seen smiling as they sat together for a meal at the Damansara Perdana café.
In the posting on his Twitter page, Kit Siang wrote, "DAP MPs just couldn't resist Skohn's signature lamb stew at below market prices!"
The DAP adviser was borrowing the same phrase used by the restaurant – Skohn's Canteen – in a parody advertisement on the controversy over Guan Eng's house buy.
DAP had taken offence to the advertisement and even wrote to the owner with a request to have it removed.
– See more at: http://www.themalaymailonline.com/malaysia/article/dap-reps-eat-at-cafe-mocking-guan-eng?utm_content=bufferf9698&utm_medium=social&utm_source=twitter.com&utm_campaign=buffer#sthash.iTvvhYBx.dpuf
—
—
—