—
1. Negara Malaysia tercinta ini adalah hasil perjuangan UMNO sebagai sebuah parti, bukan oleh sesiapa atau seseorang.
2. Sebab itu apabila Dato Onn Jaafar, Pengasas dan Yang diPertua Parti yang pertama, membuat cadangan yang bertentangan dengan pejuangan parti, cadangannya di tolak dan dianya keluar dari parti.
3. Hari ini kita dapati UMNO sudah jadi milik Presiden dan perjuangan UMNO terhad kepada mendokong Presiden. Kesetiaan ahli terhad kepada Presiden, tidak lagi kepada parti, tidak lagi kepada bangsa, agama dan negara.
4. Ini ternampak jelas apabila slogan Satu Malaysia yang sama dengan Malaysian Malaysia diperkenal, penjajah dahulu dilantik sebagai penasihat, penggunaan konsultan Barat. Penubuhan Pemandu untuk mengganti Unit Perancang Ekonomi, bayaran gaji kepada badan bukan Kerajaan yang amat tinggi, meletak negara dibawah kehendak Singapura, meminjam berbillion Ringgit yang dilabur sebahagian besar di luar negera, menubuh 1MDB dengan modal pinjaman yang besar, tidak dapat membukti dimana modal yang dilabur berada, gagal membayar faedah hutang, membeli tanah Kerajaan dengan harga yang amat murah, menjual tanah ini kepada institusi Kerajaan dengan harga 50 kali ganda lebih tinggi, wang Tabung Haji diguna secara yang sama, keuntungan yang berlebihan ini diguna untuk menampung kerugian 1MDB, 2.6 billion Ringgit tiba-tiba berada dalam akaun peribadi Najib, kononnya derma dari orang Arab, siasatan oleh Badan Pencegah Rasuah dan Bank Negara ditamat oleh Najib sebelum tindakan dapat diambil, Pendakwa Raya dibuang, PAC dibubar supaya tidak dapat menyiasat 1MDB, cara hidup mewah lebih dari kemampuan Perdana Menteri, gaji minima dinaik sehingga kilang-kilang berpindah ke negara lain dan pekerja hilang pekerjaan, kejatuhan mata wang dan nilai saham yang teruk, cukai GST dikenakan sehingga peniaga kecil terpaksa tutup kedai, kos sara hidup meningkat, beban bagi rakyat bertambah, sesiapa yang menegur disoal oleh polis, dituduh sabotaj bank dan kewangan negara dan dimasuk dalam tahanan dibawah undang-undang yang salah.
5. Besar kemungkinan parti akan kalah dalam PRU 14 seperti di Selangor dan Pulau Pinang. BN dan UMNO akan menjadi parti pembangkang. Sebagai pembangkang tidak akan ada apa-apa yang boleh dibuat oleh UMNO untuk bangsa, negara dan agama.
Read the rest here:
—
DAP-like slogan, RM2.6b, S'pore stooge and more: Doctor's diagnosis
…
In an open letter penned to Umno grassroots leaders ahead of the party annual general assembly, Dr Mahathir Mohamad has cited a list of what ails the current president.
…
According to 90-year-old former premier, Najib suffers from:
Introducing the 1Malaysia slogan, which is the same as (DAP slogan) Malaysian Malaysia
Appointing colonisers of the past as advisers, and using foreign consultants
Establishing Pemandu to replace the Economic Planning Unit
Providing exorbitant incomes for NGOs
Placing the nation under the will of Singapore
Borrowing billions of Ringgit, of which, a large sum is invested abroad
Setting-up 1MDB with an immense loan for capital
Unable to prove where the invested capital is
Failure to pay the loan interest
Acquiring government land for cheap prices and selling them to government institutions at a value which is 50 times higher.
Using Tabung Haji funds in the same manner, profits used to saddle the losses of 1MDB
RM2.6 billion suddenly appearing in his personal account, which is supposedly a donation from a Middle Eastern person.
Investigations by the Malaysian Anti-Corruption Commission (MACC) and Bank Negara are ended before action can be taken.
Attorney-general is removed and the Public Accounts Committee (PAC) is 'dissolved' (dibubar) so that it can no longer investigate 1MDB
Living a lavish lifestyle beyond the means of a prime minister
Minimum wage is raised until factories moved to other countries and workers lost their jobs.
Sharp decline in the value of the Ringgit and share market
GST is rolled out, forcing small business to close, cost of living increases and the people's burden is heavier now.
Whoever that reprimands is questioned by the police, accused of sabotaging the bank and financial system; and arrested under the wrong laws.
https://www.malaysiakini.com/news/321623
—
30 November 2015
Dr M pens 'get rid of Najib' open letter ahead of Umno meet
…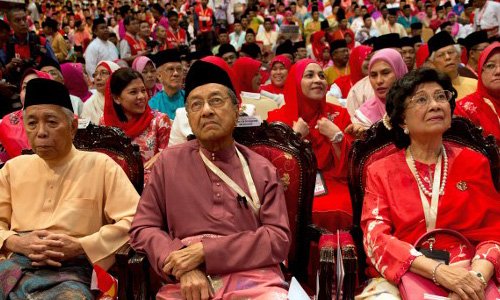 …
Dr Mahathir Mohamad, who helmed Umno for more than two decades, has penned an open letter urging grassroots leaders to reject the leadership of Prime Minister Najib Abdul Razak.
With the possibility of defeat looming, he said this must be done before the next general election.
"Reject his leadership before GE14 so that Umno will be safe and be able to win the election to remain as a fair government to all," he added.
https://www.malaysiakini.com/news/321617
—