—
The Bangladeshis are coming! All 1,500,000 of them!
25 June 2015
Ahmad Zahid said approximately 1.5 million workers from Bangladesh would be brought to Malaysia in stages over three years to meet the demands of employers from various sectors. – Bernama
11 August 2015
Deputy Prime Minister Ahmad Zahid Hamidi has sent a note relating to a company's request for an online system for the entry of Bangladeshi workers to Malaysia. The note was to the Home Ministry's secretary-general on the application from Realtime Networking Sdn Bhd, of which Ahmad Zahid's younger brother is its executive chairman.
http://www.freemalaysiatoday.com/category/nation/2015/08/12/home-ministry-clarifies-confusion-on-zahids-note/
…
Talking about another financial scandal, let's do the math: at RM3,000 per worker, Hakim's firm stands to make a whopping RM4.5 billion for the 1.5 million Bangladeshi workers, if he is given the contract.
http://www.malaysiakini.com/news/308421
—
Malaysiakini
 1:24PM Aug 13, 2015
By Charles Santiago
Another financial scandal in the making?
Charles Santiago: Another financial scandal in the making? http://www.malaysiakini.com/news/308421  @mpklang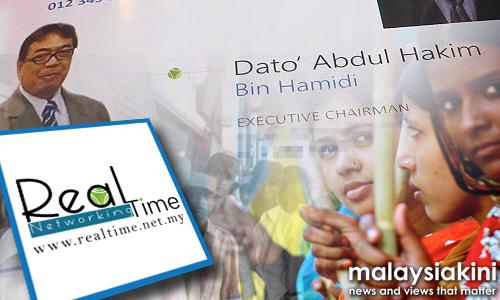 MP SPEAKS We don't need another financial scandal. But it looks like the Deputy Prime Minister, Ahmad Zahid Hamidi, will deliver it on a silver platter.
The Home Ministry is yet to conduct a Labour Market Needs Assessment Study to justify the number of workers required in the next years.
The comprehensive study must include skill needs, requirement and gaps, including a projection of employment by industry and sector for the next years.
None of this has even been looked at.
But top ranking Home Ministry officials are already in Bangladesh, in an attempt to bring in 1.5 million workers over the next three years.
And in a not so shocking turn of events, Zahid's younger brother, is also there.
Abdul Hakim Hamidi's firm has been holding talks between Dhaka and Putrajaya to provide an online system where, for a fee, workers can be registered and monitored from Bangladesh and Malaysia.
http://www.malaysiakini.com/news/308421
—