—
Propaganda:Facebook video accusing Mahathir and his cronies of trying to topple the BN government…
…
23 May 2017
Mahathir: Income tax dept going after Pakatan supporters
.

KUALA LUMPUR: The tax season has seen the Inland Revenue Board (LHDN) pay particular attention to individuals and organisations said to be supporters of opposition parties, claims Dr Mahathir Mohamad.
Without identifying anyone or providing any specific cases, the former prime minister told the crowd at the "Selamatkan Malaysia" (Save Malaysia) forum at Dewan Sri Siantan, Selayang here last night, that there was intimidation by LHDN against "contributors" to opposition coffers.
"I have been informed that those wanting to donate to Pakatan Harapan are likely to be harassed by LHDN. This is part of the ways that the government intends to sabotage our preparation for the next general election (GE14)," Mahathir said at the event also attended by Selangor Menteri Besar Mohamed Azmin Ali, Amanah president Mohammad Sabu and DAP's Tony Pua.
Mahathir, who is PPBM chairman, added that with the Barisan Nasional-led government knowing how much money is needed by PH to prepare for and run the election machinery, they are applying pressure to limit if not stop such funding altogether.
.
This is not the first time that Mahathir has brought up the issue of the LHDN going after those who support him or the opposition.
In July last year, Mahathir told reporters in Jakarta that he and his family and friends are being harassed by government agencies.
"I am being harassed at the moment. A lot of things are being done to make life very uncomfortable for me, and my family and my friends. They are being visited by the Income Tax Department," he said of the harassment, which he claimed were attempts to pressure him to stop criticising Prime Minister Najib Razak.
http://www.freemalaysiatoday.com/category/nation/2017/05/23/mahathir-income-tax-dept-going-after-pakatan-supporters/
…
THE NEXT STEP, ILLOGICAL THOUGH IT MAY BE, WOULD BE TO ACCUSE DR MAHATHIR OF HAVING URGED HIS 'CRONIES' TO DONATE TO PAKATAN RAKYAT!
FROM THAT, IT WOULD BE SO EASY TO ACCUSE HIM OF BEING A CLOSET PAKATAN RAKYAT SUPPORTER.
…
But you thought they had donated to BN!
—
The claims (unsubstantiated, of course)
Vincent Tan is said to have contributed almost RM1 billion to rival parties since 2008.
YTL, Syed Mokhtar (al-Bukhary) and other businessmen must have contributed hundreds of millions of Ringgit to Pakatan's coffer for GE13.
—
Dr M's 'cronies who donated to Pakatan' targeted
Dr M's 'cronies who donated to Pakatan' targeted http://www.malaysiakini.com/news/307436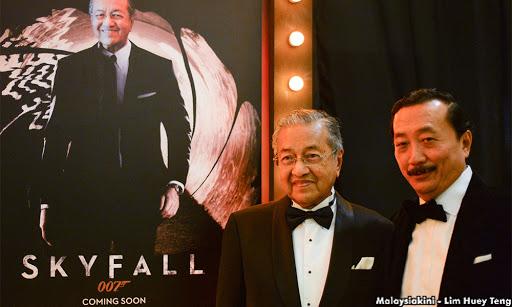 Amid the raging debate over the RM2.6 billion donation in Prime Minister Najib Abdul Razak's bank accounts, a blog has targetted business tycoons close to Dr Mahathir Mohamad.
The pro-Najib administration MyKMU.net published an open letter addressed to the former premier on this matter with a photograph showing Berjaya Group's Vincent Tan together with Mahathir and former deputy premier Muhyiddin Yassin.
The writer was identified as Amin Yatim from Petaling Jaya. No other details were available.
Posing a question to Mahathir, the letter writer asked if it was true Berjaya Group's Tan contributed close to RM400 million to Pakatan Rakyat in the 2013 general election.
Amin described Tan as a "businessman whom Mahathir is fond of and had recently organised the former premier's (90th) birthday bash ala James Bond."
"Tan, who received special treatment during the BN administration under Tun (Mahathir), is said to have contributed almost RM1 billion to rival parties since 2008.
"You must also know how many hundreds of millions YTL, Syed Mokhtar (al-Bukhary) and other businessmen contributed to Pakatan's coffers in a most tightly contested election in the nation's history," read the letter.
http://www.malaysiakini.com/news/307436
—

Warkah Buat Tun Mahathir: Benarkah Vincent Tan Derma RM 400 juta Kepada DAP?
Assalamualaikum Tun Mahathir,
1. Saya menulis dengan rasa berat hati setelah membaca tulisan Tun bertajuk "Akaun Peribadi" yang antara lain mempersoalkan kewujudan akaun peribadi Perdana Menteri Mohd Najib Tun Razak untuk dana politik dan pilihan raya.
2. Apabila Mohd Najib mengambil alih pentadbiran, semua orang tahu bahawa beliau mengambil alih ketika parti sangat lemah manakala kekuatan musuh bertambah berpuluh kali ganda berbanding 2008 dan juga 1999. Pembangkang ketika itu mempunyai kerajaan negeri Selangor, Pulau Pinang, Kedah, Perak dan Kelantan.
3. Selepas Tun Abdullah Ahmad Badawi mengumumkan pelan peralihan kuasa pada Julai 2008, Mohd Najib sedar bebanan besar menanti dirinya. 5 negeri milik pakatan rakyat, 3 daripadanya merupakan negeri kaya dan punya kerusi Parlimen yang besar. Langkah permulaan Mohd Najib ialah membantu pembentukan kerajaan BN di Perak.
4. Mohd Najib dan Tun Mahathir sendiri sedar pilihan raya 2013 bukan lagi perang antara "David versus Goliath". Sebaliknya ia merupakan "ibu segala peperangan" dalam konteks pilihan raya Malaysia. Mohd Najib tidak lagi boleh bergantung kepada sumbangan dana politik kroni-kroni perniagaan yang berifat telunjuk lurus kelingking berkait. Ini semua Tun tahu dan faham.
5. Justeru saya kini tertanya-tanya Tun menulis untuk apa? Mahu menjatuhkan Mohd Najib dan UMNO, membersihkan parti dan kerajaan atau kerana dendam tertentu? Saya percaya ramai juga tertanya-tanya soalan ini.
…
9. Saya kecewa Tun sanggup menyerang Mohd Najib yang berbelanja berhabis-habisan untuk kemenangan Barisan Nasional tetapi memejamkan mata tindakan kroni-kroni Tun menyumbang kepada parti lawan dalam pilihan raya 2013.
10. Tun siasat atau beritahu kita, betul atau tidak Tan Sri Vincent Tan, ahli perniagaan kesayangan Tun yang menganjurkan parti hari jadi Tun ala James Bond baru-baru ini, telah menyumbang hampir RM 400 juta kepada Pakatan Rakyat dalam pilihan raya 2013? Vincent Tan, orang yang mendapat pelbagai kemudahan dan keistimewaan semasa pentadbiran Barisan Nasional di bawah Tun, dikatakan menyumbang hampir RM 1 bilion kepada parti musuh sejak 2008.
11. Tun juga tentu tahu berapa ratus juta YTL, Syed Mokhtar dan beberapa tokoh perniagaan lain menyumbang kepada dana politik Pakatan Rakyat dalam satu pilihan raya yang paling sengit dalam sejarah negara.
…
Amin Yatim
Petaling Jaya
5 Ogos 2015.
http://www.mykmu.net/2015/08/warkah-buat-tun-mahathir-benarkah-vincent-tan-derma-rm-400-juta-kepada-dap/
—