..
..
Dua wanita dipercayai conteng mural pemimpin negara diburu
Afiezy Azaman, Astro Awani |  Julai 20, 2020 18:12 +08 | Durasi: 58 saat
KUALA LUMPUR: Rakaman kamera litar tertutup (CCTV) memaparkan dua individu dipercayai wanita menconteng mural gergasi memaparkan imej pemimpin negara di Seksyen U12, Shah Alam, menjadi viral sejak tengah hari Isnin.
Rakaman video berdurasi dua minit 20 saat itu memaparkan sebuah kereta diletakkan di sebelah lorong lukisan mural berkenaan sebelum kelibat dua individu itu muncul melakukan vandalisme.
Mereka dipercayai menconteng kata-kata kesat terhadap gambar pemimpin negara termasuk Yang di-Pertuan Agong sebelum beredar.
http://www.astroawani.com/berita-malaysia/dua-wanita-dipercayai-conteng-mural-pemimpin-negara-diburu-252014
..
..
..
..
..
Updated to reflect that the murals have been painted over.
A set of murals depicting the portraits of Yang di-Pertuan Agong Sultan Abdullah Sultan Ahmad Shah and several others were found to have been vandalised with bad words sprayed on them.
The murals at Section U12 Shah Alam were painted earlier this month by three friends – Muhammad Suhaimi Ali or Miey Ali, 27, Abdul Hadi Ramli, 27, and Muhamad Firdaus Nordin, 26 – and had since gone viral on social media.
Besides the King, other public figures that were painted on the wall of a building there include Prime Minister Muhyiddin Yassin, PAS president Abdul Hadi Awang and Health director-general Dr Noor Hisham Abdullah.
Noor Hisham, as well as Ruler Sultan Abdullah and the royal family, had even visited the giant murals.
According to a short video clip of the vandalised murals uploaded on Twitter this morning, several words of "babi" were sprayed between the faces of Hadi and Muhyiddin, besides Sultan Abdullah's face.
Noor Hisham's portrait, meanwhile, had the word "bangsat" sprayed on his face.
Shah Alam district police chief Baharudin Mat Taib when contacted confirmed that police have been alerted about the incident.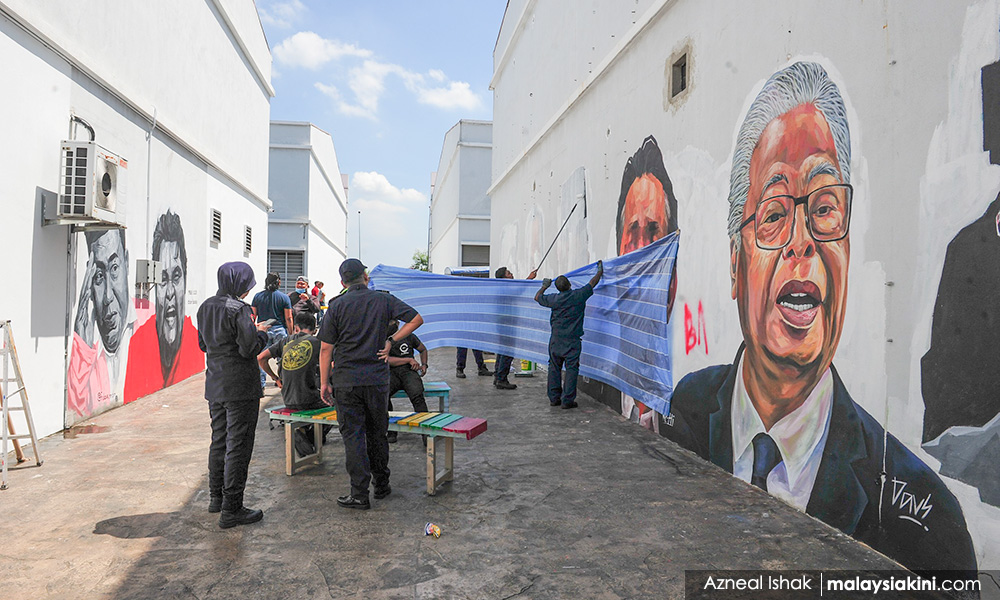 –
All the murals were later completely painted over by the council officers.
https://www.malaysiakini.com/news/535217
..