..
Sayer Ji and Kelly Brogan are two of the Disinformation Dozen responsible for 65% of the anti-vaccine content online.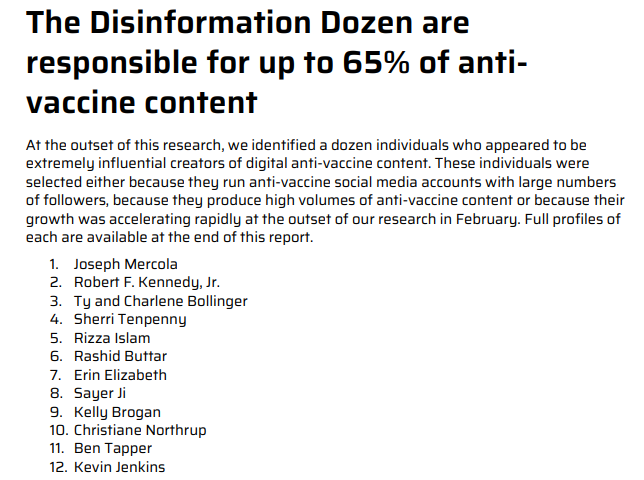 ..
Sayer Ji is the founder of a popular alternative medicine portal. He was identified in 2020 as one of the largest promoters of COVID-19 misinformation on social media.
Ji obtained a BA in philosophy from Rutgers University in 1995.[2] He has previously owned an organic food market in Bonita Springs, Florida.[3][4]
He is the former editor of the defunct International Journal of Human Nutrition and Functional Medicine [5] and a member of the advisory board and a former vice-president of the National Health Federation, a lobby group opposing government regulation of alternative health practitioners and supplements retailers.[5][6][7][8]
Ji became popular promoting common alternative medicine beliefs, such as enthusiasm for ancient healing practices and the claim that the appearance of some foods is meant to indicate which organ of the human body they are meant to treat.[5] While he earlier had invited his readers to be suspicious of governments, health authorities and pharmaceutical companies, during the COVID-19 pandemic Ji joined other proponents of alternative medicine in embracing conspiracy theories about allegedly oppressive global organizations.[1][9]
Ji denies being an anti-vaccination activist, but consistently shares false or misleading messages about vaccine safety and efficacy.[10][5][11][12] He is married to Kelly Brogan, another well-known promoter of medical misinformation.[11] He lives in Florida.[8][13]
.
Social media disinformation
The Center for Countering Digital Hate identified Ji as one of twelve individuals promoting most of the misinformation that can be found online about vaccines, along with his spouse Kelly Brogan, Robert F. Kennedy Jr., Christiane Northrup, Ty and Charlene Bollinger, and supplement giant Joseph Mercola.[11][12]
Ji falsely claimed on Facebook that the Pfizer COVID-19 vaccine killed more people than the virus itself. Like Brogan, he also discouraged the public from using face masks to limit the spread of the virus. Other information presented by Ji and GreenMedInfo has been flagged as false or misleading.[11][15]
Ji promotes anti-vaccination videos sold by Ty and Charlene Bollinger and receives a commission whenever his referrals result in a sale, a practice known as affiliate marketing.[16]
In 2020, both Twitter and Instagram removed GreenMedInfo from their platform as part of their efforts to limit the spread of misinformation about COVID-19.[11][1] Pinterest had already banned Ji in 2018.[17]
https://en.wikipedia.org/wiki/Sayer_Ji
..
Kelly Brogan is an American author of books on alternative medicine who has promoted conspiracy theories and misinformation about discredited medical hypotheses.[1]
Brogan graduated from Cornell University Medical College, and has a B.S. in Systems Neuroscience from MIT.[2] She uses the title of "holistic psychiatrist".[3]
Brogan maintained a psychiatry practice in Manhattan from 2009 to 2019, specializing in helping people wean themselves off medication. Peter M. Heimlich stated that she appears not to have maintained certification with the American Board of Psychiatry and Neurology, according to the association's database. She no longer claims to be certified in psychiatry and psychosomatic medicine on her website.[4]
Brogan wrote about health on Gwyneth Paltrow's Goop retail website and was featured on expert panels at several Goop events.[3][5][6]
Alternative medicine controversies
Brogan promotes the belief that human diseases are caused not by infectious agents, but rather by psychological factors. She mocks the well-established notion of "little invisible pathogens, you know, that randomly jump around from person to person".[3][4][7]
In a similar vein, Brogan attributed the death of AIDS patients not to HIV, but to treatments meant to fight it. Even though the link between HIV and AIDS is clearly established by medical research, she calls it an "assumption". She also defended the unsupported belief that intestinal bacteria cause depression; Brogan invites people to stop taking antidepressants and use the techniques and products from her website instead.[5][6][8] Through her website, Brogan offers a subscription-only "lifestyle medicine" community space and access to self-improvement training resources.[9]
She also promotes many of the usual erroneous claims against vaccines, notably that the immunity gained from surviving an infectious disease is superior to the one generated by being vaccinated. She also denies polio was eradicated by vaccination.[5][7][10]
Despite coffee enemas being long discredited as medical procedures, Brogan promotes them as a treatment for depression.[6][11]
COVID-19 denialism and conspiracies
An analysis of Twitter and Facebook anti-vaccine content found Brogan to be one of 12 individual and organization accounts producing up to 65% of all anti-vaccine content on the platforms. She has promoted widely disproven conspiracy theories about masks not preventing COVID-19, questioning the existence of a coronavirus causing COVID-19, and nonsensical conspiracy theories about the COVID-19 pandemic being planned.[1]
Brogan indicated at length that, in her opinion, the virus may not exist. According to her, it's rather the fear of a virus that makes people sick and die. She referred her followers to the pseudoscientific claims of Joseph Mercola and Ryke Geerd Hamer on the topic. Twitter, Facebook, Vimeo and Instagram removed Brogan's videos, as part of their efforts to limit the spread of misinformation during the epidemic, actions Brogan described as "censorship".[3][4][7][12]
Brogan's claims about the cause of diseases, like Hamer's and Mercola's claims, have been debunked by medical experts as dangerous misconceptions.[4]
On that occasion and others prior, she accused the government of being controlled by pro-vaccination "elites" with a sinister agenda. She suggested the pandemic was a ploy by the United States government to force vaccination on people and usher in totalitarian measures.[3][4][7] Investigator Benjamin Radford attributes Brogan's theories to a wider phenomenon of self-styled populist health experts inciting people to reject science and embrace their own theories.[4]
https://en.wikipedia.org/wiki/Kelly_Brogan
..
News Wise
Claim that the FDA found that coronavirus vaccines awaiting approval could cause death is majorly misleading
10-Dec-2020 2:30 PM EST, by Newswise A
Fact Check By: Craig Jones, Newswise
Truthfulness: Mostly False
Claim:
The FDA knows that rushed-to-market COVID-19 vaccines may cause a wide range of life-threatening side effects, including death
Claim Publisher and Date: GreenMedInfo on 2020-12-06
GreenMedInfo, an alternative health website that has published articles claiming vaccines cause autism, published an article on December 6th warning about the adverse side effects of the coronavirus vaccines, including death. The article has been shared thousands of times by anti-vaccine Facebook pages and groups. We rate this article as mostly false and misleading.
Although the vaccines were developed in record time, it doesn't mean they're unsafe. The FDA is still monitoring for potential adverse side effects from the vaccines in development. So far, it has not found that any of the COVID-19 vaccines seeking approval cause death.
As reported by Daniel Funke on Politifact…
We reached out to GreenMedInfo for a comment. Founder Sayer Ji said his website's intention was "to counterbalance the highly biased promotion of vaccines as 'safe and effective' a priori."

Ji also cited an FDA briefing document on the vaccine developed by Pfizer and its partner, BioNTech. The United Kingdom on Dec. 8 became the first country to start distributing the vaccine, and Canada approved it the next day.

In the document, the FDA reported that six of 43,448 participants died during clinical trials of the vaccine held from April to November. Two had been given the vaccine, and four had received a placebo.

Both participants who received the vaccine and died were older than 55; one died from cardiac arrest, the other from arteriosclerosis. The vaccine was not listed among the causes of their deaths, which the FDA said were characteristic of their age groups.

Although the agency did note some minor side effects associated with the vaccine, including fatigue and headache, it said there were "no specific safety concerns identified that would preclude issuance" of emergency use authorization.

The FDA's assessment supports Pfizer's Nov. 18 announcement that its vaccine was safe and 95% effective at preventing the coronavirus. The agency will meet Dec. 10 to discuss whether to approve the emergency-use authorization, after which it will be assessed by the Centers for Disease Control and Prevention's Advisory Committee on Immunization Practices and continue to be studied in clinical trials.
https://www.newswise.com/factcheck/claim-that-the-fda-found-that-coronavirus-vaccines-awaiting-approval-could-cause-death-is-majorly-misleading/?article_id=743159
..
Medika
Kelly Brogan on Medika's Quack Scale
Kelly Brogan scores 5/5 on Medika's Quack Scale
By Medika Life November 16, 2020 Views: 1651
Kelly Brogan scores 5/5 on our Quack Scale. She represents a real danger to both her patients and the general public and we encourage members of the public and her patients to seek alternate medical or health advice. Do not follow recommendations from this individual relating to your personal health or the health of others.
f you're not sure how our Quack Scale works, click here for a detailed explanation
.

The loudest and most damning voices condemning this fraud and charlatan emanate from her own patients. She openly questions the current public narrative on Covid-19, vaccines, and polio, amongst her other claims to fame and her callous interactions with her patients reveal a person with little compassion, driven by personal greed for both wealth and power. The fact she preys on those who are mentally vulnerable makes her actions, in our opinion, even more reprehensible. Despite numerous articles (some of which are listed below) warning the general public of her actions and intent, she continues to practice.
Her claims are easily debunked and show a clear misunderstanding or intentional abuse of science to mislead the public, all with the intent of peddling them her wares.
Your most effective tool to combat her reach and influence over other very vulnerable members of the community is to deplatform her on social media. We recommend unfollowing her and reporting any accounts for harmful content.
..