..
..
Excerpts from:
Recent African origin of modern humans
In paleoanthropology, the recent African origin of modern humans, also called the "Out of Africa" theory (OOA), recent single-origin hypothesis (RSOH), replacement hypothesis, or recent African origin model (RAO), is the dominant[1][2][3] model of the geographic origin and early migration of anatomically modern humans (Homo sapiens). It follows the early expansions of hominins out of Africa, accomplished by Homo erectus and then Homo neanderthalensis.
The model proposes a "single origin" of Homo sapiens in the taxonomic sense, precluding parallel evolution of traits considered anatomically modern in other regions,[4] but not precluding multiple admixture between H. sapiens and archaic humans in Europe and Asia.[note 1][5][6] H. sapiens most likely developed in the Horn of Africa between 300,000 and 200,000 years ago.[7][8] The "recent African origin" model proposes that all modern non-African populations are substantially descended from populations of H. sapiens that left Africa after that time.
There were at least several "out-of-Africa" dispersals of modern humans, possibly beginning as early as 270,000 years ago, including 215,000 years ago to at least Greece,[9][10][11] and certainly via northern Africa about 130,000 to 115,000 years ago.[12][13][14][15][16][17] These early waves appear to have mostly died out or retreated by 80,000 years ago.[18]
The most significant "recent" wave took place about 70,000–50,000 years ago,[7][8][19][20][21] via the so-called "Southern Route", spreading rapidly along the coast of Asia and reaching Australia by around 65,000–50,000 years ago,[22][23][note 2] (though some researchers question the earlier Australian dates and place the arrival of humans there at 50,000 years ago at earliest,[24][25] while others have suggested that these first settlers of Australia may represent an older wave before the more significant out of Africa migration and thus not necessarily be ancestral to the region's later inhabitants[21]) while Europe was populated by an early offshoot which settled the Near East and Europe less than 55,000 years ago.[26][27][28]
In the 2010s, studies in population genetics have uncovered evidence of interbreeding that occurred between H. sapiens and archaic humans in Eurasia and Oceania but not in Africa,[29] which means that all non-African modern population groups, while mostly derived from early H. sapiens, are to a lesser extent also descended from regional variants of archaic humans.
https://en.wikipedia.org/wiki/Recent_African_origin_of_modern_humans
..
You might think that humans evolved from apes such as gorillas and chimps. But you're wrong. Humans did not evolve from apes, but share a common ancestor that lived millions of years ago.
..
11 July 2018

No single birthplace of mankind, say scientists
Researchers say it is time to drop the idea that modern humans originated from a single population in a single location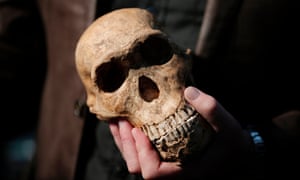 The origins of our species have long been traced to east Africa, where the world's oldest undisputed Homo sapiens fossils were discovered. About 300,000 years ago, the story went, a group of primitive humans there underwent a series of genetic and cultural shifts that set them on a unique evolutionary path that resulted in everyone alive today.
However, a team of prominent scientists is now calling for a rewriting of this traditional narrative, based on a comprehensive survey of fossil, archaeological and genetic evidence. Instead, the international team argue, the distinctive features that make us human emerged mosaic-like across different populations spanning the entire African continent. Only after tens or hundreds of thousands of years of interbreeding and cultural exchange between these semi-isolated groups, did the fully fledged modern human come into being.
Dr Eleanor Scerri, an archaeologist at Oxford University, who led the international research, said: "This single origin, single population view has stuck in people's mind … but the way we've been thinking about it is too simplistic."
This continental-wide view would help reconcile contradictory interpretations of early Homo sapiens fossils varying greatly in shape, scattered from South Africa (Florisbad) to Ethiopia (Omo Kibish) to Morocco (Jebel Irhoud).
The telltale characteristics of a modern human – globular brain case, a chin, a more delicate brow and a small face – seem to first appear in different places at different times. Previously, this has either been explained as evidence of a single, large population trekking around the continent en masse or by dismissing certain fossils as side-branches of the modern human lineage that just happened to have developed certain anatomical similarities.
The latest analysis suggests that this patchwork emergence of human traits can be explained by the existence of multiple populations that were periodically separated for millennia by rivers, deserts, forests and mountains before coming into contact again due to shifts in the climate. "These barriers created migration and contact opportunities for groups that may previously have been separated, and later fluctuation might have meant populations that mixed for a short while became isolated again," said Scerri.
The trend towards more sophisticated stone tools, jewellery and cooking implements also supports the theory, according to the paper in the journal Trends in Ecology & Evolution.
Scerri assembled a multidisciplinary group to examine the archaeological, fossil, genetic and climate data together, with the aim of eliminating biases and assumptions. Previously, she said, scientific objectivity had been clouded by fierce competition between research groups each wanting their own discoveries to be given a prominent place on a linear evolutionary ladder leading to the present day. Disputes between rival teams working in South Africa and east Africa had become entrenched, she said.
"Someone finds a skull somewhere and that's the source of humanity. Someone finds some tools somewhere, that's the source of humanity," she said, describing the latest approach as: "'Let's be inclusive and construct a model based on all the data we have available."
The analysis also paints a picture of humans as a far more diverse collection of species and sub-populations than exists today. Between 200,000 and 400,000 years ago, our own ancestors lived alongside a primitive human species called Homo naledi, found in southern Africa, a larger brained species called Homo heidelbergensis in central Africa and perhaps myriad other humans yet to be discovered.
https://www.theguardian.com/science/2018/jul/11/no-single-birthplace-of-mankind-say-scientists
..
Excerpts from:
22 May 2017

Europe was the birthplace of mankind, not Africa, scientists find
The history of human evolution has been rewritten after scientists discovered that Europe was the birthplace of mankind, not Africa.
Currently, most experts believe that our human lineage split from apes around seven million years ago in central Africa, where hominids remained for the next five million years before venturing further afield.
But two fossils of an ape-like creature which had human-like teeth have been found in Bulgaria and Greece, dating to 7.2 million years ago.
.
The discovery of the creature, named Graecopithecus freybergi, and nicknameded 'El Graeco' by scientists, proves our ancestors were already starting to evolve in Europe 200,000 years before the earliest African hominid.
An international team of researchers say the findings entirely change the beginning of human history and place the last common ancestor of both chimpanzees and humans – the so-called Missing Link – in the Mediterranean region.
At that time climate change had turned Eastern Europe into an open savannah which forced apes to find new food sources, sparking a shift towards bipedalism, the researchers believe.
"This study changes the ideas related to the knowledge about the time and the place of the first steps of the humankind," said Professor Nikolai Spassov from the Bulgarian Academy of Sciences.
"Graecopithecus is not an ape. He is a member of the tribe of hominins and the direct ancestor of homo.
"The food of the Graecopithecus was related to the rather dry and hard savannah vegetation, unlike that of the recent great apes which are living in forests.  Therefore, like humans, he has wide molars and thick enamel.
.
"To some extent this is a newly discovered missing link. But missing links will always exist , because evolution is infinite chain of subsequent forms. Probably  El Graeco's face will resemble a great ape, with shorter canines."
.
The species was also found to be several hundred thousand years older than the oldest African hominid, Sahelanthropus tchadensis which was found in Chad.
"We were surprised by our results, as pre-humans were previously known only from sub-Saharan Africa," said doctoral student Jochen Fuss, a Tübingen PhD student who conducted this part of the study.
Professor David Begun, a University of Toronto paleoanthropologist and co-author of this study, added: "This dating allows us to move the human-chimpanzee split into the Mediterranean area."
During the period the Mediterranean Sea went through frequent periods of drying up completely, forming a land bridge between Europe and Africa and allowing apes and early hominids to pass between the continents.
.
Professor Böhme added: "Our findings may eventually change our ideas about the origin of humanity. I personally don't think that the descendants of Graecopithecus die out, they may have spread to Africa later. The split of chimps and humans was a single event. Our data support the view that this split was happening in the eastern Mediterranean – not in Africa.
"If accepted, this theory will indeed alter the very beginning of human history."
However some experts were more skeptical about the findings.
Retired anthropologist and author Dr Peter Andrews, formerly at the Natural History Museum in London, said: "It is possible that the human lineage originated in Europe, but very substantial fossil evidence places the origin in Africa, including several partial skeletons and skulls.
"I would be hesitant about using a single character from an isolated fossil to set against the evidence from Africa."
The new research was published in the journal PLOS One.
https://www.telegraph.co.uk/science/2017/05/22/europe-birthplace-mankind-not-africa-scientists-find/
..