…
13 Nov 2016
…
PKR's efforts to whip up support for next Saturday's Bersih rally today was dogged by Sungai Besar Umno chief Jamal Md Yunos and his red-shirt posse.
…
At two stops – Tasek Permai and the Tasek Tambahan PKNS flats – Zuraida was seen giving out goodies, including bags of rice, to residents while encouraging them to join the Nov 19 rally.
However, the situation became tense at Tasek Tambahan when Jamal and his red-shirts arrived.
The two groups were separated by the police and a verbal sparring match ensued.
Jamal demanded to see Zuraida, accusing her of having paid about 40 over "volunteers" to be on her entourage.
"Why give them only RM20? Give them RM200, or RM300 then it would be worth it," Jamal said.
The red-shirts also chanted "Zuraida penipu (liar)" among other insults.
Zuraida, however, ignored them, proceeding to hand out goodies before leaving Tasek Tambahan for Dewan Orang Ramai Sri Tanjung.
…
Among other insults, Jamal and his men accused Zuraida's followers of not being heterosexuals.
"There are many pretty boys among them," he noted, before leading the red-shirts to chant "LGBT".
The PKR crowd retaliated with selawat (Muslim hymns), to which Jamal retorted that he prayed they would return to the right path.
…
Stupidity in the making! @KBAB51 you need to act against gangsterism and not take sides. Arrest these samseng!
…
LIVE on #Periscope

: Reds vs Bersih/PKR in Ampang @malaysiakini@kini
Click on the link:
https://www.periscope.tv/w/1YpKkAEnQEoJj
…
LIVE on #Periscope

: Jamal and the red-shirts address Bersih event organised by Ampang PKR @malaysiakini @kinitv
Click on the link:
https://www.periscope.tv/w/1nAJEkRBQEeKL
…
LIVE on #Periscope

: Red shirts invade Bersih event organised by PKR in Ampang @malaysiakini @kinitva
Click on the link:
https://www.periscope.tv/w/1OwGWrEAokNKQ
…
Bersih and red-shirts face off at Flat PKNS Tasek Tambahan @malaysiakini @kinitv
…
Wolf Retweeted Wolf
Symbolic pic where the red shirts are actually cowards & seen here helped by the police. #Bersih5
Wolf added,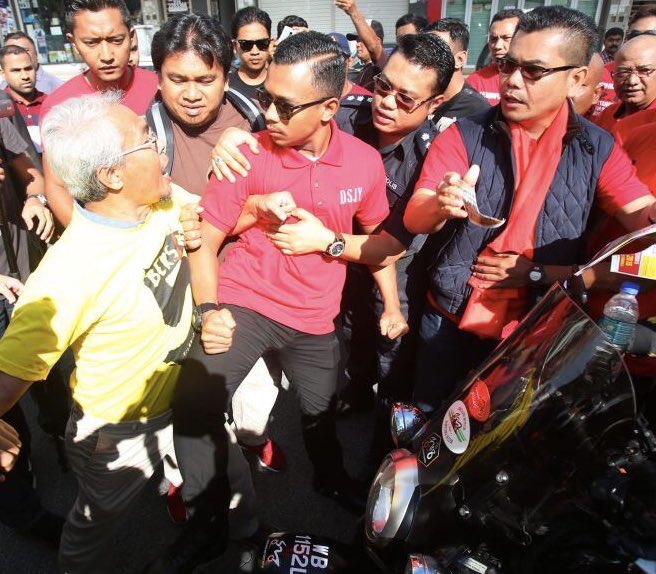 دانيال لوقمن Retweeted BERSIH 2.0
UMNO BlackShirts

Red Shirts?



دانيال لوقمن added,