—
CAN HE BE TAKEN SERIOUSLY? Take a look at the following Posts and decide for yourself.
1 FT MINISTER TENGKU ADNAN WINS THE FOOT IN MOUTH AWARD FOR HIS SEXIST STATEMENT!
2 Tengku Adnan's Mission: Demolition of ALL temples 'squatting on land illegally'.
3 Of Tenku Adnan, Malaysiakini, Dr Mahathir's portrait in the dark, a loose connection, Jews, CIA agents and 'Christians'…
4 Shocking! FT Minister Tengku Adnan: We don't have to help those in Opposition-held constituencies!
5 TENGKU ADNAN: TEACHERS CAN REJOIN POLITICS. Strictly BN, though.
6 A Crude and Pompous FT minister and Bersih 4
7 Lying through his teeth: UMNO has never supported street rallies, not even Red Shirt September 16
—
9 December 2015
FOOD TRUCKS. Interested?
Food trucks for a food-loving city: Hong Kong officials unveil pilot scheme of 12 vehicles in prime locations
Commerce minister seeks to boost local tourism by featuring the trucks in Wan Chai, Tsim Sha Tsui, Central, Ocean Park and Disneyland.
HK officials unveil pilot scheme of 12 #foodtrucks in 6 prime locations to boost #tourism. http://ow.ly/VC34R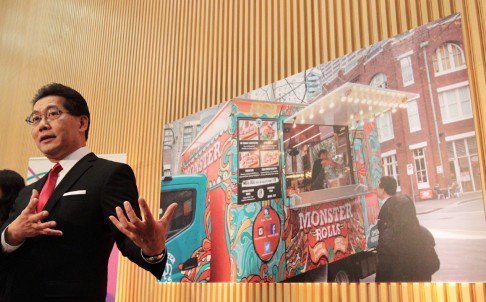 …
Allen Au-yeung and Nikki Sun
Tuesday, 08 December, 2015
Hungry tourists can look forward to trying culinary delights in open areas of the city as the government today unveiled a pilot scheme allowing 12 food trucks to operate in six prime locations for two years to boost tourism.
There were to be two food trucks operating at each of the following locations: Golden Bauhinia Square in Wan Chai; Salisbury Garden and Art Square at Tsim Sha Tsui; the Central harbourfront; Ocean Park; and Hong Kong Disneyland.
Secretary for Commerce and Economic Development Greg So Kam-leung said: "We hope the food trucks will increase and diversify Hong Kong's food choices. They won't compete with existing restaurants."
In addition to meeting food safety and hygiene standards, the food trucks must "look nice" and "sell creative and high quality culinary delights", the commerce minister said. A special panel staffed by food experts was assigned to taste the food made by the trucks before they could hit the road.
http://www.scmp.com/news/hong-kong/economy/article/1888332/food-trucks-food-loving-city-hong-kong-officials-unveil-pilot?utm_source=&utm_medium=&utm_campaign=SCMPSocialNewsfeed
—
25 November 2015
Malaysia plans to get street hawkers into food trucks by 2020
…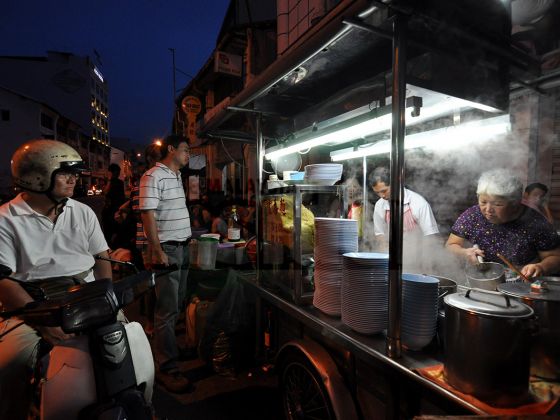 KUALA LUMPUR — Malaysian street vendors will be encouraged to operate from food trucks by 2020 as part of the government's plans to upgrade their status, Bernama reported.
Federal Territories Minister Tengku Adnan Tengku Mansor said the Kuala Lumpur City Hall would take the lead in the implementation of the plan.
He said food trucks were seen as being more efficient, clean and able to provide easy mobility to the hawkers.
"So far, City Hall has identified 50 hawkers who are interested in upgrading their businesses to this food truck concept and we will provide each of them a grant of RM10,000 (S$3,334.77) to help them expand their businesses," he said in reply to Mr Khalid Ibrahim (Independent-Bandar Tun Razak) in parliament in Kuala Lumpur today (Nov 25).
…
Mr Tengku Adnan, who is also the MP for Putrajaya, said City Hall had so far identified 3,000 unlicensed traders around Kuala Lumpur and studies were being carried to determine suitable locations before permits could be issued to them.
http://www.todayonline.com/world/asia/malaysia-plans-get-street-hawkers-food-trucks-2020
—
50 KL hawkers choose food trucks concept
KUALA LUMPUR – Encouraging all street vendors to operate from caravans or food trucks by 2020 are among the plans drawn up by the Federal Territories Ministry in an effort to upgrade the status of the traders involved, said Minister Datuk Seri Tengku Adnan Tengku Mansor.
He said the business plan to be implemented through Kuala Lumpur City Hall (DBKL) was seen to be more efficient, clean and able to provide easy mobility.
http://www.sinarharian.com.my/eng/50-kl-hawkers-choose-food-trucks-concept-1.455585
—