—
CERTAINLY TOO YOUNG TO BE VAPING!
—
E-cigarettes: NOT BANNED in Malaysia but…
—
14 November 2015
Penang health exco decries video clips of kids vaping
Penang health exco decries video clips of kids vaping http://twib.in/l/E99pjgn9xR5  | https://twibble.io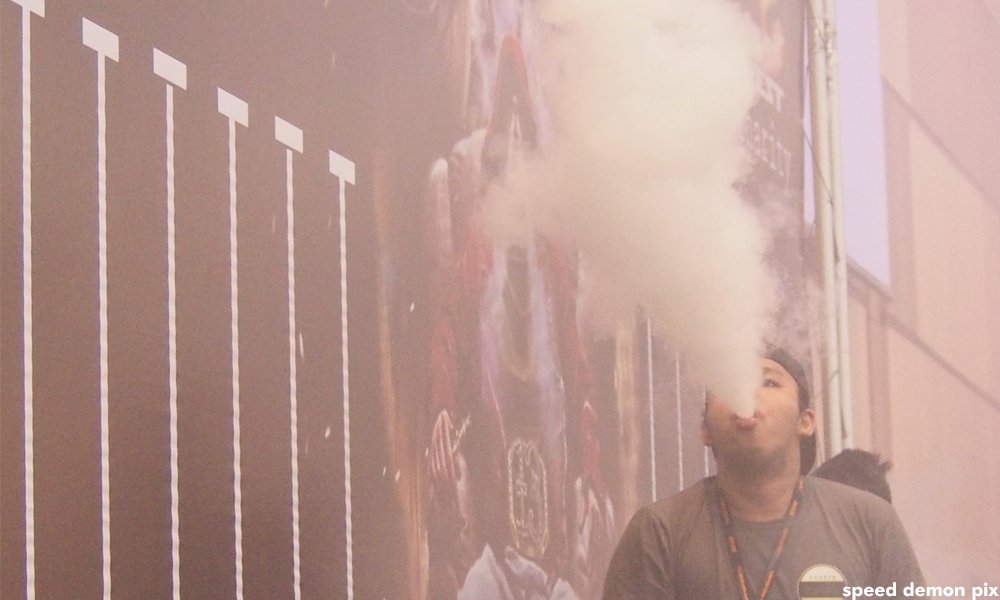 While Penang seeks to regulate or limit vaping in designated areas as part of its Smoke Free Campaign, state executive councillor on health Dr Afif Bahardin urged those who use e- cigarettes to be more "ethical".
Afif claimed there are video clips of children vaping going viral and described such acts as "ridiculous and uncalled for".
"You can argue that e-cigarettes have less toxic content or smoke, but this is only beneficial to those who are already smoking," Afif told Malaysiakini.
"It is not beneficial when you introduce it to children because they … have none of the (toxic) substances in their bodies which will be detrimental to their health," he added.
"Which is why vaping must follow some guidelines, and I totally agree that it must be regulated and limited," he stressed.
https://www.malaysiakini.com/news/319478
—
28 June 2015
Star
Sunday June 28, 2015 MYT 7:59:27 AM
Vaping teens
A COLLEGE student who only wanted to be known as Cookie Monster, 19, has vaper friends as young as 14.
And, two of her girlfriends – age 19 and 20 – are sellers who conduct their business on WeChat messaging.
She also gets many invites on social media on the latest mod and liquid promotions. Vaping is so popular that "vape" was Oxford Dictionaries' word of the year in 2014.
Urban cool advertising campaigns, photos of celebrities like Katy Perry vaping splashed across the Internet, candy-coloured juices and flavours ranging from exotic blue cheese to chocolates, have created a new generation of teenage vapers.
"There are many vapers below 18 – as young as 14 even.
"Some of their family members vape too, so it's no big deal."
…
Vape Empire partner Aimran Abdul Rajak says there are parents who buy vape kits for their children as its 30 outlets won't sell to minors. He says such parents are usually vapers themselves.
"Even Form Two students are smoking these days. Parents just want to help them quit.
"We also had a little girl who knew about vaping through the Internet. She dragged her dad in to help him as he was a heavy smoker."
Sounding serious, he says, "I'd slap them" if he sees youngsters vaping.
…
Vaporizer Convention Kuala Lumpur 2015 co-organiser Rahmat Yahil is also against teenage vaping.
"Kids blowing clumps of vape in malls are giving the industry a bad reputation.
"To limit access, the minimum price of a starter kit should be RM500 and only those above age 21 should be allowed to vape," he says.
http://www.thestar.com.my/News/Nation/2015/06/28/Vaping-teens/
—
—