—
18 November 2015
Islamic State shows photo of improvised Russian plane bomb
#ISIS shows photo of improvised Russian plane bomb http://str.sg/ZazJ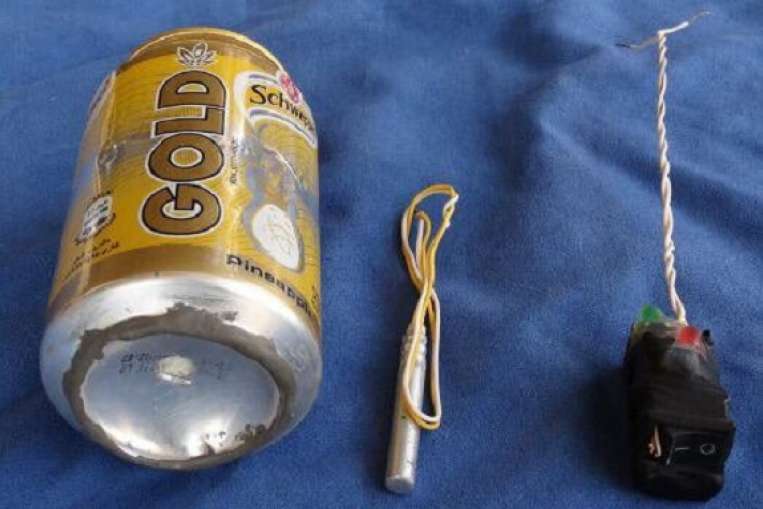 …
CAIRO (REUTERS) – Islamic State's magazine posted a photo on Wednesday of what it said was the improvised bomb that brought down the Russian airliner over Egypt's Sinai Peninsula last month.
The photo showed a can of Schweppes Gold soft drink and what appeared to be a detonator and switch on a blue background.
It also published a photo of what it said were passports belonging to dead Russians "obtained by the mujahideen".
http://www.straitstimes.com/world/middle-east/islamic-state-shows-photo-of-improvised-russian-plane-bomb
…
—
BREAKING: ISIS magazine online shows alleged pic of the bomb they say they used to bring down #Sinai plane #7K9268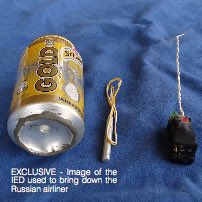 —
14 November 2015
…
Published on Oct 30, 2014
ISIS has released a video threatening Russia.
"This message is for you, Vladimir Putin! These are the aircraft you sent to Syria, and we're going to send them to you, remember that!"
ISIS has been threatening the U.S. for months, but this is Russia's first threat. ISIS is certainly scary, but Russia…
Putin: "I want to remind you that Russia is one of the most powerful nuclear powers. It's not words, it's reality."
Russia is the one who knocks.
Subscribe to NowThisNews: http://full.sc/1ewEzh6
—
…
Published on Nov 12, 2015
ISIS on Thursday purportedly released a video and audio statement threatening to attack Russia "very soon."
In the nearly five-minute long video, a chant in Russian is heard over visual compilations of old ISIS propaganda and generic video of Russian cities and buildings.
The video is entitled "Soon Very Soon the Blood Will Spill like an Ocean" and was posted two weeks after a Russian commercial jet crashed in Egypt, killing 224 people. An ISIS affiliate has claimed it brought down the plane.
CNN has not independently verified the video is authentic, but it was posted on ISIS-affiliated social media accounts.
Russian security services are working to verify the authenticity of the video, the country's state news agency
Kremlin spokesperson Dmitry Peskov told reporters in Moscow: "I've read news about this video, but have not seen it myself. I don't know the authenticity of this video, and I don't know the authenticity of these sources.
"But in any case I'm sure this material will be subject of scrutiny by our special services."
Opinion: What Putin is doing in the Middle East
Russian air power has backed the Syrian leader Bashar al-Assad's military in its fight against ISIS since October 1. While Russian officials have said their airstrikes target ISIS, U.S. officials have said some have not been in areas where the terror group is operating.
Russia has no wish to see Syria become a radical Islamist state or a long-term safe haven for terror groups, with possible consequences for its own Muslim regions in the Caucasus. It is "also concerned about the possible return to Russia of the 2,000 or more Russian-speakers currently fighting against Assad's forces," Nikolay Kozhanov of the Carnegie Moscow Center said last month.
ISIS has threatened Russia before, even prior to Moscow's military support in Syria.
—
14 November 2015
The Spectator
Islamic State is making its threats a reality
The downing of the Russian airliner shows its potential to cause havoc on a global scale
When the creation of a new caliphate was announced last year, who but the small band of his followers took seriously its leader's prediction of imminent regional and eventual global dominance?
…
Two years on, even the most hardened sceptic is having second thoughts. The apparent bombing of a Russian airliner last week, minutes after taking off from the Egyptian resort of Sharm el-Sheikh, was proof of the caliphate's potential to wreak havoc on a global scale. It left hundreds of thousands of Britons, Russians and others stranded and distraught, or hastily cancelling their holidays. Here was more evidence, too, that Islamic State's strategy of recruiting the Muslim masses by impoverishing them, while damning all among them who do not shun or kill infidels, is likely to be far more consequential than al-Qaeda's spectacular attacks against prominent western targets. Egypt, after all, had been the only Arab country (apart from Iran-controlled Iraq) to openly support Russian airstrikes in Syria, and just a few weeks after making that fateful decision its most important resort is deserted. Others, such as Luxor and Aswan on the Nile, have been ghost towns since the 2011 uprising that toppled Hosni Mubarak.
Egypt was, in other words, just as much a target as Russia. The country's tourism-dependent economy has been decimated, as has Tunisia's following the slaughter of mostly British tourists there in June by another Isis-inspired terrorist. Both may take years to recover, and the fallout in the meantime will be a great boon for jihadist recruiters. This is part and parcel of the caliph's strategy of bringing order out of chaos. For with such an overwhelming sense of hopelessness and helplessness, even cripplingly rigid tyranny starts looking like a preferable alternative. We have seen this play out repeatedly throughout the Sunni-majority areas of Iraq and Syria under the caliphate's control, and in Taleban-dominated parts of Afghanistan.
…
Taking stock of a new reality is what Vladimir Putin, the caliph's main adversary, is also busy doing. Bedevilled by a growing jihadist threat at home and with the grim knowledge that some 8,000 Russian jihadis are believed to be fighting for the caliph with the dream of one day taking their fight to the homeland, Putin had sold the war in Syria as a way of making ordinary Russians safer. His popularity soared; but now a planeload of Russian holidaymakers are dead. More than a month into an aerial campaign officially slated to last just three or four, the Syrian army has managed to recapture only a few villages. And Isis fighters, according to some estimates numbering in the hundreds of thousands, are still emerging from fortified bunkers to carry out counterattacks in the most strategically crucial part of Syria. Russia can fire all the cruise missiles it likes, but without greater international co-ordination the caliphate clearly is not going anywhere soon.
http://new.spectator.co.uk/2015/11/islamic-state-is-making-its-threats-a-reality/
—
11 November 2015
VICE NEWS
Islamic State 'Inside Man' Might Have Planted Bomb on Russian Plane
November 10, 2015 | 12:55 am
The latest evidence suggests that an inside man at the airport in the Egyptian resort area of Sharm el-Sheikh might have been responsible for planting a bomb on a Russian airliner that caused it to crash in the Sinai Peninsula on October 31, killing all 224 people on board.
The self-proclaimed Islamic State's regional affiliate took responsibility for the attack within hours of the plane crash, but Egyptian officials quickly dismissed the claim. Egyptian President Abdel Fatah al-Sisi even called the suggestion "propaganda" during a state visit he paid to the UK over the weekend.
But on Monday, US intelligence officials confirmed to ABC News that electronic intercepts of the terror group's communications suggest that it was in contact with someone at the airport.
This version of events was also confirmed by US lawmakers who had been briefed on the issue.
"ISIS may have concluded that the best way to defeat airport defenses is not to go through them but to go around them with the help of somebody on the inside," Democratic Congressman Adam Schiff, who received classified information on the investigation, told NBC over the weekend, referring to the Islamic State by an alternative name.
This theory is coherent with views that have been leaked by UK and French intelligence officials who have all strongly hinted over the past week that a bomb brought down the plane.
https://news.vice.com/article/islamic-state-inside-man-might-have-planted-bomb-on-russian-plane
—
5 November 2015
CNBC
Bomb by Islamic State likely caused Russian plane crash: security sources
Thursday, 5 Nov 2015 | 4:03 AM ETReuters
Evidence now suggests that a bomb planted by the Islamic State militant group is the likely cause of last weekend's crash of a Russian airliner over Egypt's Sinai peninsula, U.S. and European security sources said on Wednesday.
Islamic State, which controls swathes of Iraq and Syria and is battling the Egyptian army in the Sinai Peninsula, said again on Wednesday it brought down the airplane, adding it would eventually tell the world how it carried out the attack.
The Airbus A321M crashed on Saturday in the Sinai Peninsula shortly after taking off from the resort of Sharm el-Sheikh on its way to the Russian city of St Petersburg, killing all 224 people on board.
The U.S. and European security sources stressed they had reached no final conclusions about the crash.
http://www.cnbc.com/2015/11/04/bomb-by-islamic-state-likely-caused-russian-plane-crash-security-sources.html
—