—
Is this true? Video: Indonesian maid claims she got Malaysian IC and BR1M of RM500!
—
PM: If S'pore can give cash aid, why can't M'sia?
—
YOURSAY | Why #Singapore can afford cash handouts, and not #Malaysia https://www.malaysiakini.com/news/318196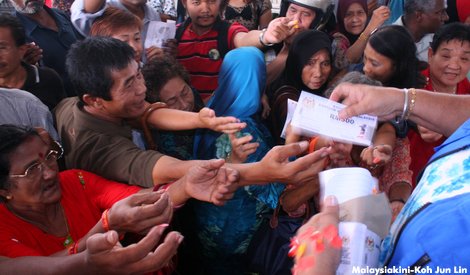 YOURSAY | 'Singapore doesn't give money from the tax collected from its people.'
PM: If S'pore can give cash aid, why can't M'sia?
Chipmunk: PM Najib Razak, first and foremost, please get your facts right about the Singapore government.
In the Singapore 2015 budget, the following benefits were included:
1. Every Singaporean aged 25 and above will get an initial $500 of SkillsFuture Credit from the government, which will be topped up at regular intervals and will not expire;
2. The income ceiling for Central Provident Fund (CPF) contributions will be raised from $5,000 to $6,000 from next year onwards. An additional 1% interest will be applied to the first $30,000 of CPF savings for those aged 55 and above next year, on top of the existing 1% extra interest on the first $60,000 of savings.
This means that the first $30,000 in Special, Retirement or Medisave accounts can earn up to 6% interest;
3. Under the Silver Support Scheme, the bottom 30% of Singaporeans aged 65 and above will get payouts of between $300 and $750 every three months. The average low-income senior citizen will receive $600.
4. In the interim, before the Silver Support Scheme is in effect, senior citizens who are aged 65 and above and live in Housing Development Board (HDB) flats, and whose assessable income for 2014 is $26,000 or less, will receive a one-off 'Seniors' Bonus'.
The bonus of either $150 or $300 will be in the form of Goods and Services Tax (GST) vouchers;
5. 1.4 million Singaporeans will get $50 more in GST vouchers from this year. The increase in GST voucher quantum across the board means that eligible individuals will receive up to $300 in cash.
The GST voucher, introduced in 2012 to help lower- and middle-income households with their expenses, is given in three parts – cash, Medisave and Utilities-Save, which provides HDB households with a rebate to offset their utilities bills;
6. Taxpayers will enjoy a one-off tax rebate of 50%, capped at $1,000, for the year of assessment 2015 for income earned in 2014.
These are just some of the practical measures taken by PM Lee Hsien Loong. As for your BR1M, this is more of a "monkey take, monkey give". You bribe the rakyat with peanuts while you and your cronies embezzle the huge chunk from the rakyat.
Basically: Why compare Malaysia with Singapore? Firstly, dear PM, Singapore gives cash handouts to all citizens, not just the poor rural vote bank.
Secondly, they don't ask their politicians to hand it out or put the PM's face on the letter informing the recipients about the handouts.
The letter simply has the ministry's logo without the PAP logo or leader's face on it, and the cash is banked direct into bank accounts.
I recall your face appearing on a BR1M letter before GE13. Lee Hsien Loong would never dare to do that.
If you want to follow Singapore, try following something good, not just the dirty tricks, which PAP also knows how to do them.
Try zero corruption, professional civil service, efficient public transport, and full transparency and good governance policies. Singapore does those, too.
PTH: If it's money derived from surplus due to good governance and efficient management of the economy, then such handouts ought to be given.
But what we see is the government taking from the taxpayers, GST, tolls, and etc, and not creating more wealth through increased FDIs (foreign direct investments) and other sources.
Instead we hear of much reported wastages and mismanagement that our country can do without.
For more:
—