—
British artist Anish Kapoor has previously described the piece as "the vagina of a queen who is taking power" but later appeared to step back from this description.
—
'Queen's vagina' sculpture in Versailles vandalised again
'Queen's vagina' sculpture in #Versailles vandalised again http://str.sg/ZXm4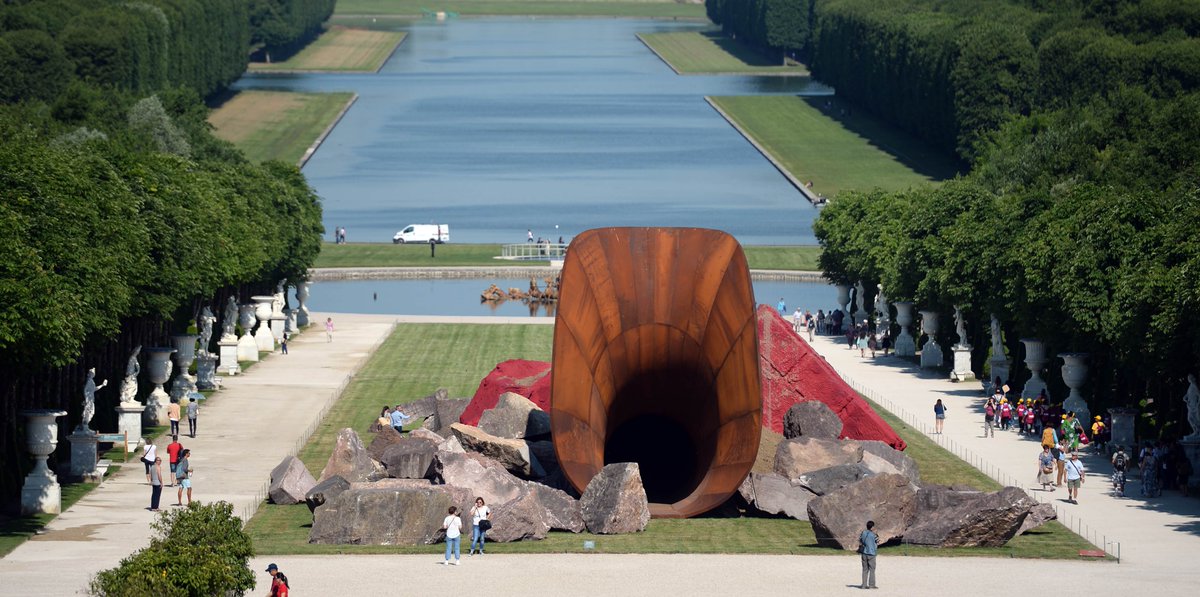 PARIS (AFP) – A controversial sculpture by British artist Anish Kapoor on display in the gardens of France's Palace of Versailles has been vandalised for a third time, with graffiti saying "respect art" scrawled on it, the royal chateau said Thursday.
Officially known as "Dirty Corner," the 60m long, 10m high steel-and-rock abstract sculpture has become popularly known as the "queen's vagina".
It is set up in the garden of the chateau, which attracts five million tourists a year.
The phrase "Respect Art as U trust God" was scrawled over the artwork in large letters with pink paint, the management of the palace said, adding that security at the site would be stepped up with night-time police patrols and new surveillance cameras.
But it did not attempt to explain the meaning of the graffiti, which could be interpreted as criticism or support for the artist.
When it was first unveiled in June the piece was sprayed with yellow paint.
On Sunday, it was vandalised for a second time when it was covered in anti-Semitic graffiti in white paint.
Phrases such as "Queen sacrificed, twice insulted" and "the second rape of the nation by deviant Jewish activism" covered the work.
Following that incident, the 61-year-old British-Indian artist said he wanted the graffiti to remain to bear witness to hatred.
France's culture ministry agreed, and said panels next to the work would explain what happened.
http://www.straitstimes.com/lifestyle/arts/queens-vagina-sculpture-in-versailles-vandalised-again
—
the guardian
Anish Kapoor sued for leaving racist graffiti on his 'queen's vagina' sculpture at Versailles
The controversial sculpture, which has been repeatedly vandalised, could land the artist in court for inciting racial hatred
British artist Anish Kapoor announced at a press conference on Wednesday that a Versailles politician is taking him to court for choosing to display antisemitic information on his sculpture Dirty Corner.
"I think it's a wonderful reversal; I'll see him in court," said Kapoor. "It shows how insane the whole thing is."
The sculpture on display at the Château de Versailles – a large steel structure surrounded by large rocks, dubbed by French reporters "the queen's vagina" – was vandalised last weekend with hateful, antisemitic graffiti for a second time, which Kapoor has decided not to scrub off.
Le Parisien reports that Versailles municipal councillor Fabien Bouglé filed a complaint to the local public prosecutor against Kapoor and the president of Versailles palace, Catherine Pégard.
In a copy obtained by AFP, Bouglé said the artwork now incites racial hatred and insults, citing the artist and Versailles president as being "perfectly aware" and able to "fully recognise the antisemitic content of these entries".
http://www.theguardian.com/artanddesign/2015/sep/10/anish-kapoor-sued-racist-graffiti-versailles-sculpture-queens-vagina?CMP=twt_gu
—