—
The ERL: One-way trip between KL Sentral and KLIA/KLIA2 will go up from RM35 to RM55 from 1 January 2016
Did you know that you now pay a PLATFORM FEE for the Light Rail Transit (LRT) and KL Monorail?
LRT Flasher/Masturbator gets 3 years in jail: Shows no remorse but blames women for dressing sexily!
—
12 December 2015
Undergraduates and college students who have the KTMB Student i-Card will be given a 50% discount.
Those who want the i-Card should fill up a form, get it verified by their school and pay an annual fee of RM31.80.
Apply now.
…
Star
12 December 2015
'No' to KTM fare increase
KUALA LUMPUR: The Transport Min­i­stry has objected to KTM Bhd's move to charge full adult fare for children above seven years old who are without student concession cards.
Minister Datuk Seri Liow Tiong Lai said the Land Public Transport Commission (SPAD) would have a discussion with KTMB on the matter.
"SPAD will talk to KTMB to ensure we will continue with the old policy," he said.
Starting this month, children below two could ride for free while those between the ages of two and six would be given a 50% discount.
Previously, the free rides were given to children up to the age of four. The 50% discount was then given to children between the age of four and 12.
"We do not agree with the (latest) decision," Liow said at the launch of the China High Speed Railway Showcase at Kuala Lumpur Convention Centre yesterday.
KTMB said in a statement on Thursday that students from primary and secondary schools and institutions of higher learning would continue to enjoy 50% discount on the fares.
When contacted, a staff from KTMB's call centre however explained that only students wearing school uniforms were eligible for the discount.
"Those who are not wearing their uniforms will have to pay the full adult fare," she said.
Undergraduates and college students will have to show their student cards to get the discount.
http://www.thestar.com.my/news/nation/2015/12/12/no-to-ktm-fare-increase-ministry-against-price-hike-for-children-above-seven/?utm_source=dlvr.it&utm_medium=twitter
—
In Singapore
Children travel free!
Children below 0.9m in height and accompanied by a fee-paying commuter travel for free on trains and buses.
Discounts on Travel Fare
Adults, Children, Students, Senior Citizens, National Servicemen, Persons with Disabilities and Workfare Income Supplement recipients can use their respective concession cards to enjoy fare discounts.
http://www.lta.gov.sg/content/ltaweb/en/public-transport/mrt-and-lrt-trains/train-fares-and-travel-cards.html
—
9 December 2015
M'sian rail operator under fire for removing all student concessions
…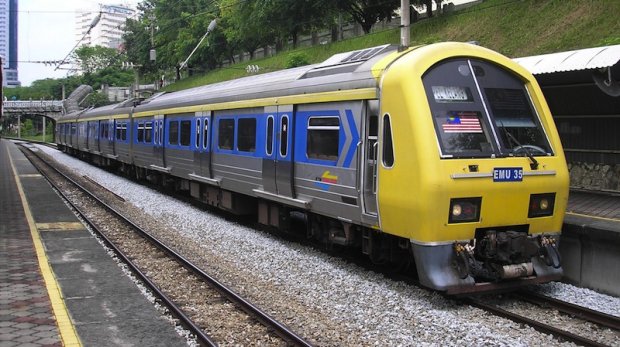 …
December 9, 2015
KUALA LUMPUR — Keretapi Tanah Melayu Berhad (KTMB) came in for added criticism today (Dec 9) after it removed fare concessions for children aged seven and above on its Komuter service, even as it is still fending off attacks over this month's price increase.
The rail operator announced today that it was now charging young passengers the same fare as adults, effectively removing the discounted prices for all school and college students.
"Ticket prices for children aged seven and above will be charged the adult ticket fare," the firm said in a tweet today.
Previously, children in school uniforms as well as college and university students with the correct identification qualified for concessions that allowed them to purchase tickets that were nearly half the published rates.
…
KTMB yesterday sought to defend the fare increase by saying that its service was on time for 97 per cent of the time and safer than riding motorcycles.
http://www.todayonline.com/world/asia/msian-rail-operator-under-fire-removing-all-student-concessions
—
7 December 2015
…
https://www2.malaysiakini.com/news/322422
—
KTM Komuter monthly trips now cost more
…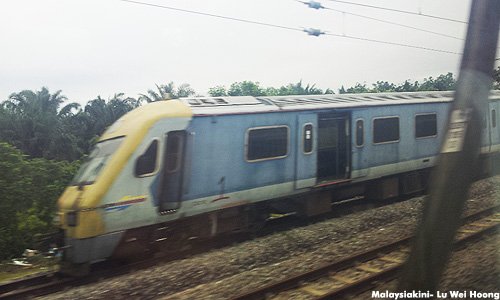 …
Keretapi Tanah Melayu Berhad (KTMB), the national railway company, today confirmed that it has increased its monthly KTM Komuter ticket price.
…
KTMB general manager (commuter services) Azshidah Shah Shahari, in confirming the hike, said the increase is due to more trips being provided.
"Last time, the monthly ticket fare only covered 20 return jouneys; now it covers 30 return journeys," she told a press conference in KL Sentral today.
This works out to a hike of 50 percent per trip, from RM2.40 to RM3.60 per trip.
https://www2.malaysiakini.com/news/322422
—
FARES ARE UP. SERVICE IS JUST AS BAD.
3 December 2015
Commuters feel the pinch as LRT fare hike sets in
…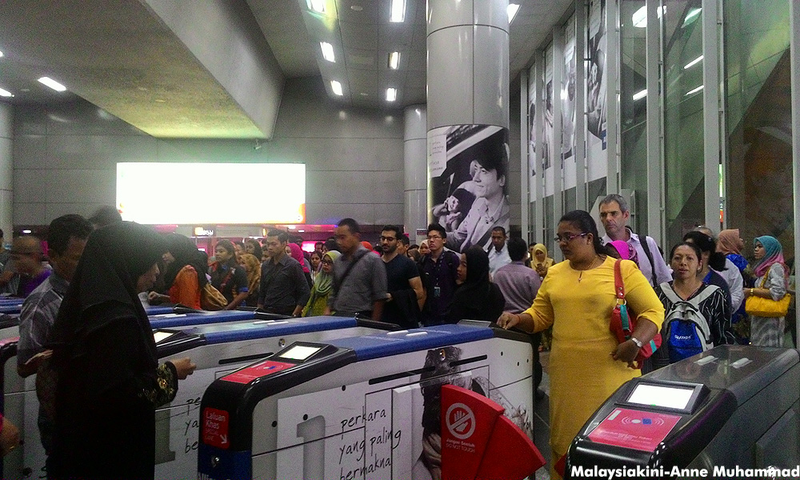 One day after the LRT fare hikes came into force, commuters are already feeling the pinch.
A survey carried out at the KL Sentral station showed that many commuters are dissatisfied with the increase, for it came on the heels of various other price increases following the implementation of the goods and services tax (GST) and the abolition of subsidies this year.
Private college student Noor Farah Dina Fasha said she didn't think the increase in LRT fares matched the service being rendered by Prasarana Malaysia, which operates the light rail transit service.
"I am from Kajang and getting to KL Sentral normally costs RM2.50, but it's now gone up to RM3.50.
"But the service is bad. Only one counter was open while the person manning the other counter was busy playing with his handphone.
"They know it's crowded, so they should be alert. There are also senior citizens but they just ignore them and increase the fares instead," Noor Farah complained.
…
Another medical student, Noor Fatin Amira Noor Amri, said Prasarana Malaysia should step up its services in light of the fare hike.
"I was shocked at the increase as I only found this out when I took a ride just now.
"The government should now introduce a 24-hour service, since it has increased the fares," said the 22-year-old.
…
Universiti Teknologi Petronas student Fariz Fadzuan Fahmi (photo) had harsher words for the fare hike, calling it a "robbery".
"It's easy for the government. When they don't have enough money, they just take from the rakyat. Even subsidies have been abolished.
"The government doesn't have money, but we feel the brunt," Fariz said.
https://www.malaysiakini.com/news/321969
—
2 November 2015
The fare increase starts on 2 December 2015
The new fares are for Klang Valley routes, which are from Tanjung Malim to Sungai Gadut and Batu Caves to Port Klang.
The fares for KTM Komuter services for the southern sector, from Sungai Gadut to Tampin, and northern sector, from Kamunting to Gurun, remain unchanged.
—
Malaysian Insider
Fares go up but KTM still making loss, says president
Despite the increase of 4sen/km in fares for KTM Komuter, Keretapi Tanah Melayu (KTM) Berhad will not profit because the company's operational costs have increased over the years, KTM president Lt Col (R) Sarbini Tijan said about the first increase in KTM fares in 12 years.
The new KTM Komuter fares starting on December 2 will range from RM0/trip up to RM7.10/trip (station to station) and are exempt from goods and services tax (GST).
"Based on our cost, every passenger kilometre costs us 20sen and now the government only approves a 15sen increase," he said at a press conference in Kuala Lumpur today.
—
Higher fare for KTM Komuter passengers
Higher fare for KTM Komuter passengers https://www.malaysiakini.com/news/318090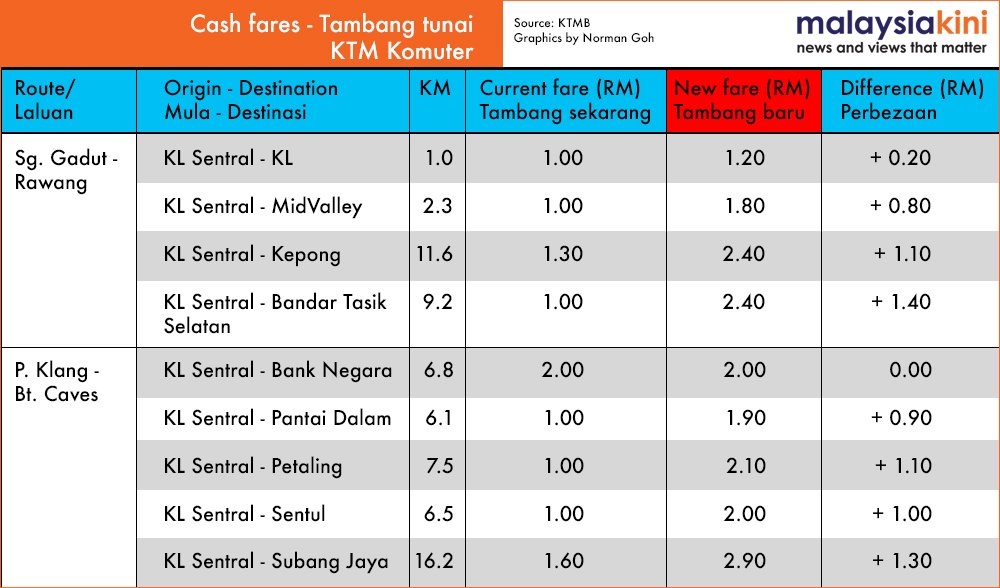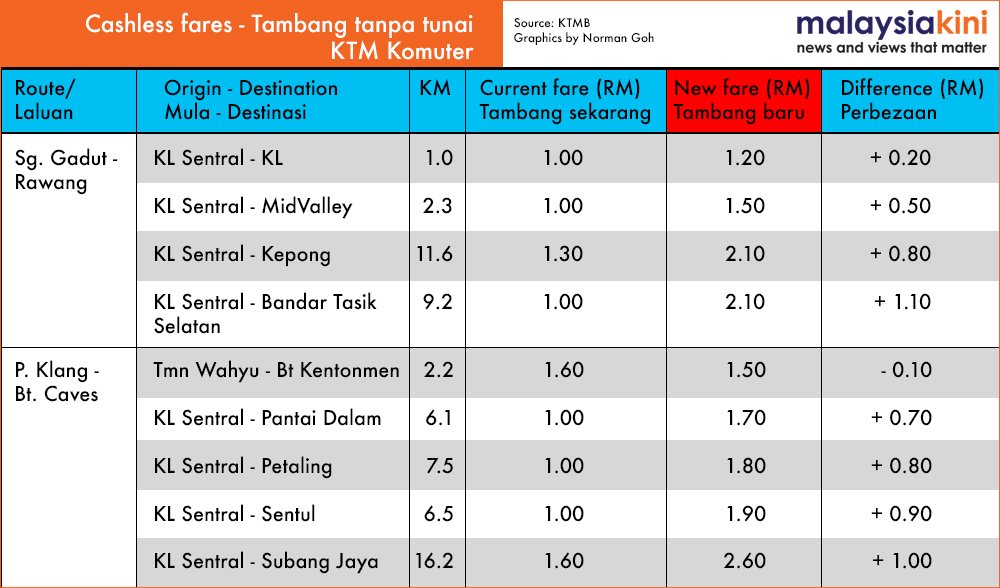 The urban folks already facing rising costs of living such as increased toll charges have now to contend with higher train fares.
Keretapi Tanah Melayu Berhad (KTM) today announced that KTM Komuter, which mostly operates within the Klang Valley, will increase its fare to the maximum RM7.10 per trip.
KTM Berhad chairperson Sarbini Tijan said the price hike would be effective from Dec 2.
"KTM's new fare structure will cover the operating and maintenance costs that have been rising every year."
https://www.malaysiakini.com/news/318090
—
1 November 2015
…
Malaysian Insider
Commuters rail against looming KTM Komuter fare hike
The expected fare hike for the KTM Komuter service has caused uneasiness and rumblings of discontent among public transport users, especially daily commuters.
Nurhidayah Jabar, 26, who works as a financial assistant in the Kuala Lumpur city centre, said higher fares would break her monthly budget of RM100 for transport and put more stress on her already strained finances.
"This, in addition to the toll hike and fuel costs and the increasingly higher cost of living, will force my husband and I, who are raising two children, to make yet more cuts in our expenditure and adjustments in our financial planning" she said.
…
—
FARES WILL GO UP BY ABOUT 35%
Current fare: 11 sen per 1 km
New fare: 15 sen per 1 km
Star
Sunday November 1, 2015 MYT 12:32:49 PM
KTM Komuter fares to go up in December
PETALING JAYA: KTM Komuter train fares will be going up from December.
KTMB chairman Datuk Nawawi Ahmad confirmed that a hike for the KTM Komuter line will be announced on Monday, with the new fares to begin on Dec 2.
Commuters are expected to be charged 15sen per km, up from the current 11sen.
Nawawi, who said the Land Public Transport Commission (SPAD) would announce the details, added that KTMB's Intercity trains will be spared the hike.
…
Syed Hamid said SPAD had got the Cabinet's approval to increase the fare.
http://www.thestar.com.my/News/Nation/2015/11/01/KTM-fares-to-go-up-December/?utm_source=dlvr.it&utm_medium=twitter
—
12 October 2015
Free Malaysia Today
LRT, Monorail fares to increase by Oct 31
SPAD will announce new fares by month end when the first phase of the new lines are expected to be operational.
KUALA LUMPUR: The Land Public Transport Commission (SPAD) is expected to announce a review of LRT and Monorail fares before October 31.
SPAD chairman Syed Hamid Albar said the commission had gotten approval from the Cabinet and had written to the Prime Minister to ensure it was "properly endorsed".
Speaking at the Awan Besar LRT Station today, Syed Hamid said that Prasarana would make the announcement in line with the Ampang Line LRT extension project being opened to the public.
However, he did not mention how much of an increase was to be expected.
The first phase of extensions that will be open by October 31 include Awan Besar, Alam Sutera, Muhibbah and Kinrara BK5.
The remaining phases are expected to be completed by next year.
http://www.freemalaysiatoday.com/category/nation/2015/10/08/lrt-monorail-fares-to-increase-by-oct-31/
…
LRT and monorail fares may increase by the end of October
Four new stations on the Ampang Line will open by Oct 31 (yay), but train fares may go up (boo)… http://ow.ly/Ta1oI 
…
Four of the new stations included in the LRT Extension Project are expected to operate by October 31 so this means that folks around the areas of Awan Besar, Alam Sutera, Muhibbah and Kinrara BK5 will be connected to the Ampang Line. Unfortunately, before we can properly celebrate, The Star today reported that RapidKL may also be increasing its fares in the wake of the extension; as of now there's no news of how higher the fares will be, but take this to mean that your daily commute may become more expensive at the end of the year. Ouch.
The idea of a fare increase  was first proposed in July by Prasarana, the body behind RapidKL's LRT and monorail lines, on the grounds that it would be 'in line with the increase of operational and upgrading costs to provide a better and more efficient service to the public'. The LRT Extension Project is scheduled to be completed next year.
http://www.timeout.com/kuala-lumpur/blog/lrt-and-monorail-fares-may-increase-by-the-end-of-october-100815
—
Malaysian Insider
Pay for LRT, Monorail tickets with bank card soon
Commuters will soon be able to use their bank cards to pay for Light Rapid Transit and Monorail train services.
Prasarana Malaysia Bhd president and group chief executive officer Datuk Azmi Abdul Aziz said they were working on the process that would effectively allow commuters to use their bank cards instead of  cash to pay for train services in the city.
"We will need time to work out the details. At the moment, we are moving toward NFC (near field communications), but we are also working on the bank card system now," he said at the unveiling of the renamed Bank Rakyat Bangsar LRT station, previously known as Bangsar LRT station, today.
—
A fallen tree on the Ampang line LRT near Salak Selatan has caused service disruptions. According to Rapid KL's… http://fb.me/377yHJDzi
A fallen tree on the Ampang LRT line near Salak Selatan has caused service disruptions.
According to Rapid KL's Twitter page, the tree has since been cleared and affected passengers have been evacuated.
Following the incident, the track failed to power up and troubleshooting is in progress.
Our reporter Khairul Fadzly says both the Bukit Jalil and Sri Petaling stations are closed.
Meanwhile services between Ampang and Sentul Timur appear to be unaffected.
—
AG Line Update: Passengers evacuation completed, all safe at platform.
—
AG Line update : Obstruction cleared but track supply could not be powered up. Troubleshooting is in progress.
—
#StarLRT: Meanwhile, the crowd continues to swell at the Chan Sow Lin station due to the disruptions.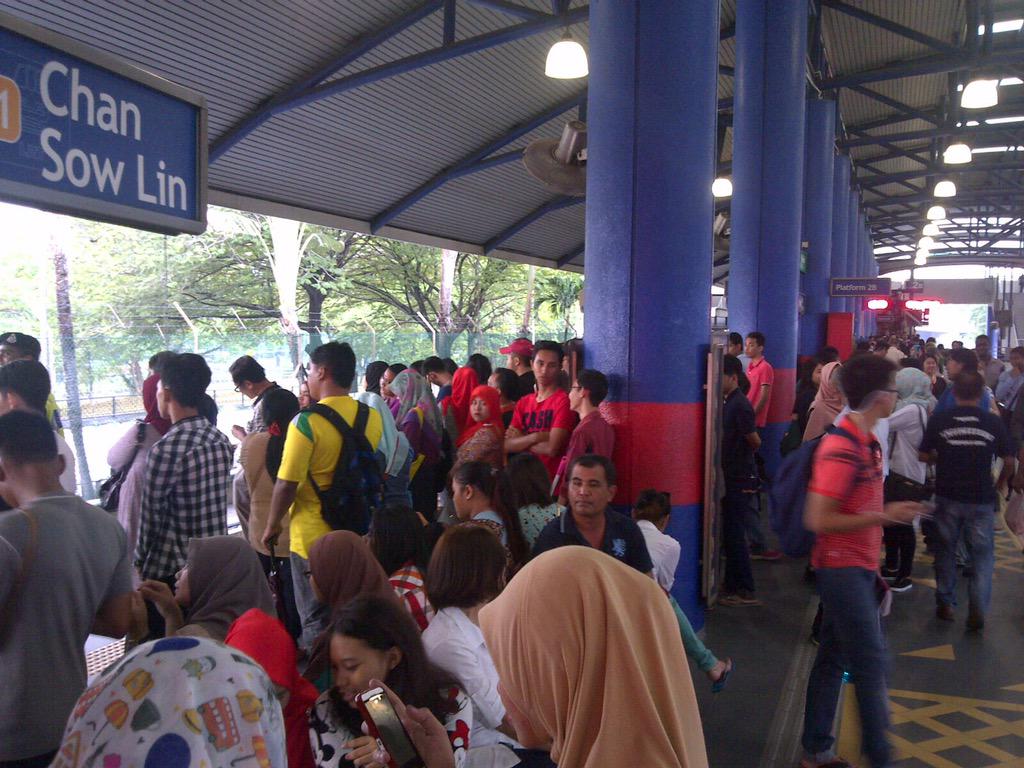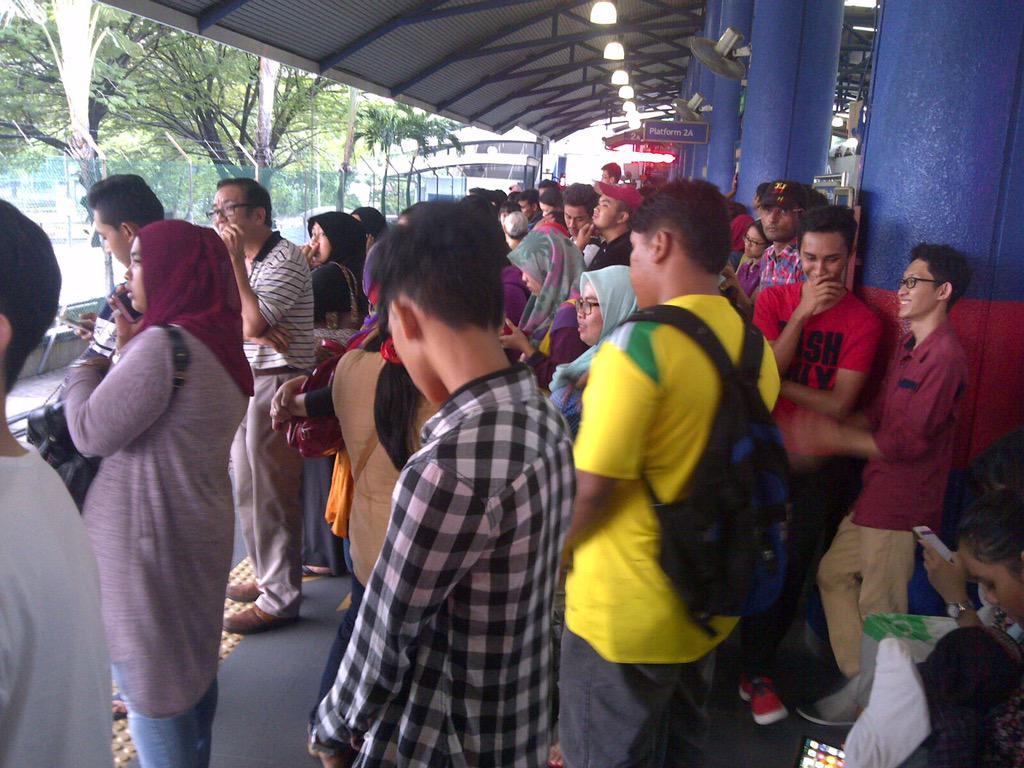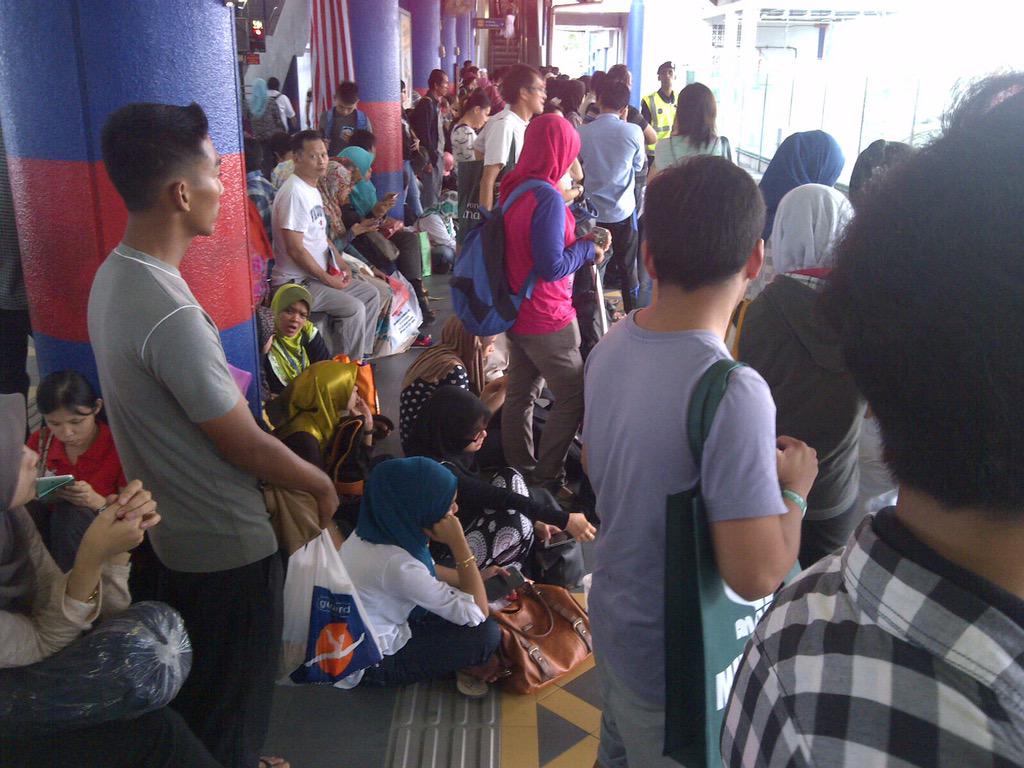 —
#StarLRT: We've been getting reports that the Sri Petaling Star LRT has been shut temporarily. More updates to come.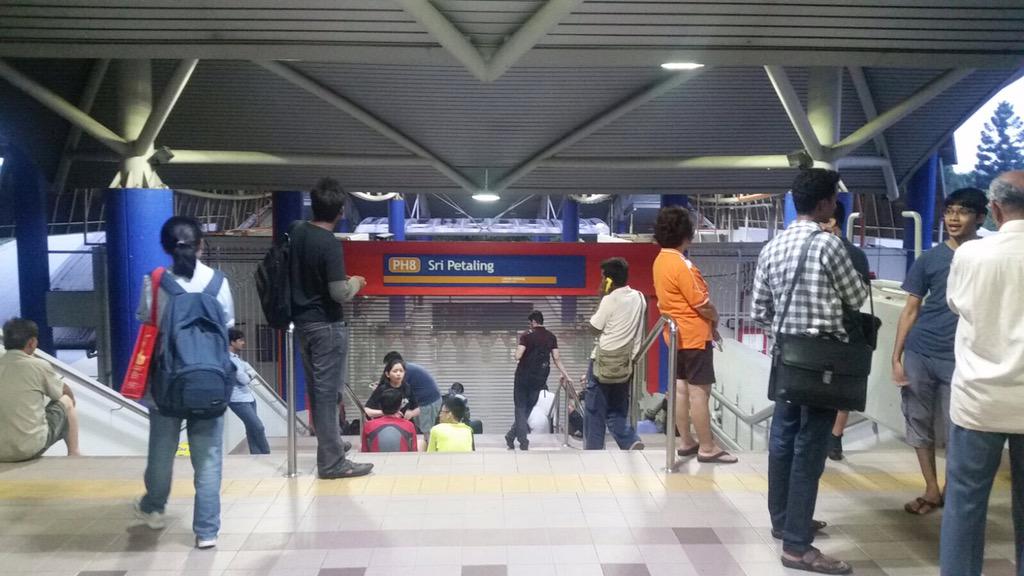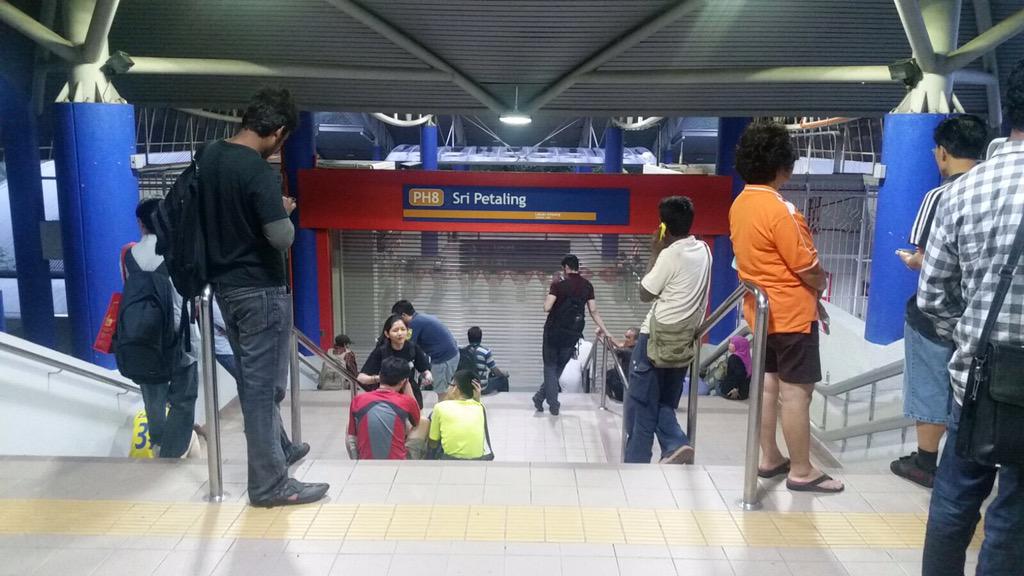 —