—
Penang: Another freak storm just over 2 years after the lightning arrestor fell from the UMNO Building…
NEW! Clearer PDRM CCTV Footage Before Penang UMNO Building Incident
Lim Chin Aik's final resting place: outside Penang UMNO HQ
—
9 August 2015
Sunday August 9, 2015 MYT 7:01:45 AM
Trio crushed to death by brick wall in Penang storm
BUKIT MERTAJAM: Three Myanmar nationals were among four people killed during a storm in Penang which toppled walls, uprooted trees and blew off zinc sheets.
The foreigners, who were in their 20s and 30s, were crushed to death when a 12m-high brick wall they were building at a factory warehouse at Bukit Minyak Light Industrial Park here collapsed and fell on them.
The wall was believed to have collapsed due to strong winds at about 4.30pm yesterday.
The fourth death occurred in Perak Lane on the island, where an uprooted tree fell on a house and killed Lim Chong Leong, 59, who lived there.
Aftermath: A zinc wall blown off by strong winds at Armenian Street in Penang.
http://www.thestar.com.my/News/Nation/2015/08/09/Trio-crushed-to-death-by-brick-wall-in-Penang-storm/?utm_source=dlvr.it&utm_medium=twitter
—
 8 August 2015
Four died in two separate places after storm hit in Penang – Police
—
59-year-old man dies after being crushed by a tree during storm #nst170 http://www.nst.com.my/node/95283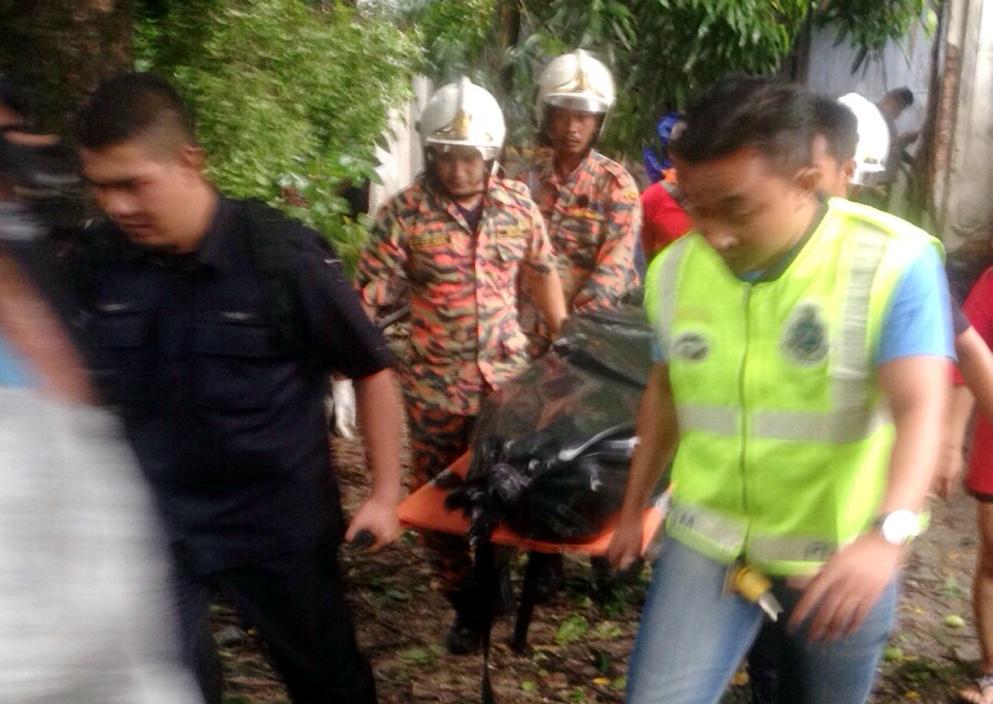 …
GEORGE TOWN: A 59-year-old man was killed when an uprooted tree crushed onto him during the freak storm in Jelutong.
Lim Chong Leong died on the spot near a traffic junction at Lorong Perak in the 5pm incident.
今午一雨成災,檳威除了多個地區樹及廣告牌也倒,一名住在霹靂冷空屋的59歲華裔男子被屋頂磚塊擊中頭部,當場斃命。
而在武吉敏惹工業區興建中的一工廠,也于下午4時45分,發生一大片牆倒下來,壓毙3個外勞,消拯員目前在展開救援行動,了解是否有人受伤。
This afternoon the rain hammering Penang besides trees and billboards were also down in many areas, a cold empty room lived in bang 59 years old Chinese-American man who was hit on the head by roof bricks, and killed him on the spot. Wu Jimin industrial park, built in a factory, also at 4:45 P.M., a large wall falls down, killed 3 workers, eliminating life saving in the rescue operation, to know whether someone is injured.
…
烈陽高照突轉成狂風暴雨,檳島多地區大樹不堪強風被連根拔起,林姓看車員在屋內睡午覺時,屋子突然被老樹壓毀,無法及時逃命的他不幸被倒塌的磚塊砸死。
這起事件是於週六下午4時30分,發生在霹靂冷一間廢置的老屋內。據了解,當時該空屋外的一棵大樹倒下,樹身直壓屋頂發出巨響,驚醒在睡午覺的林珍良後,他即刻起身逃跑,不幸被磚塊擊中頭部斃命。消拯員在現場發現死者遺體,發現磚塊並沒壓在死者身上,而是散落在屍體旁。
檳城本頭公巷著名壁畫"姐弟共騎"旁的棚板也在暴雨中倒下,所幸沒有造成任何傷亡事件。
專以舊廚具改裝成敲打樂器,並常在街頭演奏的街頭藝術家陳瑞興,當天如常在本頭公巷演奏,他發覺強風吹起後,身後鋅板刮刮作響,下意識起身逃跑,棚板即被強風吹倒。雖然他及時逃跑,不過,演奏器材則被壓毀。
北馬兩州週六(8日)受狂風襲擊,檳城及吉打多區發生樹倒車毀事件,檳島一名看車員在一空屋內遭磚瓦砸死,而在武吉敏惹工業區一間興建工廠,有3名外勞被倒下的牆壓死…
—
Harian Metro ‏@hmetromy 2h2 hours ago
#pulautikus Orang ramai bantu pegang tiang khemah peniaga. PIX Mikail Ong
Translated from
Malay
by
Bing
#pulautikus Members of the public to help hold the tent poles. PIX Mikail Ong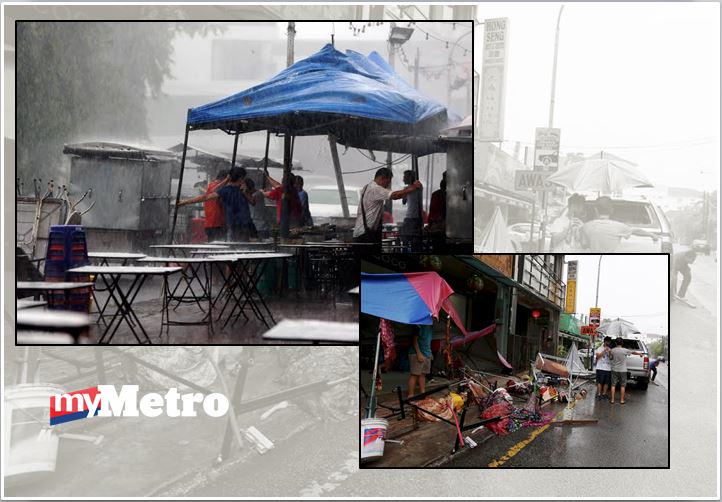 —