______________________________________________________________
While her husband may be a Pussy Cat, Michelle is anything but! No headscarf for her!
.@MichelleObama shook hands w/Saudi Arabia's new king. So? This is why the encounter stood out http://cnn.it/1v3b9Df 
…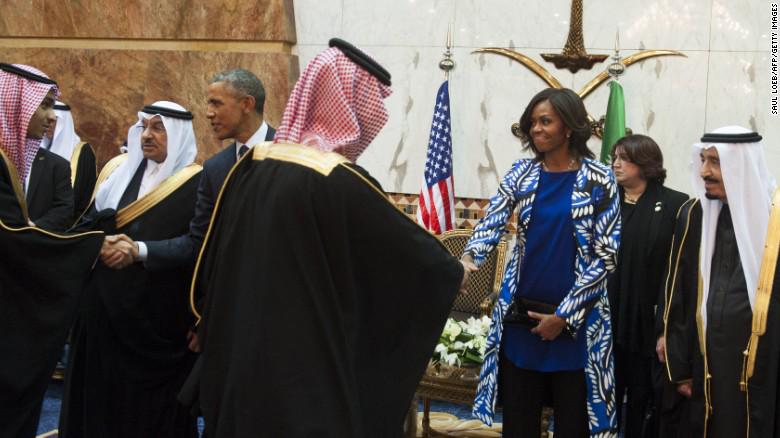 …
Michelle #Obama headscarf controversy – do Saudis really care? http://bbc.in/1tpbYoC 
…
The Daily Banter
Michelle Obama Gives Zero F*cks About What the Saudis Wanted Her To Wear
On Tuesday, President Obama and the First Lady attended the funeral of Saudi Arabia's King Abdullah, a renowned misogynistic tyrant who oversaw some of the harshest and most oppressive conditions endured by women anywhere in the world. These conditions included and still include bans on voting and driving. When going out in public, women must be accompanied by a male relative and are expected to cover their heads and faces because modesty or whatever. Abdullah also kept three of his daughters locked up for more than a decade for speaking out for women's rights. (They remain so.)
According to some very upset people in Saudi Arabia and elsewhere, Michelle Obama was supposed to cover her head while visiting the country. To vent their outrage, they took to Saudi Twitter and used hashtags that translate to #Michelle_Obama_Immodest and #Michelle_Obama_Not_Veiled. (Apparently, Saudi Twitter is just as capable of fruitless outrage as U.S. Twitter is.)
Well, Michelle Obama gave zero, and let's count 'em — zero, zero, zero — fucks about what the Saudis wanted her to wear on her head. Not only that, instead of wearing black at the funeral, she wore a blue blouse and a festive-looking blue-sweater jacket of sorts that could double as a spring getup for a leisurely stroll through the National Arboretum before a boozy brunch
http://thedailybanter.com/2015/01/so-few-fcks-so-little-time/
—
President Obama is the leader of America,  the most powerful nation in the world (for now). Putin is the leader of Russia, which lost the USSR but isn't exactly a weak nation.

Obama has dismissed Russia as a regional power.
However, Obama is a Pussy cat. He says, "Meow."

…
Putin is a Tiger. A Siberian tiger, the largest tiger in the world. A Siberian tiger is bigger than a lion.

Putin ROARS!
—
—
IN A CONFRONTATION BETWEEN OBAMA AND PUTIN, IT IS CRUCIAL THAT THEY LOOK EACH OTHER IN THE EYE. THE FIRST TO BLINK LOSES THE PSYCHOLOGICAL ADVANTAGE.
PUTIN WON'T BLINK. OBAMA? HE WON'T EVEN LOOK PUTIN IN THE EYE. HE CAN'T!
U.S. News
Vladimir Putin: The Untouchable Leader
Experts question whether Obama can and should put the elusive Russian president directly in his sights.
Putin is rumored to be one of the world's wealthiest men, but levying sanctions directly against him could backfire.
President Barack Obama's dismissal of Russia as merely a "regional power" will have done little to assuage the concerns of Eastern European leaders, who are worried that Vladimir Putin's quest to return former Soviet territory to the Russian Federation is not finished with his incursion into Ukraine. The Russian president still could use similar political maneuvers to annex separatist regions of Moldova or Georgia.
Situation rooms across the Western hemisphere undoubtedly are weighing the effects of new targeted sanctions aimed at specific loyalists within Putin's innermost circles. Obama also has threatened to go after certain sectors of the Russian economy. Russia must be punished and deterred from future action, officials say, but the West also relies on its former Cold War rival to help with other international crises, including removing chemical weapons from Syria, controlling Iran's nuclear program and keeping North Korea from further acts of aggression.
Amid this debate, and assertions from Obama that he has ruled out a military response, Putin himself remains directly unscathed by sanctions that could affect his travel or personal finances. A senior administration official told reporters last week the White House is not currently considering explicit sanctions against Putin, calling such a move "highly unusual and a rather extraordinary case."
"We do not begin these types of sanction efforts with a head of state," the official said.
http://www.usnews.com/news/articles/2014/03/26/vladimir-putin-the-untouchable-leader
More to come…
——————————————————————-