______________________________________________________________
WHY DO PEOPLE CLIMB MOUNTAINS? A friend answered, "Because they are there!" He ought to know. He is a certified Alpine (New Zealand) guide.
*The LURE of Bukit Tabur, Taman Melawati, Gombak
*Mt Everest: They climb it because it's there but some never return
*Commercial Shoot on Bukit Broga, Semenyih: Fail!
—–
NST
9 March 2014| last updated at 08:06PM
Gunung Bubu incident: Girl watched helplessly as friends swept away by river water
By Sylvia Looi | sylvialooi@nst.com.my
KUALA KANGSAR: Siti Azimah Mohd Fitri could only watch helplessly as her two friends – Adam Asraf Azman and Muhamad Amir Ashraff Baharuddin – got swept away by river water during a mountain climbing expedition on Sunday.
Speaking from her hospital bed here today, where she had been warded after being rescued on Tuesday, Siti Azimah said Adam Asraf and Muhamad Amir were swept away in front of her.
"I could not do anything to help them except shout to Muhamad Putera Rafaii for help," she said when met at Hospital Kuala Kangsar.
Siti Azimah said as soon as Muhamad Putera reached the banks of Sungai Gading, the duo were nowhere in sight.
—
Malay Mail reports:
THEY DID NOT HIRE GUIDES. THEY SHOULD HAVE DONE SO!
themalaymailonline.com/malaysia/artic
—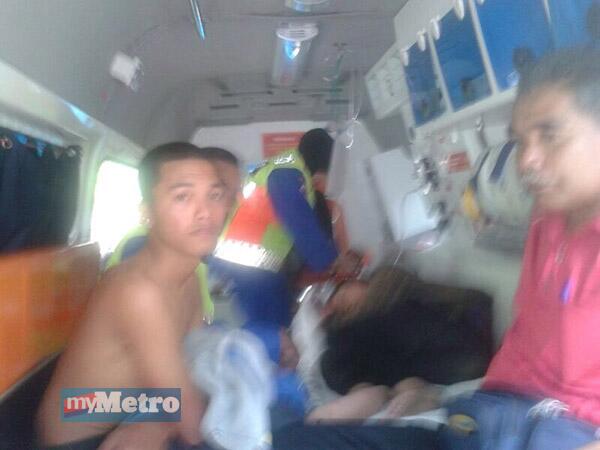 2 drpd 4 remaja dilaporkan hilang di Gunung Bubu, Ulu Kenas, sejak Ahad lalu, selamat ditemui http://sy4m.co/Nq2AwD  pic.twitter.com/MarAGPdw51
—
FOTO 3: Usaha mengeluarkan mayat mangsa yg hilang & lemas di Gunung Bubu K.Kangsar petang tadi #BOMBA pic.twitter.com/U1hkNGJ93W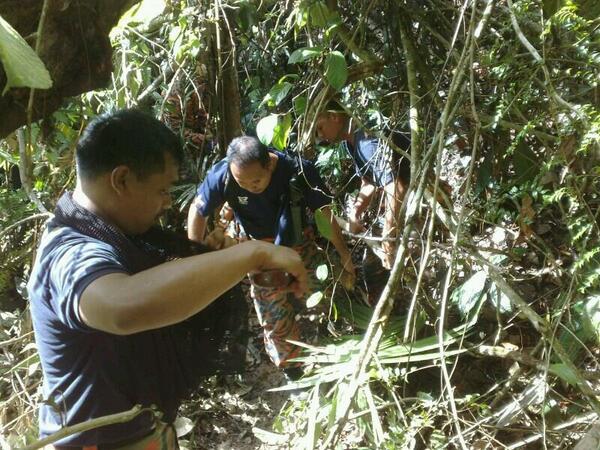 …
Mangsa hilang di Gunung Bubu K.Kangsar – Dua orang pelajar yg dijumpai selamat tghari tadi di bawa keluar #BOMBA pic.twitter.com/w5350ROR7f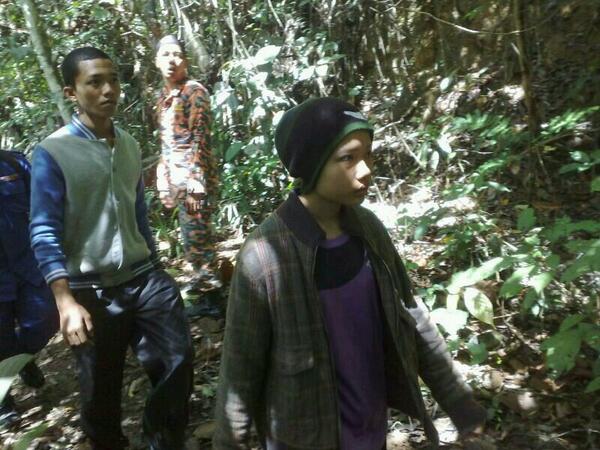 —
GUNUNG BUBU near Kuala Kangsar
GUNUNG BUBU ULU KENA (KUALA KANGSAR)
25 STUDENTS AND 6 TEACHERS of the Kuala Kangsar Vocational College went on a hike. Four went missing. They were Putera Muhammad Rafii, Adam Asraf Azman, Muhammad Amir Asyraff and Siti Azimah Mohd Fitri, all 17.
Two were later found. They are Muhammad Putera Rafii and Siti Azimah Mohd Fitri. 
The other two have just been found. DEAD.
Star
Tuesday March 18, 2014 MYT 6:52:49 PM
Two students lost after Gunung Bubu hike found dead
KUALA KANGSAR: The remaining two of four secondary students who were lost while hiking on Gunung Bubu here have been found dead.
Acting Kuala Kangsar OCPD Supt Ahmad Rabawi Abdul Jamil said Adam Asraf Azman and Muhammad Amir Asyraff, from SM Vokasional Kuala Kangsar, were found dead next to Sungai Gading by rescuers at 3.20pm Tuesday.
The bodies of the two 17-year-olds were brought down at about 6pm and were immediately taken to the Kuala Kangsar Hospital for a post-mortem.
"As of now, we still do not know the cause of death," he said.
http://www.thestar.com.my/News/Nation/2014/03/18/two-students-dead-gunung-Bubu/
…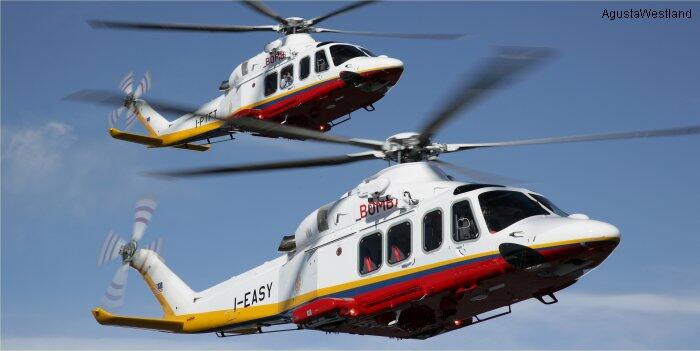 Empat Pelajar 17 Tahun Dilapor Hilang Di Gunung Bubu: http://bit.ly/4pelajarhilang  #gunungbubu #kualakangsar pic.twitter.com/ppGw3aq15p
—
NST
17 March 2014| last updated at 06:00PM
4 students feared lost on trail of Gunung Bubu Kuala Kangsar
KUALA KANGSAR: Four secondary school students were feared lost while descending Gunung Bubu Ulu Kenas, here yesterday evening.
The students of Kuala Kangsar Vocational College are Putera Muhammad Rafii, Adam Asraf Azman, Muhammad Amir Asyraff and Siti Azimah Mohd Fitri, and all are aged 17.
Kuala Kangsar Fire and Rescue Chief Ismail Darus said the students were participating in a mountaineering activity, which was part of the camping activites for three days and two nights, before they were reported missing.
"Their escorting teacher lodged a police report after realising all the students did not return since 2.30pm yesterday," he said in a statement here today.
——————————————————————–