..
Excerpts from:
Bloomberg -April 19, 2020
SINGAPORE: Temasek Holdings Pte denied speculation that Chief Executive Officer Ho Ching makes S$100 million a year.
"This claim is false," the Singapore state investor said in a rare statement addressing the pay of the top executive, who's also Prime Minister Lee Hsien Loong's wife.
"Furthermore, Ho Ching's annual compensation is neither the highest within Temasek, nor is she amongst the top five highest-paid executives in Temasek."
Temasek manages a portfolio that's valued at S$313 billion as of March 2019. It's the biggest stakeholder in half of the country's 10 largest companies by market value, including flag-carrier Singapore Airlines Ltd and DBS Group Holdings Ltd, Southeast Asia's biggest lender.
The company issued a response following "chatter based on an Asian talk show commentary," it said. It reviews compensation practices across the financial industry annually, according to the statement.
"This is an added check to support talent attraction and retention, within the context of our compensation framework," Temasek said.
"Incentives focus on long-term performance, and ensure employees share gains and pains alongside Temasek's shareholder during the economic cycles."
Temasek doesn't disclose the salaries of its executives in its annual report, but describes its compensation framework as one benchmarked against relevant markets and includes incentives and clawbacks based on performance.
Among Singapore's three biggest banks, Piyush Gupta, the CEO of DBS, had the largest pay at S$11.9 million including bonus and deferred shares, according to its 2018 annual report. The heads of the other two banks each earned about S$10.6 million.
https://www.freemalaysiatoday.com/category/business/2020/04/19/temasek-refutes-claim-ceo-ho-ching-makes-s100-mil-a-year/
..
Excerpts from:
By Linus Chua
April 18, 2020, 3:14 AM GMT+8 Updated on 
 Ho starts post with "Don't put words in my mouth, young man!"
 Singapore's coronavirus cases reached a record on Saturda
Ho Ching, head of Singapore's state-owned investment company and wife of the country's prime minister, blasted criticism on the city-state's handling of the coronavirus outbreak, saying it wasn't alone in misreading the pandemic's spread among patients who don't display symptoms.
"We all underestimated the asymptomatic transmission — not just SG, but the world over," Ho said in a Facebook post late Friday night, using the abbreviation for Singapore. She said she's frustrated by "I told you so" comments, adding that "hindsight is always beautiful and perfect."
While she didn't say who the cryptic rebuttal was directed at in the post, a report that went live on Friday said Ho admitted that the government made a mistake in bringing Singaporeans home when the number of infections surged globally.
"Nope! Don't put words in my mouth, young man!" Ho said in her Facebook post. She added that the unnamed critic shouldn't "waste time being a back-seat driver" and should stop acting like a "smart alec, by blaming this or that person."

https://www.bloomberg.com/news/articles/2020-04-17/singapore-leader-s-wife-blasts-criticism-on-nation-s-virus-spike
..
Excerpts from:
Bloomberg identifies All S'pore Stuff as target of Ho Ching's cryptic Facebook post accusing someone of putting words in her mouth
All Singapore Stuff selectively quoted a section of a post Ho had put up.
Matthias Ang|

April 18, 05:54 PM
Bloomberg quotes Ho Ching's Facebook post
On Apr. 18, the venerable Bloomberg took the unusual step of reporting on a apparently casual but highly cryptic Facebook post that the Temasek Holdings CEO had put up on Apr. 17.
In her post, Ho wrote, "Don't put words in my mouth, young man!", and added that it was not just Singapore but the world that had underestimated the asymptomatic transmission of Covid-19.
In addition, "mistakes, trips and falls" should be expected in the fight against the virus.
She also called for the "young man" to not outdo himself: "Don't act smart alec, by blaming this or that person"
Ho added, almost in uncharacteristic fashion:
"So don't give me the crap about 'I told you so' – hindsight is always beautiful and perfect."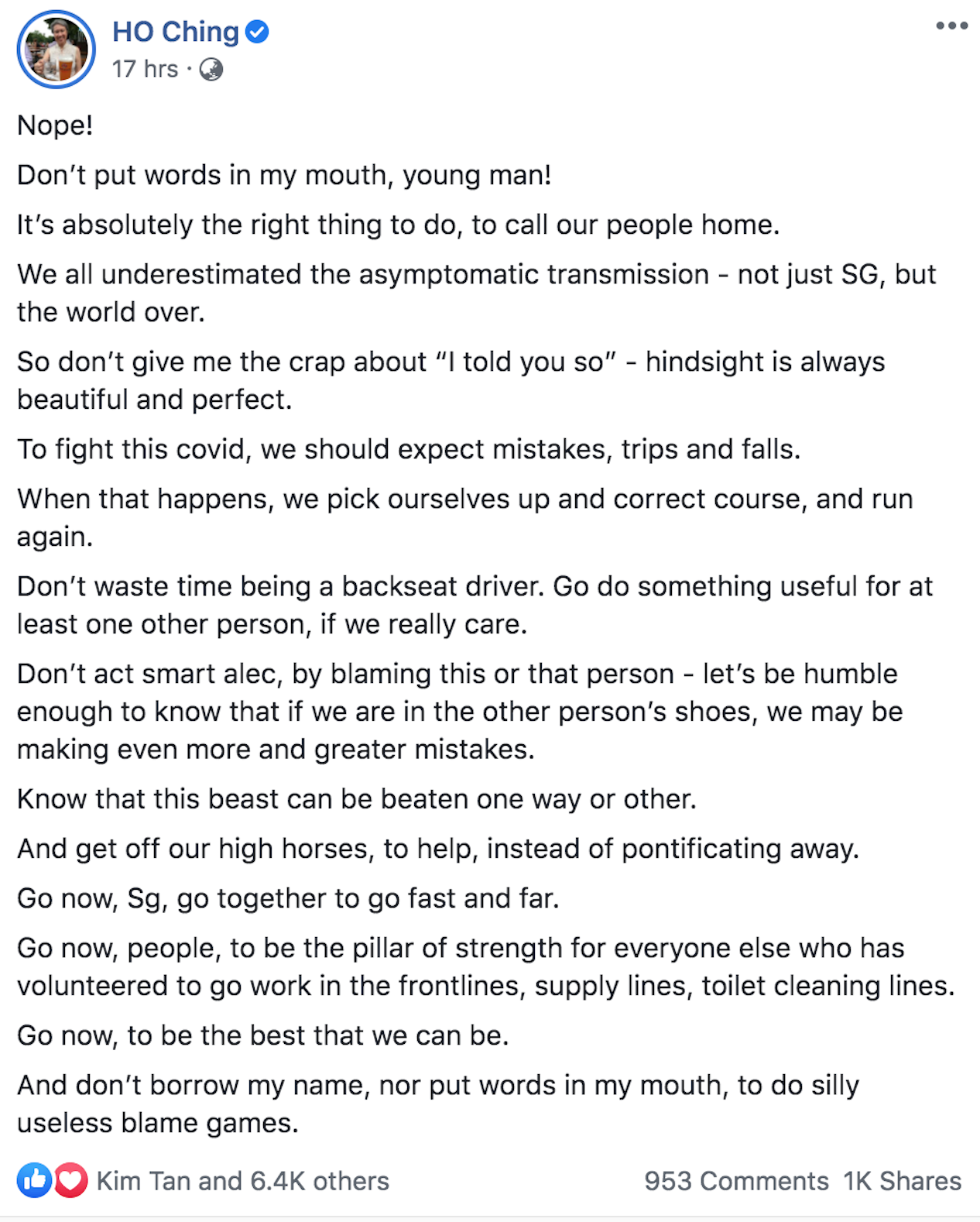 –

Bloomberg further reported that while Ho did not mention who the rebuttal was directed at, it appeared to have been targeted at a post on the All Singapore Stuff website.
The post, "Covid19: Ho Ching Says 4G Leadership Underestimated the Virus and Made Mistakes in Recalling Singaporeans Back", selectively and liberally quoted a section of a previous Facebook post that Ho had put up on Apr. 16.
https://mothership.sg/2020/04/ho-ching-all-singapore-stuff/
..