…
..
..
..
..
…
…
…
…
Excerpts from:
Hong Kong police have admitted deploying officers disguised as anti-government protesters during mass unrest that rocked the city on Sunday.
Some officers disguised themselves as "different characters", a spokesman said, adding that the "decoy operation" had targeted "extreme violent rioters".
It comes after video surfaced showing suspected undercover officers making arrests during Sunday's clashes.
Protesters have called for an inquiry into the actions of the police.
Hong Kong's mass demonstrations and unrest show no sign of abating, more than two months after they were sparked by a controversial extradition bill that has since been suspended.
On Monday, protesters occupied Hong Kong's international airport forcing the cancellation of flights. Authorities say operations are now resuming at the airport, but some airlines have further cancelled hundreds of flights on Tuesday.
On Monday, in a news conference that was at times heated, Deputy Police Commissioner Tang Ping-Keung defended the use of the "decoy officers".
"I can say that during the time when our police officers were disguised… they [did not] provoke anything." he said. "We won't ask them to stir up trouble."
"Our operation… is targeting extreme violent rioters," he added. Mr Tang said police were responding to protesters who had used slings and hurled petrol bombs.
.
What else did police say?
Assistant Police Commissioner Mak Chin-ho, who also faced a volley of questions about Sunday's violent scenes, said there was no evidence to suggest a woman had been shot by a police projectile.
Images of the woman, who was bleeding heavily from her eye, were shared widely on social media over the weekend.
On Monday, protesters at the city's international airport wore bandages over their eyes in response to the incident.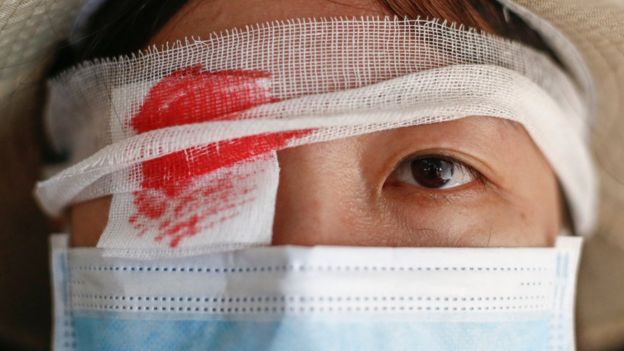 There were confrontations in several central districts on Sunday and police used rubber bullets and tear gas in an attempt to disperse demonstrators.
Video also showed officers storming enclosed railway stations before firing tear gas inside and beating people with batons.
https://www.bbc.com/news/world-asia-china-49324822
…
..
..
..
..
..
..
..
..
..
..
..
..
..
..
..
..
..
..
..
..
..
..
..
..
..
..
..
..
..
..
..
..
..
…
…
…
…
…
..
..
..
…
…
…
..
…
This video and these photos are damning…
.
From TG: Plainclothes police officers are changing to white shirts at Nam Pin Wai.
#Hongkong
…
..
..
..
…
..
..
..
..
..
..
..
..
..
..
..
..
..