—
Jamal Yunos: The Face that could lose Chinese votes…
—
15 June 2016
…
FMT
10 Pakatan billboards vandalised in Sekinchan
They were found torn or splashed with paint overnight.
PETALING JAYA: Ten election campaign billboards erected by Sekinchan DAP in the town centre were ripped to shreds and splashed with paint overnight.
In a statement today, Sekinchan DAP State Assemblyman Ng Suee Lim condemned it as an act of vandalism and expressed shock and disgust.
He said the billboards contained messages pertaining to the Goods and Services Tax (GST) and the RM2.4 billion controversial political donation in conjunction with the Sungai Besar by-election this Saturday.
Ng, together with Selangor DAP Chairman Tony Pua and Balakong Assemblyman Eddie Ng Tien Chee, took members of the media for a tour of the damaged billboards this morning.
http://www.freemalaysiatoday.com/category/nation/2016/06/15/10-pakatan-billboards-vandalised-in-sekinchan/
…
Colloquium on the 1MDB Scandal happening tmrw (Sat) in Sekinchan & Kuala Kangsar (Sun). Pls RT.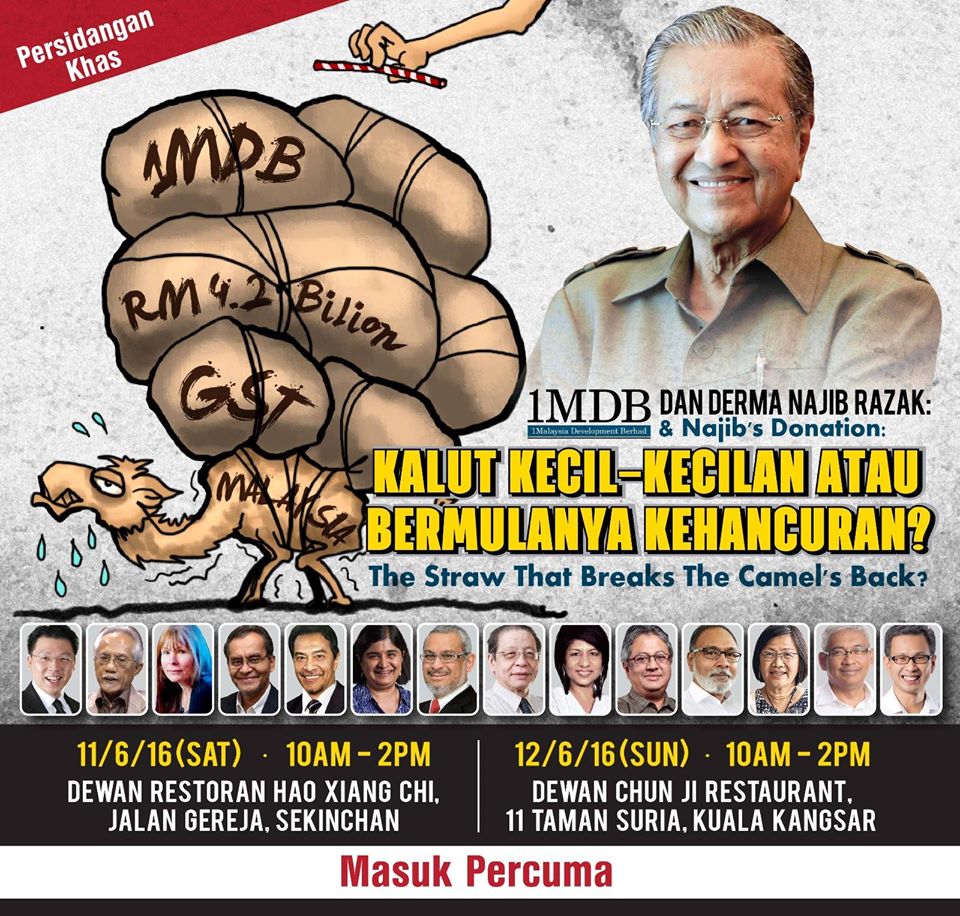 —
12 June 2016
…
You can take down the bill boards but the leaflets will circulate.
—
Okay to oppose Hudud Bill as it's Hadi's law, not God's, voters told
…
9am: Kuala Kangsar –
Undeterred by the eight DAP's giant posters sabotaged in both the by-election constituencies, the party has replicated those messages into print copies and are distributing them to the voters."We have printed 4,000 leaflets," says DAP Pokok Asam state assemblyperson Teh Kok Lim.
The leaflets depict Prime Minister Najib, PAS president Abdul Hadi and MCA president Liow Tiong Lai side by side.
"A vote for PAS is a vote for Umno," read the leaflets.
"BN and PAS conspired, their racial and religious issues will be detrimental to the country," reads the caption.
…
This leaflet's contents come from the controversial billboard that the Election Commission took down in Sungai Besar, and which was also found sabotaged.
Another leaflet distributed depicts a man forced to take the heavy burden of the Goods and Services Tax (GST), the national debt and price hikes.
 https://www.malaysiakini.com/news/344968?utm_source=dlvr.it&utm_medium=twitter
—
Najib's princely snub, more 'Cina babi', chicken sacrifice and dedak
…
Princely snub for Najib
Terengganu prince and Kuala Terengganu MP Raja Bahrin Shah lambasted Prime Minister Najib Abdul Razak and his family for allegedly living larger than even the Malay rulers themselves at public expense, pointing to the lease of a private jet used by the PM's wife Rosmah Mansor for an estimated RM86 million despite the government owning seven aircraft of its own.
…
Raja Bahrin also said that the gazette of the National Security Bill (NSC) into law despite the legislation being sent back by the Conference of Rulers for amending, is a sign of disrespect from Najib to the Malay rulers.
…
'Cina babi', 'chicken sacrifice' and dedak
While the DAP billboards highlighting Umno leader Jamal Md Yunos' 'Cina babi' remark may have been short-lived as the Election Commission quickly removed them, some Malay voters interviewed by Malaysiakini expressed their disapproval of the campaign gimmick, which has became a talking point among Sungai Besar residents.
Deputy Prime Minister Ahmad Zahid Hamidi made a "chicken sacrifice" pledge (janji potong ayam), referring to the Chinese practice of slaughtering chickens to seal oaths, to help fishermen in Sungai Besar if they vote for BN at the upcoming Jun 18 poll.
https://www.malaysiakini.com/news/344967?utm_source=dlvr.it&utm_medium=twitter
—