…
…
…
July 2015
Naked artist stuck up a tree for three hours after 'performance'
.
—
Artist in London films herself hanging naked from tree — then gets stuck there for hours http://bit.ly/1CKTy6B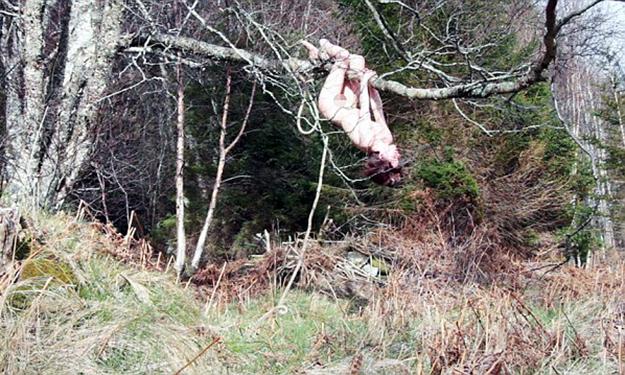 —
Naked artist was stuck up a tree for three hours while filming a 'performance'… and has now won an award for the video called Hanging In The Woods
An artist was left hanging naked in a tree for three-and-a-half hours after a video stunt went wrong.
London-based artist Hilde Krohn Huse, from Norway, went into a forest near Aukra to film a video of herself hanging from a rope in a tree.
But when the 26-year-old finished filming, she realised she was unable to free herself.
The artist, who escaped unhurt asides from a small cut on her ankle, said: 'The video ends when the camera shuts off, but I was there calling for help for another 30 minutes.
'I felt sick when I saw the video for the first time, I experienced everything anew. But I slept on it and realised that the video is quite decent.'
…
Miss Huse said she was lucky that one of her friends came to her rescue, adding on Twitter yesterday: '3 1/2 hours. It's worse than I remember.'
—
In the film 'Hanging in the Woods' the viewer can witness the breakdown between performance and reality as the indented performance goes wrong and the performer is stuck hanging from the tree without being able to free herself or any visible means of help or escape.
—