…
1 May 2016
Cops should have stripped Dr M's escort privilege 'long ago', minister says
.

KUALA LUMPUR, May 1 — Datuk Seri Nazri Abdul Aziz said today the police should have revoked their outrider escort for Tun Dr Mahathir Mohamad "long ago" when he started attacking the government.
The tourism and culture minister added that the police escort service was a "privilege" customarily accorded to former prime ministers and should not be used to accompany leaders to anti-government functions, news portal Malaysiakini reported.
"He brought it upon himself. I don't think he should get escorts as he is bashing the government that is providing him this privilege.
"It (the withdrawal) should have been done long ago," he was quoted telling reporters in Kuching, Sarawak.
The Umno supreme council member also said the outriders were a security service but added that the 90-year-old had put himself in danger through his recent actions, though the report did not elaborate if Nazri provided an explanation.
– See more at: http://www.themalaymailonline.com/malaysia/article/cops-should-have-stripped-dr-ms-escort-privilege-long-ago-minister-says?utm_source=twitterfeed&utm_medium=twitter#sthash.nNllO6H5.dpuf
—
30 April 2016
Who withdrew Mahathir's police outriders, asks Khairuddin
Former Umno man reminds government not to practice favouritism and to respect the law regardless of politics.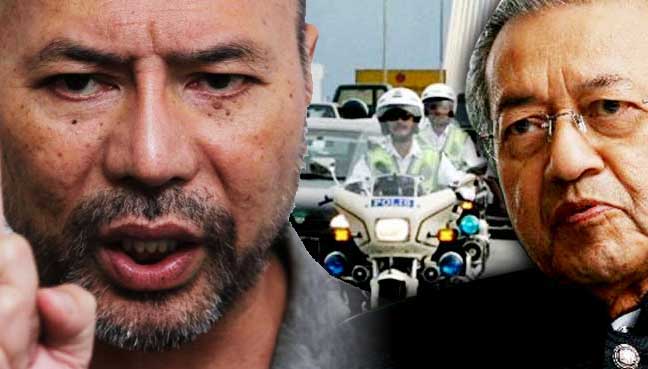 …
KUALA LUMPUR: If the government wants citizens to respect the law, they must first respect the law without any favouritism, said former Batu Kawan Umno division vice-chief Khairuddin Abu Hassan.
Khairuddin made his remarks in criticism of the withdrawal of police outrider services for former premier Dr Mahathir Mohamad.
It was reported yesterday that Mahathir will no longer have the privilege of having two police outriders to accompany his car when he travels.
One of Mahathir's aides had confirmed the withdrawal of the privilege, effective yesterday.
Khairuddin demanded to know who was behind the decision to withdraw the outriders.
"Having police outriders is a constitutional privilege that is granted to any former PM. Why was this privilege withdrawn and what was the reason behind it?" he said in a Facebook posting today.
"If Abdullah Ahmad Badawi still has this privilege then it is rather strange and weird that Mahathir doesn't."
He maintained that privileges was the right of any former prime minister and should not be associated with one's political stance.
"The government is asking everyone to respect the law based on the country's constitution but at the same time they are not respecting it. The attitude of the current government is bizarre. If the government does not know how to respect the law, how do they expect people to support them?
—
29 April 2016
Police outriders for Dr M withdrawn
Former prime minister will still have aide-de-camp and special elite police team looking after him.
PETALING JAYA: Former Prime Minister Dr Mahathir Mohamad will no longer be accompanied by police outriders.
Dr Mahathir is normally accompanied by two police outriders.
The withdrawal of outriders was confirmed by one of Mahathir's aides. who said police will no longer provide the two outriders, effective yesterday.
"However, I have no direct knowledge as to why the outrider service was withdrawn," the aide told FMT.
Earlier today, veteran newsman Kadir Jasin wrote in his blog that the service of the police outriders had been withdrawn.
He said Mahathir, however, will still have his aide-de-camp and the services of the special elite police team.
Malaysia's longest serving premier was accorded these privileges after he stepped down as the country's number one in 2003 after being at the helm of the government for 22 years.
—