—
30 April 2016
These pastry chefs put a butane torch in their luggage and it caught fire. Fortunately, it was not loaded onto the plane yet!

It happened on 15 April 2015 at Changi Airport, Singapore.
…
SriLankan flight made to turn back after torch in luggage catches fire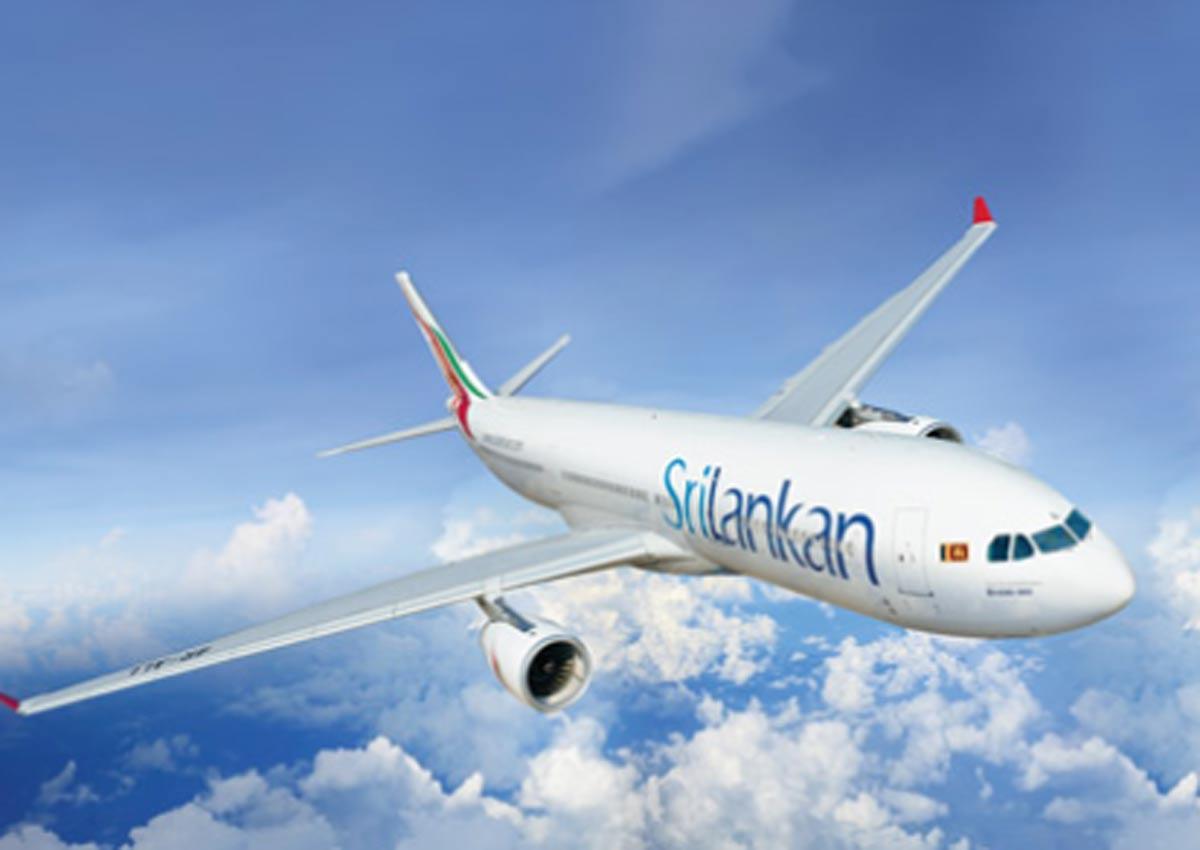 …
Five pastry chefs who had been in Singapore for a cooking competition forced a plane to return to Changi Airport after a butane torch they checked in caught fire and injured a baggage handler.
SriLankan Airlines Flight UL309 to Colombo was advised to turn back soon after take-off on April 14 for "safety and security reasons".
Police had been informed that a box had caught fire at the airport.
Although it was not loaded onto the plane, the 22-year-old handler who received it suffered minor injuries and received outpatient treatment.
The culinary butane torch belonged to five Sri Lankan men who are believed to have been here for the Asian Pastry Cup, which was held at the Singapore Expo. Such torches are classified as dangerous goods under aviation laws.
Police revealed details of the security incident yesterday.
A spokesman said: "The flight subsequently resumed its outbound journey to Sri Lanka later that night."
Flight UL309 eventually arrived in the Sri Lankan capital Colombo past midnight on April 15, after being delayed for three hours.
– See more at: http://news.asiaone.com/news/singapore/srilankan-flight-made-turn-back-after-torch-luggage-catches-fire?utm_medium=Social&utm_source=Twitter&utm_campaign=Echobox&utm_term=Autofeed&link_time=1461920949#xtor=CS2-4
—
. @flysrilankan flight UL309 April14 returnd 2 Singapor due2 securty r soon aftr airborn.5pasengrs detaind @SriLanka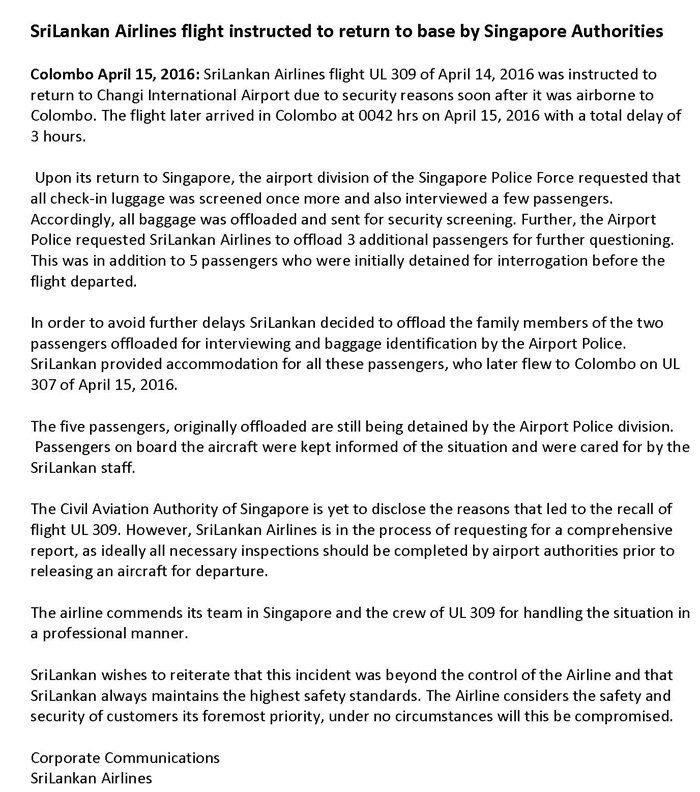 —
straitstimes.com/asia/south-asia/sri-lankan-airlines-plane-made-to-return-to-singapore-due-to-security-reasons-some …
Sri Lankan Airlines plane made to return to Singapore due to 'security reasons'; some passengers questioned
Published
Apr 15, 2016, 10:59 pm SGT
COLOMBO – A Sri Lankan Airlines flight that took off from Singapore's Changi Airport was made to return to Singapore "due to security reasons" soon after take-off, according to a statement from the airline on Friday (April 15).
The statement, posted on the airline's website, said flight UL309, which took off on Thursday (April 14), later arrived in Sri Lankan capital Colombo past midnight on Friday after being delayed for three hours.
The airline said Singapore's police force requested for a number of passengers to disembark for questioning.
Prior to take-off, the police had already detained five passengers for questioning, the statement said.
Here is the full statement posted by the airline on its website:
"SriLankan Airlines flight UL 309 of April 14, 2016 was instructed to return to Changi International Airport due to security reasons soon after it was airborne to Colombo. The flight later arrived in Colombo at 0042 hrs on April 15, 2016 with a total delay of 3 hours.
"Upon its return to Singapore, the airport division of the Singapore Police Force requested that all check-in luggage was screened once more and also interviewed a few passengers. Accordingly, all baggage was offloaded and sent for security screening.
"Further, the Airport Police requested SriLankan Airlines to offload 3 additional passengers for further questioning. This was in addition to 5 passengers who were initially detained for interrogation before the flight departed.
"In order to avoid further delays SriLankan decided to offload the family members of the two passengers offloaded for interviewing and baggage identification by the Airport Police.
"SriLankan provided accommodation for all these passengers, who later flew to Colombo on UL 307 of April 15, 2016.
"The five passengers, originally offloaded are still being detained by the Airport Police division. Passengers on board the aircraft were kept informed of the situation and were cared for by the SriLankan staff.
"The Civil Aviation Authority of Singapore is yet to disclose the reasons that led to the recall of flight UL 309.
http://www.straitstimes.com/asia/south-asia/sri-lankan-airlines-plane-made-to-return-to-singapore-due-to-security-reasons-some
—