…
Nurul Izzah Anwar has always been a bold, clear-thinking and outspoken woman.
…
WHAT A DIFFERENCE THE PASSING OF TIME CAN MAKE.
From someone determined to reject both Mahathir and Najib, Nurul became such a strong ally of Mahathir's that she went all the way to London "to spend Raya" with him and persuade him not to give up on Pakatan Harapan.
..
Malaysiakini: How Nurul Izzar persuaded Mahathir to stay in Pakatan Harapan and thus saved it from disintegrating…
Pakatan Harapan had done the unimaginable. The coalition with a 92-year-old politician at its helm dislodged a regime which had been in power for six decades.
However, a new revelation surfaced on how PKR vice-president Nurul Izzah managed to save the coalition from the brink of disintegration.
Recalling what transpired less than a year ago, Liew Chin Tong said Mahathir, before leaving for London during Aidilfitri, sent a letter to Bersatu president Muhyiddin Yassin to withdraw the party from Harapan.
According to the DAP political education bureau chief, this was due to the differences over the leadership structure in Harapan and the inability of the four parties to reach a consensus.
Liew said Nurul then rushed to London to meet Mahathir and managed to convince him to remain with the coalition.
"The meeting between Nurul and Mahathir in London was a historic meeting that turned around the whole scenario.
"After the Harapan leadership talks were done, the whole political atmosphere was different," he told Oriental Daily News.
https://weehingthong.org/2018/05/25/how-nurul-izzar-persuaded-mahathir-to-stay-in-pakatan-harapan-and-thus-saved-it-from-disintegrating/
…
TWO YEARS AGO
15 April 2018
Nurul Izzah: Don't let two 'dictators' chart Msia's future
PKR vice-president wants more "people's participation" in deciding the next prime minister.
…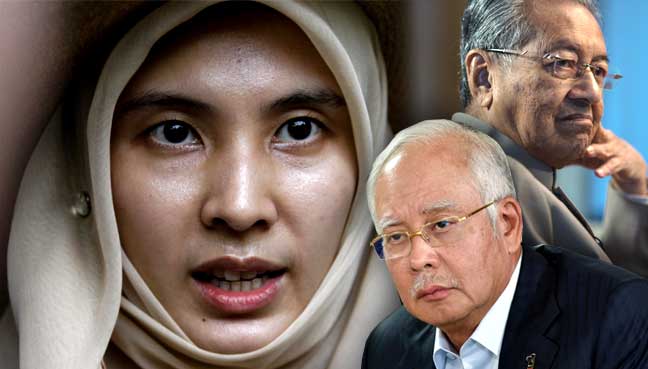 ..
PETALING JAYA: PKR Vice-President Nurul Izzah Anwar today labelled both former Premier Dr Mahathir Mohamad and current Prime Minister Najib Razak as dictators.Nurul Izzah said the duo should not be allowed to decide who should be the next prime minister and called for more "people's participation" in deciding the leader.
"We don't want a former dictator (Mahathir) or the current dictator (Najib) to chart Malaysia's future.
"I would like to urge the people to be more active, to ensure their voices are represented in various forms, including the Citizens' Declaration to Save Malaysia," she told a press conference here today.
The Lembah Pantai MP said attempts to replace Najib as the prime minister would go to waste if the existing political system, which she claimed was "broken", was maintained.
Saying the system was inherited from Mahathir's administration, Nurul Izzah said: "When the system is still the same, the replacement cannot repair the broken elements.
"What difference is it going to make if Ahmad Zahid Hamidi becomes the prime minister?"
She added that she was firm in the need to reform institutions and teaching Malaysians how to do it.
http://www.freemalaysiatoday.com/category/nation/2016/04/15/nurul-izzah-dont-let-two-dictators-chart-msias-future/
—
—