—
@RameshRaoAKS follows you
Anak Perak,Dilahirkan Di Hutan Melintang. Pertubuhan Minda & Sosial Prihatin. Kalau Perlukan Bantuan Untuk Pendidikan & Kesihatan Call 0123560105
Kuala lumpur • pmsp.org.my
—
8 February 2016
…
Malaysiakini
Ramesh, if you still owe money, then you are a bankrupt
YOURSAY 'He claims to have resolved his bankruptcy, but was he discharged?'
Ramesh Rao to sue Sarawak Report over 'bankrupt' label
Victor Johan: Ramesh Rao, you had previously in July 2015 admitted to being a bankrupt, and now you have travelled to a foreign land and claimed that your bankruptcy problem has been "resolved".
To be deemed an authentic complainant from wherever you are now, kindly provide those 'resolution' details and your clearance to be able to travel overseas, and pay for your flights and accommodation while there. Can you do this? When? You want us – the concerned Malaysian citizens – and the world to believe you, right?
When a declared bankrupt sues another party and loses – and then being unable to compensate the other party because of a lack of money – what then? Does he have to be declared a bankrupt, for the second time? Can a declared bankrupt even sue in the first place?
Do you know this, oh BN cybertrooper-cum-bankrupt Ramesh Rao?
Aries46: Prime Minister Najib Abdul Razak had also threatened to sue Sarawak Report before, and you as well now. But sue for what?
Your master has yet to disprove the various Sarawak Report/The Wall Street Journal/New York Times exposes. And, aren't you a bankrupt yourself?
I'm not sure if you are a Najib cybertrooper, but you sure do sound like some of those making comments in Malaysiakini and elsewhere – full of nonsense. Sarawak Report may have sarcastically categorised you a cybertrooper for your classic London antics.
By the way, many here are wondering how you managed to get to London? Who sponsored you, and wasn't your passport impounded when you were declared a bankrupt?
You claim to have resolved your bankruptcy, but were you discharged?
Anyway, it is good that at least you get to learn not to be confused between the law enforcement in Bolehland and London.
At home, clowns and lackeys are given the red carpet treatment by the powers-that-be; but outside of Bolehland, they get clobbered and disgraced as the nuisance that they are, and subsequently given the runaround deserving of their stupidity.
Anonymous_4056: The UK police are full of wisdom by asking Ramesh Rao to hand his materials to the Malaysian High Commission for onward relay to inspector-general of police (IGP) Khalid Abu Bakar – who is extremely keen to pursue Najib's critics.
Come back to Malaysia, Ramesh Rao. You would be easily made a 'Datuk Seri' – even though you may be a bankrupt. Anything is possible in Bolehland.
Sans Prejudice: With an outstanding debt of RM15,000 still unpaid, I am puzzled how he is able to self-finance his jaunt to London. Is some Saudi royalty splurging on his airfare, food and lodgings?
Someone in his right mind would have settled all his debts and be solvent, rather than meekly telling the world that "I only owe RM15,000 more."
The UK police is right in shooing him off as a matter of protocol. Maybe over here, he could have sauntered into some police station in Ulu Kelantan (UK) and he would be entertained with deference then – since he is on a patriotic mission to defend the PM.
Sound Mind: What new information are you talking about? You should be sued for a bankrupt brain and issuing stupid statements. You are a disgrace. Can't settle RM15,000, but you can travel to UK? Who sponsored you?
Did you travel by hiding in the luggage compartment, or by sitting on the wings?
The above is a selection of comments posted by Malaysiakini subscribers. Only paying subscribers can post comments. Over the past one year, Malaysiakinians have posted over 100,000 comments. Join the Malaysiakini community and help set the news agenda. Subscribe now.
These comments are compiled to reflect the views of Malaysiakini subscribers on matters of public interest. Malaysiakini does not intend to represent these views as fact.
https://www.malaysiakini.com/news/329755
—
Ramesh Rao to sue Sarawak Report over 'bankrupt' label https://www.malaysiakini.com/news/329660  @RameshRaoAKS @sarawak_report
Ramesh Rao, adviser for a group that calls itself Pertubuhan Minda dan Sosial Prihatin Malaysia (PMSP), has threatened to sue Sarawak Report for calling him a "bankrupt" and a "BN cybertrooper".
"I will sue Sarawak Report for defaming me. I challenge Sarawak Report to prove that I am a cybertrooper and bankrupt," he said in a statement issued by PMSP on Twitter.
Sarawak Report had made the remarks in a Facebook posting, where it noted that Ramesh was turned away by the UK police in London when he tried to submit "evidence" and lodge a report against the whistleblower website.
Ramesh was instead asked to hand his material to the Malaysian High Commission in the UK.
When pointed out that he had indeed admitted to being a bankrupt in July last year, Ramesh said his bankruptcy problem had been "resolved".
"This issue has been resolved, I only owe RM15,000 more," he said.
According to the Department of Insolvency's website a person can be declared a bankrupt pursuant to an adjudication order made by the High Court if he or she is unable to pay debts of at least RM30,000.
There is no automatic discharge from bankruptcy in Malaysia, as it would require an order by the Court or the director-general of insolvency, subject to any creditor's objection.
There are many restrictions imposed on bankrupts such as forfeiture of assets, restriction to go abroad and from holding corporate office and having to carry on business or other requirements to pay off creditors.
—
MALU: The declared bankrupt, BN cybertrooper Ramesh Rao, was turned away by UK police. http://www.malaysiakini.com/news/329476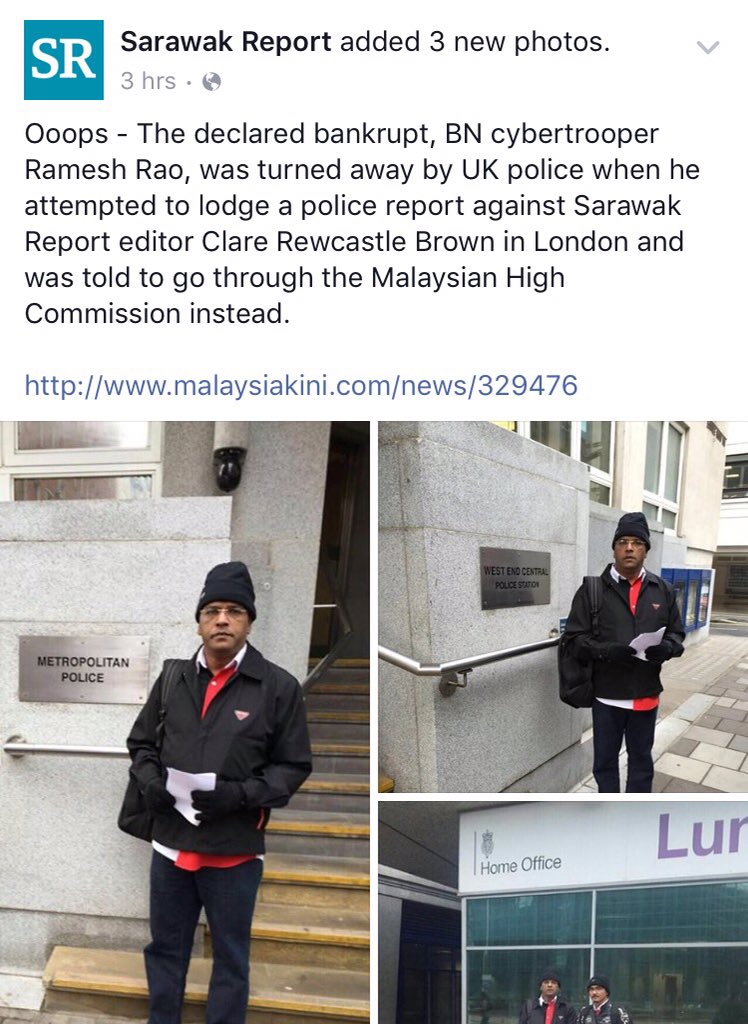 5 February 2016
BN NGO hands documents against Clare to high comm in London
London police have told Pertubuhan Minda dan Sosial Prihatin Malaysia (PMSP) adviser Ramesh Rao, who wanted to submit a complaint against Sarawak Report editor Clare Rewcastle-Brown, to do so through the Malaysian high commissioner.
This was during Rao's attempt to lodge a report against Rewcastle-Brown at the West End Central police station in London yesterday.
"I have been advised by British police to hand the documents through the Malaysian high commissioner to avoid any loss of the documents and evidence," Rao said in a statement.
He said the documents sent to the High Commission include a statutory declaration (SD) from Lester Melanyi claiming he was hired by Rewcastle-Brown to edit Sarawak Report content, email conversations between Lester and Rewcastle-Brown purportedly about falsifying documents, a letter from PetroSaudi claiming all email published by Sarawak Report to be false and copies of police reports and memorandum against Rewcastle-Brown in Malaysia.
These documents are to be sent to the British attorney-general and Home Ministry, he added.
Rao had previously filed a police report in Malaysia based on a video confession by Lester (photo) that Rewcastle-Brown and Malaysian opposition leaders fabricated documents pertaining to 1MDB.
PMSP has also submitted a memorandum to the British High Commissioner in Malaysia, asking them to tell Rewcastle-Brown to keep out of Malaysian politics.
https://www.malaysiakini.com/news/329476
—
16 July 2015
Malaysiakini
Meet the men behind latest 1MDB twist
---
Ramesh Rao Krishnan Naidu
Ramesh Rao, 43, leads an obscure NGO named Pertubuhan Minda dan Sosial Prihatin (PMSP). Based on the NGO's media invitation track record, it has a penchant of making police reports and submitting memorandums, with a particular interest in the opposition.
…
In February 2014, there were efforts to lobby Ramesh Rao to become a senator and replace P Waythamoorthy as a deputy minister but it did not materialise.
Lester Leef Albert Melanyi
Lester Melanyi, 49 was an editor at Sarawak Tribune but was forced to resign in 2006 after he allowed the publication of a caricature of Prophet Mohamed.
As a result, the newspaper, established since 1945, was also suspended indefinitely. Lester claimed that he had written for Sarawak Report and was asked to used fabricated information.
However, Rewcastle claimed that Lester had never worked for the whistleblower site and was hired for a few months in 2011 with Radio Free Sarawak, which has an Iban language broadcast. Rewcastle had accused Lester of being bought over.
http://www.malaysiakini.com/news/305370
—
Eksklusif: Pendedahan Kerja Pemalsuan Dokumen #1MDB Oleh Sarawak Report (PART 1)
Did Datuk Abdul Rahman Dahlan get SCAMMED? Sarawak Report: Your editor never worked for Sarawak Report…
—