—
OUT OF SIGHT, OUT OF MIND
The Orang Asli at the Royal Belum State Park, Perak
—
27 November 2015
Perak denies 200 Orang Asli children died in Belum
malaysiakini.com ‏@malaysiakini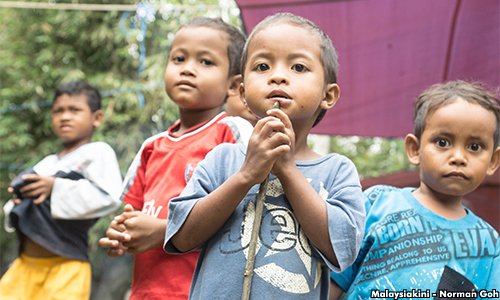 …
Checks conducted by the Perak health department on a report which claimed many Orang Asli children in Kampung Bunga Hilir, Belum, died due to oral thrush found it not true, said its director Dr Juita Ghazalie.
"The newspaper report which said 200 Orang Asli children in the village died is impossible. The figure 200 is too big and we can't even find any evidence on it," she told Bernama here today.
She said following a report on the death of an eight-year-old Orang Asli girl of oral thrush, a health team was sent to the village to investigate.
"The victim's father told the health team that her daughter had fever and there were white and red spots in her mouth.
"After discussing the matter with the health team, we conclude that it could be herpangina, a type of mouth ulcer caused by the coxsackie virus," she added.
Dr Juita said herpangina is not a mysterious disease as was reported, but contagious without good oral hygiene.
Asked how the girl died due to the disease, she said, it could be due to delay in getting treatment and the ulcer exposed to secondary infection.
"Apart from that, the disease also caused children to have problems eating and drinking, and this result in shortage of water in the body," she added.
https://www.malaysiakini.com/news/321344
—
Going back into the Royal Belum State Park with a task force set up by authorities. Updates soon.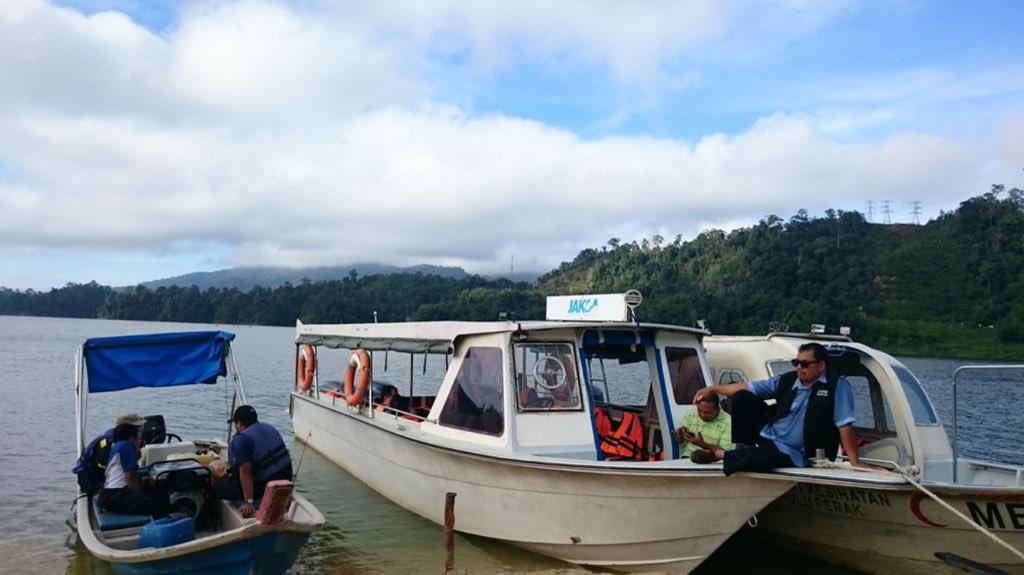 —
R.AGE spent 4 days living with the orang asli to investigate. Watch the documentary here: http://rage.com.my/dead-and-forgotten/ …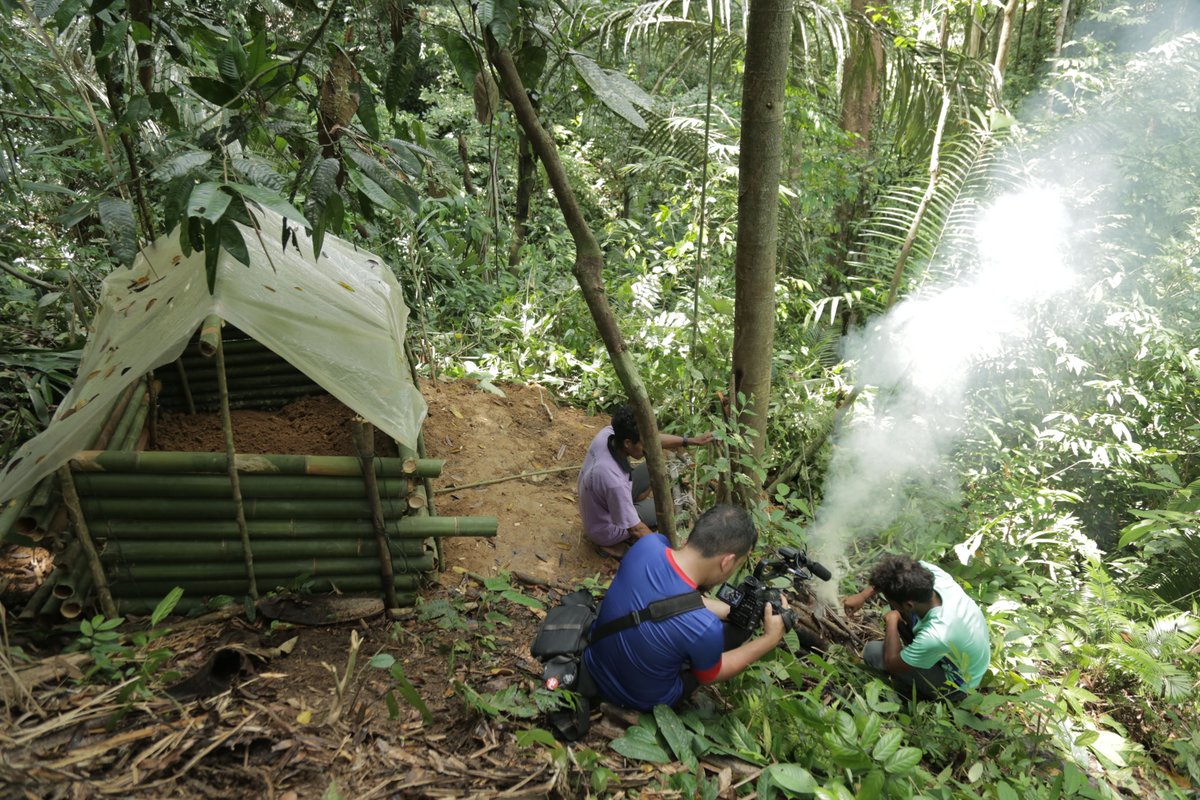 …
—
A mystery illness appears to be killing orang asli children in the Royal Belum State Park. http://rage.com.my/dead-and-forgotten/ …
—
EXCERPTS FROM:
A mystery illness appears to be killing orang asli children in the Royal Belum State Park. http://rage.com.my/dead-and-forgotten/ …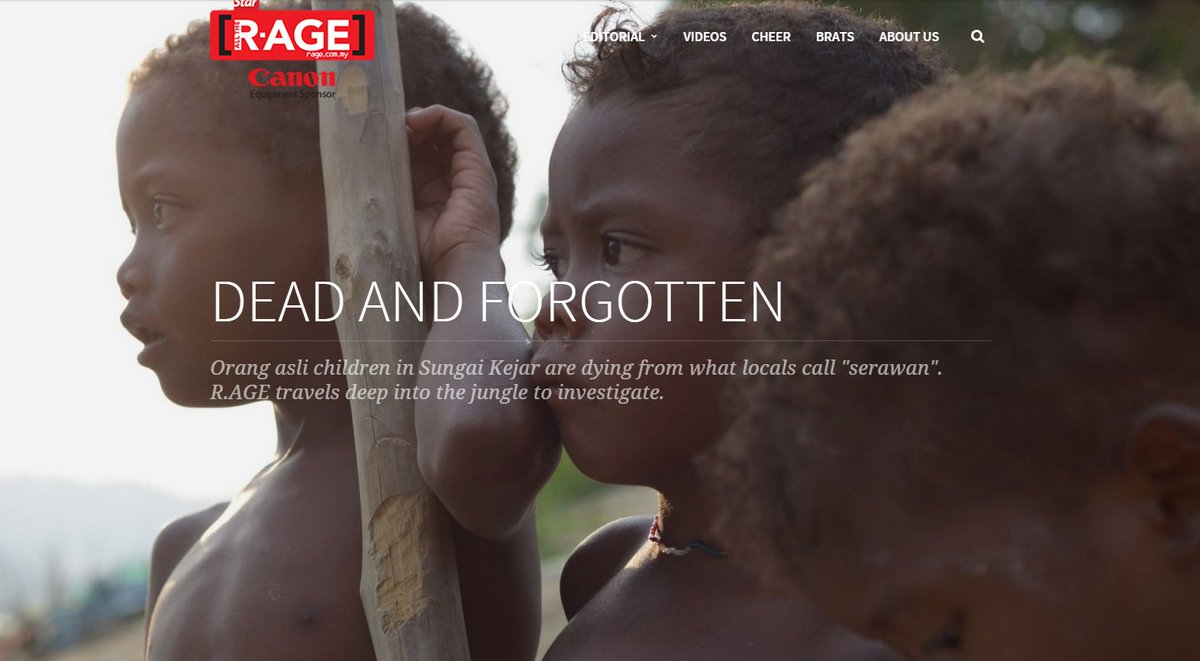 …
Star
Dead and forgotten
Orang asli children in Sungai Kejar are dying from what locals call "serawan". R.AGE travels deep into the jungle to investigate.
By SHANJEEV REDDY and ELROI YEE
alltherage@thestar.com.my
THERE'S a luxury resort just outside the Royal Belum State Park in Perak, and it has a large sign at the entrance that says Pey Ba'a, which means "come to us" in the language of the indigenous Jahai people.
It was meant to be an invitation for tourists to experience life in the Jahai's remote villages, but it could just as well have been a cry for help – R.AGE had received reports of a mysterious illness claiming the lives of young Jahai children. However, nobody seems to have done anything about it.
R.AGE's video crew went deep into the state park to investigate these deaths at the villages along Sungai Kejar a few weeks ago.
On the day we arrived, a young girl, Malini, was on the brink of death. We only heard about her condition the next morning, when we were told she had passed away, just before sunrise. Her family had been holding vigil throughout the night.
They call the disease serawan. It kills within days, and has plagued the orang asli around Sungai Kejar for years. And yet, nothing has been done for them, despite them being touted as a tourist attraction in the park.
…
We later spoke to Universiti Malaya anthropologist Kamal Solhaimi Fadzil, who has conducted extensive research on the orang asli communities in the Belum-Temenggor forest, which stretches into Thailand.
Based on his observations, the child mortality rate among the 20 or so families in the Sungai Kejar area could be as high as 50%.
The villagers were almost nonchalant about Malini's death. Serawan has become a fact of life there.
…
Our first day was spent talking to the Tok Batin, the village head appointed by the Orang Asli Development Department (Jakoa). We had to gain his trust and ask permission to speak to the people about the disease.
The Tok Batin helps convey any problems in the village to Jakoa and keeps the rest informed on important events such as routine visits by the Health Ministry and delivery of food supplies by Jakoa.
…
"I know four people who have died this year, all from this same disease," said Bain. "We used to have around 600 people in the villages here, and we were happy. Now there are around 400 of us left." According to Jakoa, there are around 300 orang asli in Sungai Kejar.
Diagnosis
We showed photos of the symptoms to several doctors, and they all agreed that the white spots in the mouth were oral thrush, which occurs when the immune system is weakened by disease.
When contacted, the Health Ministry said they send medical teams to the Sungai Kejar area every fortnight. The villagers, however, said it had been close to two months since the last visit, and that the medical teams don't stop by every village.
…
The Perak State Parks Corporation (PSPC), which manages the Royal Belum State Park, told R.AGE that orang asli welfare is the responsibility of Jakoa.
But when we spoke to Jakoa Hulu Perak and Baling district officer Razali Khamis about this, he said he had never heard of "serawan", and even more suprisingly, that there was no record of any deaths in the area since 2014.
Razali, in turn, referred us to the health department for more accurate data.
The health department's statistics were similar. They had only one recorded death in Sungai Kejar, an adult, since 2013.
Keladi, however, showed us his daughter's death certificate. She died from serawan on May 17 this year.
—
Star
November 25, 2015 MYT 6:46:50 AM
Jakoa to check claims of 200 orang asli deaths
PETALING JAYA: The Health Ministry would have raised the alarm if there were a high number of deaths due to thrush (oral infection) even among the orang asli community in remote areas, says the Orang Asli Development Department (Jakoa).
Jakoa deputy director general Suhaimi Mahmud said he was taken aback over reports in The Star in which the orang asli claimed that many had died in Royal Belum State Park in Perak.
"We are going down to the ground to check. It is impossible that such a high number of deaths had gone unnoticed," he said.
The orang asli claimed that some 200 people have died of the disease.
Suhaimi said they would check the number of new graves in the area.
"We will talk to the locals, find out the actual number of deaths, and if they have any reservations about seeking modern medication," he said.
Suhaimi said he would personally go down to the ground to investigate the claims and would get a clearer picture after inspecting the area.
"If there is high number of new deaths, there would certainly be many new graves," he said.
http://www.thestar.com.my/News/Nation/2015/11/25/Jakoa-to-check-claims-of-200-orang-asli-deaths/?utm_source=dlvr.it&utm_medium=twitter
—