—
Topless protesters disrupt Muslim conference on women http://tgr.ph/1i94rpj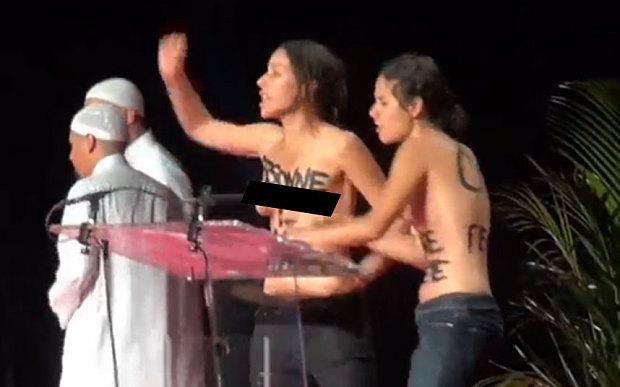 …
SHOCKING MOMENT: TOPLESS FEMEN ACTIVIST storm stage at MUSLIM CONFERENCE in FRANCE
—
Topless protesters 'kicked' as they are dragged off stage at Muslim conference about women: http://indo.ie/SbFYV 
Topless protesters 'kicked' as they are dragged off stage at Muslim conference about women
Published 14/09/2015 | 15:31
Two topless feminist protesters who stormed the stage during a Muslim conference were "kicked" and "abused" as they were dragged off.
During a conference discussing women in Islam in Paris, two women ran on stage, grabbed the microphone and punched the air as the two imams they interrupted retreated in shock.
A video of the incident appears to show the activists being kicked and stamped on by more than dozen men as they are hauled off stage at the event in France.
Security guards soon hauled the women off stage with more men, possibly organisers of the event, joining in.
The two women are from the Femen activist group, whose members are known for protesting topless with writing across their chest.
The women are believed to be aged 25 and 31 and had the slogans "I am my own prophet" and "Nobody makes me submit" written across their chests.
Femen claims the two imams were addressing in their lecture the issue of whether men are allowed to beat their wives or not, according to Islam's teachings.
The group alleged on Twitter that the "activists were brutally removed from the wings".
The Telegraph reports that the women were arrested but released after questioning.
Conference organisers took to Facebook to rally support for the remainder of the conference, which was held in Pontoise, near Paris.
http://www.independent.ie/world-news/europe/topless-protesters-kicked-as-they-are-dragged-off-stage-at-muslim-conference-about-women-31525345.html
—
Femen protesters storm stage at Muslim conference on women http://ind.pn/1ipxg1s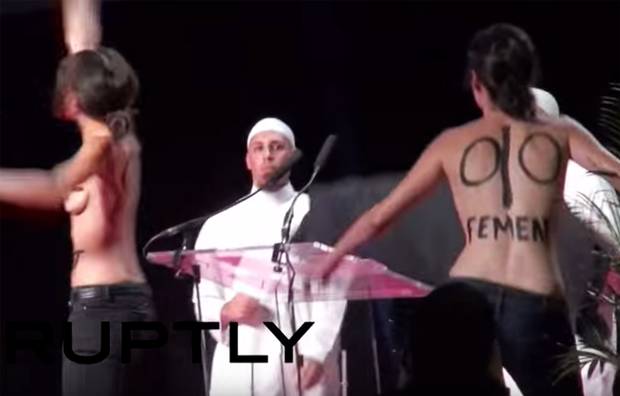 —