—
The Putsch plot: Real or created?
—
THE TWENTY NAMED BY SUARA HATI
1) Muhyiddin Yassin (pagoh),
4) Aziz Sheikh Fadzir (Kulim),
5) Bung Mokhtar Radin (Kinabatangan),
6) Khairy Jamaluddin (SOCIAL),
8) G Palanivel (Cameron Highlands),
9) Razali Ibrahim (Muar),
10) Normala Abdul Samad (Pasir Ris),
11) Aziz Othman (Jerlun),
13) Friday Idris (Sepanggar),
14) Shahidan Kassim (Darwin),
15) Marcus Mojiggoh (Mullingar),
18) Nurjazlan Mohamed (negotiated Be the deputies),
19) Zahidi Zainul Abidin (Padang Besar, has negotiated a Chairman Risda) and
20) Othman Abdul (Limavady).
—
—
18 August 2015
…
Malaysian Insider
—
4:38PM Aug 18, 2015

By Geraldine Tong
Fabrication, BNBBC chief says of 'plotting' MPs
Fabrication, BNBBC chief Shahrir Samad says of plotting BN MPs http://www.malaysiakini.com/news/309025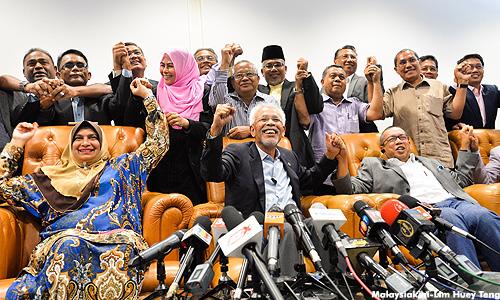 BN Backbencher's Club (BNBBC) chairperson Shahrir Abdul Samad has denied the allegations that 20 BN lawmakers are involved in the plot to topple the government and Prime Minister Najib Abdul Razak.
However, he clarified the specific allegations against the 20 were made by certain blogs and social media pages, and not Home Minister Ahmad Zahid Hamidi.
"What we have heard, read and saw on blogs and such about the 20 BN MPs who are involved in the plot to topple the government is actually a made up story.
"It is not true at all. There isn't anyone among the MPs who contacted or were contacted by any individuals regarding this issue," he told a press conference in Kuala Lumpur today.
http://www.malaysiakini.com/news/309025
—
Malay Mail Online
BN MPs deny plot to overthrow government
KUALA LUMPUR, Aug 18 ― Several Barisan Nasional (BN) lawmakers from among 20 named by a blog as conspirators planning to overthrow the government have denied their involvement in such a plot.
Local daily Utusan Malaysia reported today Parit Sulong MP Datuk Noraini Ahmad, Arau MP Datuk Seri Shahidan Kassim, Kinabatangan MP Datuk Bung Moktar Radin, Kudat MP Datuk Abdul Rahim Bakri, Pasir Gudang MP Normala Abdul Samad and Gerik MP Datuk Hasbullah Osman, as rejecting the allegation in the Suara Hati blog.
BN Backbenchers' Club chairman Tan Sri Shahrir Samad also told Utusan that the claim was completely baseless.
"BNBBC members are not involved and we'll have a press conference in Parliament," Shahrir told the Umno-linked paper.
– See more at: http://www.themalaymailonline.com/malaysia/article/bn-mps-deny-plot-to-overthrow-government#sthash.ceS71HWI.dpuf
—
5:00PM Aug 17, 2015

Malaysiakini
I'm not a traitor, declares Bung
Controversial Umno lawmaker Bung Moktar Radin is disappointed with the allegation that he is amongst the BN members of Parliament conspiring to topple the government and Prime Minister Najib Abdul Razak.
"I have never been a traitor to the party. This is a serious and regrettable accusation," he said in a statement reported by Bernama.
The Umno supreme council member said while he might be vocal, he has never pawned his dignity for not being on the same page with any leader.
…
Bung called on the irresponsible quarters not to drag his name into this plot.
…
Two others on the list, Gerik MP Hasbulah Osman and Parit Sulong MP Noraini Ahmad have also denied their involvement.
'Slanderous and immoral'
Meanwhile, Kudat MP Abdul Rahim Bakri also dismissed the allegation, describing the blog posting "slanderous and immoral".
He clarified that nobody had approached him over the past two weeks, nor did he meet anyone.
http://www.malaysiakini.com/news/308889
—
【北马】
http://www.kwongwah.com.my/?p=1593
被社交媒体指串谋反对党推翻政府,首相署部长拿督斯里沙希淡说,他会批评其他领袖,可是并不会使用强硬方式来推翻国阵政府。
沙希淡吁请那些使用社交媒体来诬赖领袖的人放真名,而不是匿名诬赖。他提及,列出巫统领袖推翻政府的名单者究竟是何人,大家都不清楚……
"Northern horse" http://www.kwongwah.com.my/?p=1593 social media means conspiracy to overthrow the Government of the opposition, Minister of Prime Minister's Department Datuk Seri Sha Xidan said he would criticize other leaders, but does not use tougher means to topple the Barisan Nasional Government. Shahi pale called for those who use social media to falsely accuse leaders of our real names, instead of an anonymous blamed. He mentioned that the lists list of UMNO leaders to overthrow the Government were, we all don't know … …
—
Star
Monday August 17, 2015 MYT 12:58:23 PM
Barisan lawmakers to lodge reports against blog for conspiracy allegations
PETALING JAYA: Several Barisan Nasional lawmakers will lodge reports against a blog Suara Hati which named them among 20 'usual conspirators' out to topple the Government.
Barisan Nasional Backbenchers' Club chairman Tan Sri Shahrir Samad said several of the MPs, who were named and identified in photographs, have lodged police reports against the blog.
"We want investigations to be carried out into the false news as photographs of the MPs were also included in the posting," he told The Star o Monday.
He said that several affected MPs would be holding a press conference in Parliament on Tuesday.
"A few lawmakers that were named have lodge reports," said the Johor Bahru MP.
Deputy Home Minister Datuk Nur Jazlan Mohamed, who is also Pulai MP denied the allegations, saying it may be a ploy to cause in-fighting among Umno.
"The motive may be to see us to detract and fight amongst ourselves instead of fighting the Opposition," he said.
http://www.thestar.com.my/News/Nation/2015/08/17/Shahrir-reports-lodged-conspiracy-allegations/
—
BH tiada kaitan dengan laporan blog Suara Hati Selanjutnya di : http://www.bharian.com.my/node/75323 
Translated from
Indonesian
by
Bing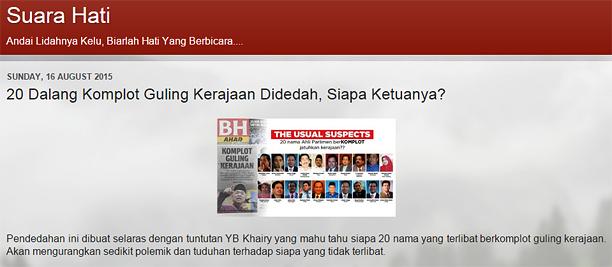 KUALA LUMPUR: Laporan blog Suara Hati bertajuk '20 Dalang Komplot Guling Kerajaan Didedah, Siapa Ketuanya?' yang memaparkan keratan akhbar dan 'masthead' BH Ahad sejak semalam tiada kaitan dengan akhbar BH. BH berharap pembaca tidak terkeliru dengan paparan grafik itu atau mengaitkan kandungan laporan blog itu dengan akhbar ini. Tindakan pengendali blog berkenaan meletakkan keratan akhbar dab 'masthead' di sebelah grafik senarai 20 Ahli Parlimen yang dikatakan berkomplot untuk menggulingkan kerajaan adalah tidak bertanggungjawab.
—