—
Internet Scams and Hackers, et al..
FACEBOOK SCAMS: HOW TO DETECT THEM AND WHAT TO DO
—
http://www.thestar.com.my/news/nation/2016/03/26/rm1bil-lost-to-online-scammers-love-is-a-pain-for-victims-romanced-by-conmen/?utm_source=dlvr.it&utm_medium=twitter
—
27 June 2016
Do these look anything like the white man or white woman whom you fell in love with and who cheated you?
26 June 2016 | MYT 11:11 PM
Police detain six Africans for involvement in 'Romance Scam'
KUALA LUMPUR: Six African nationals believed to be involved in 10 'Romance Scam' cheating cases amounting to RM1 million were detained at a house near here, yesterday.
A police team from Bukit Aman detained the six suspects, including a woman, aged 24 to 38, in Bandar Sri Damansara, Petaling Jaya during the 1am operation.
Bukit Aman Commercial CID Intelligence and Operations deputy director, SAC Roslan Abd Wahid said police also seized 12 cellphones, 15 ATM cards and a Toyota Camry.
"Also seized were laptops which the suspects had used to find their victims and a pen-drive containing photos of their targets," he said when contacted by Bernama here, today.
He said preliminary investigations revealed that the suspects have been involved in such activities for the past two years.
http://www.thestar.com.my/news/nation/2016/06/26/african-nationals-nabbed-scam/?utm_source=dlvr.it&utm_medium=twitter
—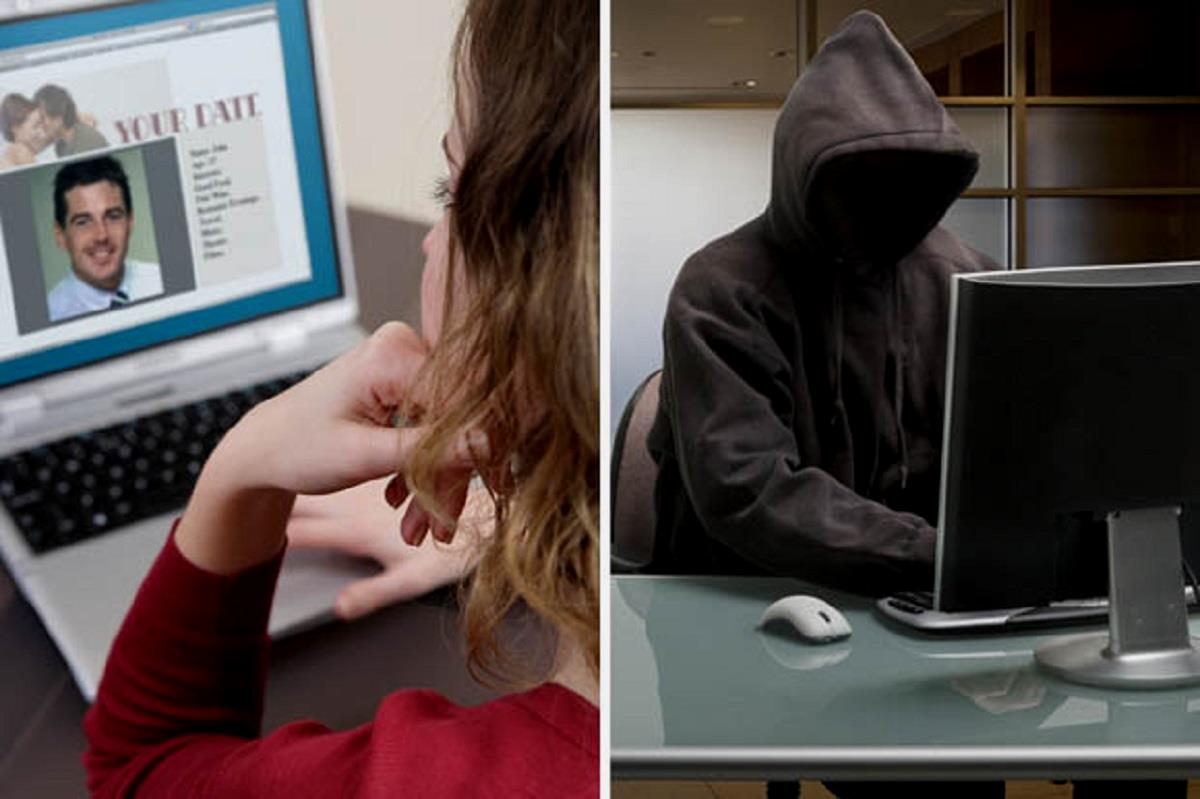 —
26 March 2016
Star
26 March 2016
RM1bil lost to online scammers
KUALA LUMPUR: The "romance" out of Africa is so beguiling that Malaysian women gave away RM71mil to love scammers last year, in spite of continuous reports in the media.
They topped the list of victims who lost a total of RM1bil in online scams.
Bukit Aman Commercial Crime Investigations Department (CCID) director Comm Datuk Seri Mortadza Nazarene said cheating by Africans, which included the "parcel" and "love scam", recorded a significant increase last year, in spite of the department's campaigns and media coverage over the modus operandi of these conmen.
Comm Mortadza said there were 14,627 cases of online scams last year, in which victims lost a total of RM1.09bil.
In 2014, the department recorded 11,931 cases with losses amounting to RM816mil.
"It is very alarming that such cases are on an upward trend. This is because of the influx of foreign cyber criminals," he said in an interview to mark the 209th Police Day tomorrow.
…
He said 90% of African scam victims were women.
"Among the women targeted are those who are lonely, gullible, seeking love and those seen to be greedy," he said.
http://www.thestar.com.my/news/nation/2016/03/26/rm1bil-lost-to-online-scammers-love-is-a-pain-for-victims-romanced-by-conmen/?utm_source=dlvr.it&utm_medium=twitter
—
20 January 2016
Malaysia now hub for African love scams, says Interpol report
Most of the victims, he said, were single mothers, lonely women, housewives, as well as working professionals.
…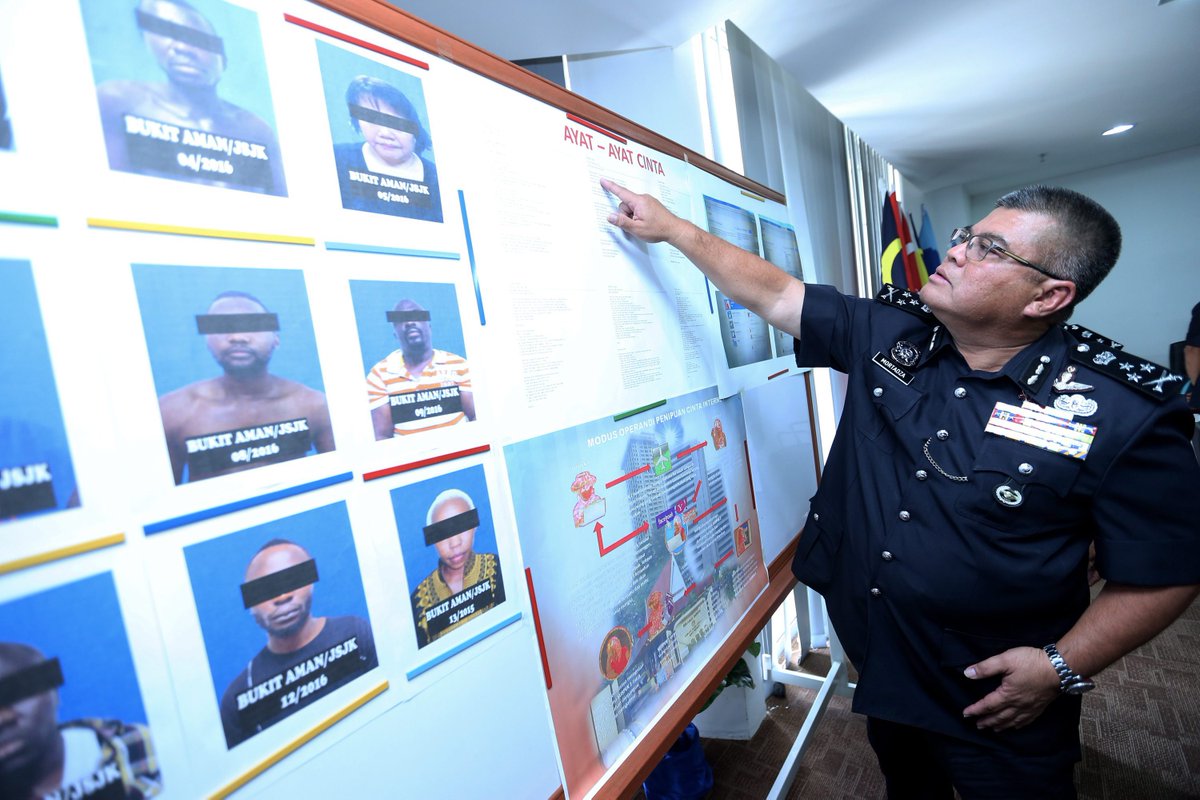 …
By ZAHRATULHAYAT MAT ARIF – 20 January 2016 @ 7:27 PM
KUALA LUMPUR: Malaysia has become a hub for African 'love scams' which seek to dupe local women of their hard-earned finances.
This is evident from the increasing number of losses resulting from the scams, which have skyrocketed from 2014.
Commercial Crimes Investigation Department Commissioner Police Datuk Sri Murtadza Nazarene said police have received reports from Interpol stating that Malaysia has become a hub for such scams.
He said that last year, losses incurred from 'love scams' in 2014 amounted to RM52 million. "However, the figure increased to RM199 million last year," he said.
—
30 December 2015
Star
30 December 2015 | MYT 5:37 PM
Nigerian student charged for cheating women on Facebook
PETALING JAYA: A Nigerian college student who allegedly cheated women on Facebook has been charged at the Magistrate Court here.
Collins Sparklys Obianke, 33 who was charged at two separate courts here pleaded not guilty and claimed trial before magistrate Salamiah Salleh and magistrate Mohd Azali Ibrahim on Wednesday.
The suspected fraudster was believed to have cheated Foo Pooi Yun, 38 and S. Vanitha, 31 into making them believe that they had received a parcel containing gifts from overseas that required them to deposit RM10,500 into a bank account between Aug 24 and Sept 14 this year.
The parcels were supposed to contain a handbag, laptop, mobile phone, watches, sunglasses and perfume.
…
Obianke who was represented by lawyer L. A Gomes was also ordered to surrender his passport to the court.
http://www.thestar.com.my/news/nation/2015/12/30/nigerian-charged-cheating-facebook/?utm_source=dlvr.it&utm_medium=twitter
—
7 November 2015
The Parcel scam is a variation of the Nigerian love scam.
Man conned by African parcel scam http://www.nst.com.my/news/2015/11/man-canned-african-parcel-scam … #nst170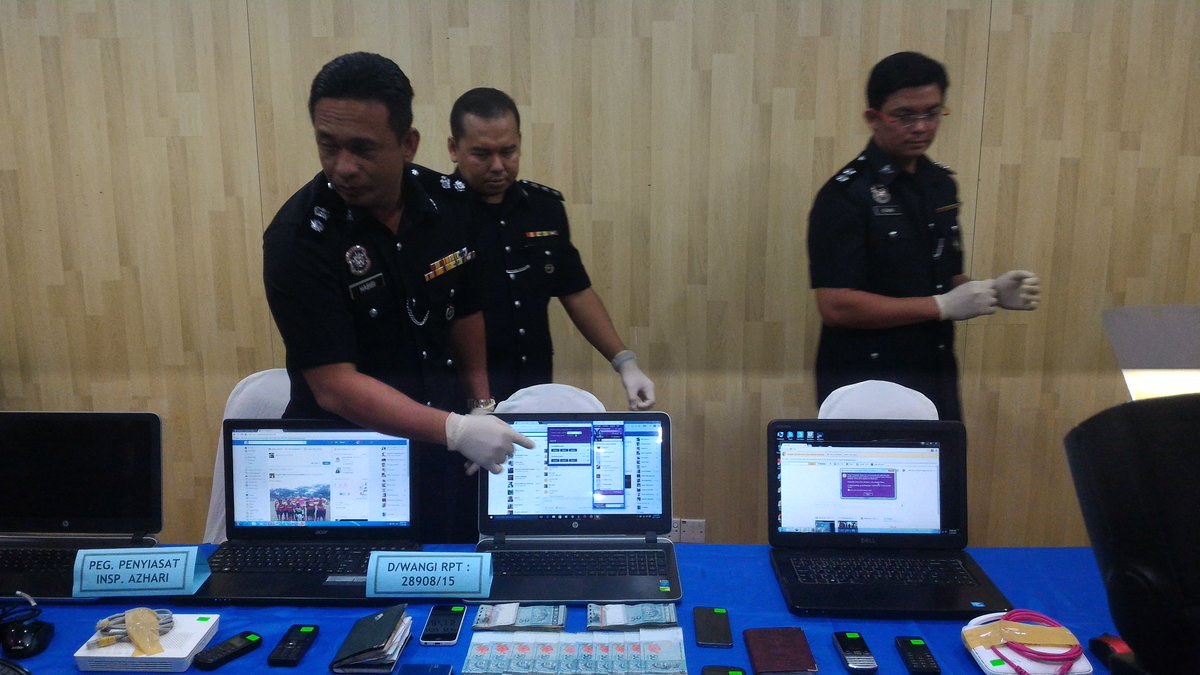 …
By HANI SHAMIRA – 6 November 2015 @ 1:00 PM
KUALA LUMPUR: An African parcel scam syndicate, which recently "sweet talked" a 38-year-old man into paying them close to RM50,000 was busted by the police with the arrest of two Nigerian men yesterday.
Dang Wangi district deputy police chief Superintendent Habibi Manjiji said the victim, who was working offshore for a local oil and gas company had first engaged with a "woman from United Kingdom (UK)" through Facebook.
"After a few days of communicating through social media, the woman told the victim that she wanted to send a parcel containing jewelry, clothes as well as £200,000 in cash to the victim, here in Malaysia," he said.
On Monday, the victim received a call from a man named James, who claimed to be in charge of the parcel. The victim was instructed to pay an amount of money to release the parcel from customs.
The victim made two transactions on the same day before he was directed to settle a sum of RM38,800 to release the parcel. After paying a total of RM47,730, James had called the victim again, asking him to pay yet another sum of money.
Habibi said the victim then realised he was being conned and lodge a report on Wednesday.
In less than 24 hours, Dang Wangi Commercial Crime Department officers led by Inspector Muhammad Azhari Abd Aziz arrested a Nigerian man in Subang Jaya.
Following the arrest, police picked up another Nigerian man in a condominium in the same area.
—
17 August 2015
Police Cripple Scam Syndicate Targeting Women http://bit.ly/1NAiezr
Police Cripple Scam Syndicate Targeting Women
Datuk Wira Hamza Taib
KUALA LUMPUR, Aug 17 (Bernama) — Bukit Aman police have crippled a syndicate with the arrest of 29 Africans who have tricked Malaysian women of RM25 million.According to the deputy director (investigations) of the Bukit Aman Commercial Crime Investigation Department, Datuk Wira Hamza Taib, police also detained were four local women, an Indonesian woman and a Thai woman suspected to have been part of the syndicate that was detected early this year."The suspects used the bank accounts of local women to trick the victims … in fact, police raids also found local women living with the suspects and having given birth to illegitimate children," he said.He said that with the arrest of the suspects, all in their 30s, police have solved 29 of 761 reported cases and recovered RM150,000 from premises raided.Police also seized 50 ATM cards of local banks, 70 handphones, 16 laptop computers and various documents used in the scam, he added."The suspects would pretend to be European men and convince their victims that they were ready to get married," he said.The suspects would pretend that they were going to send expensive gifts like gold ingots, money and other items by courier and would ask the victims to pay duty upfront.Hamzah said many of the victims were lonely, divorced or professional career women.
He said that duped by the sweet talk of the suspects, many victims could not accept that they had been tricked even when told so by the police.
"I want to advise Malaysians to be more careful with relationships established over the Internet so that they are not tricked by cyberspace lovers who exploit victims using the photographs of handsome, white men," he said.
— BERNAMA
—