—
https://en.wikipedia.org/wiki/KL118
…
The first phase of the projec owned by Permodalan Nasional Bhd (PNB), includes the 118-storey tower set to be the tallest building in Southeast Asia, and a shopping mall, and is slated to be completed by 2020.
https://www.malaysiakini.com/news/355524?utm_source=dlvr.it&utm_medium=twitter
…
20 May 2019
…
18 June 2018

…
28 May 2018
..
..
…
13 September 2016
Report: Merdeka PNB 118 mega-tower project facing setbacks?
The RM5 billion Merdeka PNB 118 mega-tower project is facing setbacks which may result in possible delays to its completion.
Citing sources, The Edge reported that there were problems with the foundation works which required rectification.
However, it is not clear what the problem was, or how long it would take to fix.
"The last I heard, a couple of months back, the issue had not been resolved," The Edge quoted a corporate source as saying.
The source added that piling and foundation issues are not unusual in the construction sector.
Another source told the business daily that "PNB, the contractor or someone else" will have to pay for additional costs brought on by the remedial works.
…
Last Friday, PNB Merdeka Ventures released a statement which said that the project was progressing within budget and was on schedule for completion by 2020.
…
Contractor Pintaras Jaya had targeted to complete the RM74 million foundation works in about a year, after it was awarded the contract in March 2014.
The Edge report notes that Pintarasa Jaya had been making losses for the last five quarters, and its Bursa filings note that it had faced "unexpected" additional costs on a "particular completed project" for its review of third quarter 2016 and fourth quarter 2016 earnings.
https://www.malaysiakini.com/news/355524?utm_source=dlvr.it&utm_medium=twitter
…
18 March 2016
5thn lagi,thn 2020..aku CEO kat KL118,4th Floor.so mampu ler aku pki PORSCHE..
…
…
17 March 2016
…
A new iconic landmark in MALAYSIA with launch of 118-storey Warisan Merdeka, mega-tower mixed dev project by PNB
.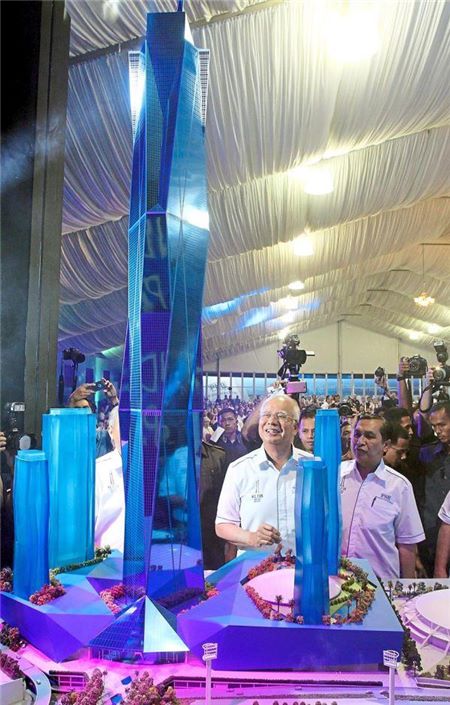 —
DS Najib Razak semasa Majlis Pelancaran Menara Wawasan 118 di Stadium Merdeka Kuala Lumpur Malaysia
—
 16 March 2016
Malay Mail Online
PNB offers glimpse into new Merdeka skyscraper set to overshadow Twin Towers
…

PNB chairman Tun Ahmad Sarji Abdul Hamid (left) with PNB President Tan Sri Hamad Kama Piah Che Othman (right) at a press conference in Kuala Lumpur March 15, 2016. He said that PNB will be the anchor tenant for the 118-storey tower named 'Merdeka PNB118'. — Bernama pic
KUALA LUMPUR, March 16 — Permodalan Nasional Berhad (PNB) today unveiled details of the planned 118-storey tower that will outstrip the 88-floor Petronas Twin Towers as the country's tallest building.
PNB chairman Tun Ahmad Sarji Abdul Hamid said work had started in 2014 on the building dubbed the "Merdeka PNB118", which was designed by Australian firm Fender Katsalidis Architects.
"Standing at 630 metres, the iconic tower is anticipated to be the 5th tallest building in the world, and will be enlisted in the 'Mega Tall' category together with the Burj Khalifa Dubai, Shanghai Tower and Makkah Royal Clock Tower, to name a few," he said at the launching ceremony for the project.
The tower is expected to be given the MSC Malaysia Cyber Centre status, besides being the first building in the country to fulfill three green building certification standards, he said.
According to Ahmad Sarji, the joint development cost of the tower and a seven-storey shopping mall will be RM5 billion to be funded by PNB.
Slated for completion by 2020, 82 out of the 118 that offers 1.7 million square feet will be rented out as offices, with companies under the PNB Group to take up 60 floors.
The remaining 22 floors of the office space in the tower will be rented out to local and international firms, he said.
An observation deck and a sky lobby will be part of 18 floors that will also accommodate mechanical and electrical facilities, he said.
Another 18 floors covering 435,000 square feet will be occupied by a six-star luxury hotel with 236 rooms.
– See more at: http://www.themalaymailonline.com/malaysia/article/pnb-offers-glimpse-into-new-merdeka-skyscraper-set-to-overshadow-twin-tower#sthash.ffCVFrCJ.Bbs3drEy.dpuf
—
7 March 2016
KL118 atau nama lamanya Menara Warisan bakal jadi bangunan tertinggi di Malaysia dan kelima tertinggi di dunia
—
Menara Wawasan yang bakal dibina di KL, dikatakan bakal mencabar ketinggian Burj Khalifa.
 —
Jambatan menara wawasan putrajaya
—
10 October 2013
Malaysiakini
MPs claim heritage under siege by Menara Warisan
The government needs to halt the construction of the 118-storey Menara Warisan as its current construction site close to Stadium Merdeka may disturb an area that should be preserved under a national heritage rule, opposition parliamentarians have said.
DAP's Bukit Bintang MP Fong Kui Lun and Serdang MP Ong Kian Ming (from left, in photo) questioned why the project has persisted even though it was on Tunku Park, situated within 200 metres of Stadium Merdeka and Stadium Negara, both protected under the National Heritage Act (2005).
"We want to know if the Commissioner of Heritage, Professor Siti Zuraina Abdul Majid, has consulted KL City Hall (DBKL) on the possible negative impact of the building of Menara Warisan on these two  national heritage sites," Ong and Fong said in a statement.
They noted that Tourism and Culture Minister Mohd Nazri Abdul Aziz had replied in Parliament last month that the Tunku Park was in fact within the buffer zone of the two stadiums.
"We also urge the commissioner, with the full support of the tourism minister, to designate Taman Merdeka Negara as a Heritage Site," the MPs said in a statement today.
MPs claim heritage under siege by Menara Warisan
—
At the heart of the Malaysian debate is whether this heritage district of Kuala Lumpur should be touched at all.
S-E Asia's tallest tower to rise in KL
S-E Asia's tallest tower to rise in KL
—
Malaysiakini
PNB and DBKL passing the buck on tower consultation
A proposed meeting between Warisan Merdeka developer PNB Merdeka Ventures Sdn Bhd and  groups opposing the 118-storey tower has fallen through, with PNB and Kuala Lumpur City Hall (DBKL) both passing the buck for public consultation to the other.
Last Wednesday, the PNB subsidiary sent a letter to various organisations inviting them to a closed-door briefing on the project to be held at the company's Ampang headquarters today.
However, six of the organisations who received the invitation, including Kuala Lumpur and Selangor Chinese Assembly Hall (KLSCAH), Pertahankan Taman Merdeka Negara (PTMN) and a school affected by the project, declined the meeting, saying that any briefings should be made open to the public.
In a collective letter to PNB, the group said, "We strongly disagree with the manner in which this briefing was initiated and is to be conducted. We demand that the briefing be conducted openly with the participation of all of us together."
The group went on to outline the terms of engagement to be agreed upon by PNB before any future meeting is to take place, including that the briefing be made open to the public and documents such as social and environmental impact reports be presented.
PNB and DBKL passing the buck on tower consultation
—
Malaysiakini
PNB and DBKL passing the buck on tower consultation
Malaysiakini visited the PNB office and the planned meeting venue today, and found only a small group who were holding private discussions present.
When contacted by phone, a public relations representative from PNB who declined to be named said that they thought a briefing would be held by DBKL and that they weren't certain if any future briefings by PNB would go ahead.
When contacted, an officer from DBKL media department said that as far as DBKL was concerned the development was now in PNB's hands and any public briefing should be held by them.
PNB and DBKL passing the buck on tower consultation
—–
31 July 2013We understand that various organizations, including Kuala Lumpur & Selangor Chinese Assembly Hall, had recently received letter from PNB to attend a closed door briefing pertaining to the 'Warisan Merdeka Development Project'.We strongly condemn the action of PNB by inviting individual community organization for this closed door 'briefing' as the objections to the project was collectively raised by all the concerned organizations and citizen. A closed door briefing only goes to show that the Government as well as PNB have no intention to be transparent and accountable.
In a democracy, a project that will impact and affect the community and the people at large must go through a process of consultation and participation. This is to ensure that the people's voices are heard and taken into consideration. Obviously, this is not the practice for the Malaysia government and the local authority, Datuk Bandar Kuala Lumpur.
Until now, DBKL did not call for a public hearing as required by the law, even though they have received numerous objection letters from the community as well as individual. Instead, it is the developer for the project, ie PNB, that call for this closed door "briefing" with those community organizations.
The objection letters that we submitted had fallen into deaf ear. DBKL will, nevertheless, proceed with the approval of the project.
There is no meaning for this "briefing" if the purpose of the "briefing" is for PNB to shut the people's voices. We demand transparency and we demand a say in the development of this city.
Even though written requests had been made to DBKL to produce and made public all the relevant documents, we have until today, yet to receive any response. This is irresponsible.
We call for the public to write and demand DBKL to conduct a public hearing on the project as soon as possible and to immediately release the relevant documents for public inspection. This include the Environment Impact Assessment Report, the Social Impact Assessment Report, the Soil Investigation Report, the Traffic Impact Assessment report, the Layout Plan, the Building Plan, and the Land Titles for the entire project.
Before this due process is completed, DBKL shall cease all approval for the project.
Yours,
Persatuan Keturunan Chan She Shu Yuen Kuala Lumpur & Selangor • Dewan Perhimpunan Cina Selangor & Kuala Lumpur • Persatuan Hokkien Selangor & Kuala Lumpur • Gereja Gospel Kuala Lumpur • Sekolah Menengah Confucian • Pertahankan Taman Merdeka Negara (PTMN): Pertahankan Warisan Kita • Warga Kota Prihatin Kuala Lumpur • Saya Anak Bangsa Malaysia • Sekretariat Pembangunan Kampung Baru • Pusat Pembangunan Kebudayaan Lim Lian Geok • National Indian-Rights Action Team (NIAT) • Majlis Permuafakatan Perkampungan Warisan Melayu Kuala Lumpur (MUAFAKAT) • Jawatankuasa Bertindak Kampung Kerinchi • Jawatankuasa Bertindak Kampung Railway • Persatuan Pengurusan Perkuburan Kwong Tong Kuala Lumpur • Pertubuhan IKRAM Malaysia • Rakan KL • Persatuan Kwong Siew Selangor dan WP • Tamil Foundation Malaysia • Stadium Chin Woo Selangor & Kuala Lumpur • Seniman Paksi Rakyat (PAKSI) • Persatuan Drama Kebajikan Yan Keng• Jihad for Justice
—–
A tower too far for Malaysia?
Uploaded on Oct 21, 2010
The Malaysian government is planning on building one of the tallest buildings in the world – a 100-storey commercial tower that will cost an estimated $1.6bn.
The country's prime minister says it will be "a symbol of a modern developed country", but the plan has angered thousands of Malaysians who see it as a huge waste of money.
They view it as being redundant in a country with serious economic troubles and that already has the world's largest twin buildings in the Petronas Twin Towers.
Al Jazeera's Azhar Sukri reports from Kuala Lumpur, Malaysia's capital.
[October 21, 2010]
—–
Tolak Menara 118 Tingkat • Pulangkan Taman Merdeka Negara kepada Rakyat
https://www.facebook.com/pages/Tolak-Menara-118-Tingkat-Pulangkan-Taman-Merdeka-Negara-kepada-Rakyat/113942768775620
—–
Destroyance of Merdeka Icons & Historical CommunityObjection to the proposed reclassification of the site from People's "Open space and Institution" to "Commercial" projects for PNB as it would change the cultural landscape and history of the nation forever.Apart from the 'erosion' of Merdeka Heritage Sites(Stadium Merdeka, Stadium Negara, Merdeka Park(Tunku Park), it will also affect the sur
roundings, consisting of 5 historical schools with at least 8,000 students , 7 places of worship, more than 20 cultural and societal associations and rows of historical shophouses in the surrounding vicinity, with many of them hundred year-old landmarks of Kuala Lumpur.
A project of this size and scope would negatively affect these communities due to an increase in traffic and population density causing much congestion in the area and also to the city of Kuala Lumpur in large.
—–
fz.com
Ku Nan: Warisan Merdeka will not erode heritage value of landmarks
First Published: 10:02pm, Jul 02, 2013
Last Updated: 10:02pm, Jul 02, 2013
KUALA LUMPUR (July 2): Datuk Seri Tengku Adnan Tengku Mansor said there was no need to worry about Warisan Merdeka eroding the heritage value of the neighbouring landmarks.
The RM5 billion project by Permodalan Nasional Bhd (PNB), described by the Federal Territories minister as an iconic building, will be constructed near Merdeka Stadium and Stadium Negara.
The project had sparked fears among activists and politicians over the fact that it would would damage the stadiums and other buildings nearby.
Federal Territories Minister Tengku Adnan clarified that the 118-storey tower will "enhance awareness" of the surrounding areas.
"If you go around now, the place is basically dead.
"This building, which comes equipped with shopping facilities, offices and apartments will breathe life into it (the area)," he told reporters after hosting over 100 army veterans for a high tea, here, this evening.
Read more: http://www.fz.com/content/ku-nan-warisan-merdeka-will-not-erode-heritage-value-landmarks#ixzz2YiVS94Zg
—–
WARISAN MERDEKA
The Proposed 118-storey Mega Tower, KL
The 36 acres where the tower is to be built includes what was once Tunku Park, a public park that was preserved under the National Land Code as a people's land. In 2000, PNB purchased it for development from Pengurusan Danaharta Nasional Bhd for RM310 million.
"We have no idea when the land was converted into private land," said Ngeow. According to Ngeow, documents to prove the site's conversion from public to commercial land were no where to be found.
PNB's 118-storey tower to impact heritage sites and neighbours
—–
PTMN vice-president Thasleem Mohd Ibrahim and PKR Batu MP Tian Chua have vowed to hold a big rally if the authorities insist on going ahead with the project.
"This is a warning to the mayor. If you refuse to listen to the people, we will have a big rally like Bersih and all Malaysians will come in support," said Thasleem.
Malaysiakini
Mega-tower project set to kick off, groups vow to resist
A group of affected landowners of the proposed 118-storey mega-tower have reiterated their strong objection against the controversial project following a notice issued by Kuala Lumpur City Hall (DBKL) recently.

…..
In a press conference today, Pertahankan Taman Merdeka Negara (PTMN), affected land owners and representatives from NGOs and the opposition, raised their concerns that this may open the gate for the controversial project.
According to Kuala Lumpur and Selangor Chinese Assembly Hall secretary-general Yong Yew Wei, if the City Hall did not receive any objection in the said period, the project will be given an order to start work.
Mega-tower project set to kick off, groups vow to resist
—–

…
Mega-tower project set to kick off, groups vow to resist
—–
Malaysian Insider
PNB's 118-storey tower to impact heritage sites and neighbours
Two Malaysian landmarks, the Merdeka Stadium and Stadium Negara, will be eclipsed by a 118-storey tower that will affect the landscape and lives, a group of activists and politicians said in Kuala Lumpur today.
The RM5 billion project by Permodalan Nasional Bhd (PNB), which will include other buildings, is to be developed on a piece of land that was gazetted as a People's Reserved Land. It has angered people, and not only because  Kuala Lumpur City Council (DBKL)  gave landowners 200 metres from the site 14 days to voice their complaints.
"We're disappointed that the project was planned without the consultation of the people," said Chua Tian Chang, the MP of the Batu constituency who is better known as Tian Chua.
PNB's 118-storey tower to impact heritage sites and neighbours
—–
1M Malaysians Reject 100-storey Mega Tower
We read about Mayor of Kuala Lumpur, Tan Sri Ahmad Phesal Talib's announcement on application for construction permission of 118 Mega Tower which involve 'CHANGE OF LAND USE' and 'CHANGE OF LAYOUT PLAN' from Open Space and Institution to COMMERCIAL (consisting Luxury Apartment, Hotels, Office Tower, Shopping Malls) on our National Heritage Sites – Stadium Merdeka, Stadium Negara, Merdeka Park(Tunk
u Park) which are RESERVED LAND & OPEN SPACE FOR PUBLIC.
Without any prior public hearing nor public consultation on the project, DBKL silently put up this notice last week near Stadium Merdeka, saying that he gives us 14 days to raise objection if we want.Firstly, we wonder why the applicant's name is not mentioned in DBKL notice?
Is that PNB which our PM Najib Tun Razak announced during Financial Budgeting 2011?We understand that only land owner could have made such application from the government.
We are SHOCK.
Does this means our RESERVED LAND RIGHTFULLY BELONGS TO RAKYAT had been sold to PNB?
If so, how could the government sell or give away the land that does not belongs to the government? The Government cannot legally sell it because the land legally belongs to Rakyat nor they have the right to do anything with the land other than the purpose it was reserved for.—
Indeed, if the government could simply take away open space, reserved land and convert it into a commercial lot, that would be tantamount of the government cheating the developer into complying with the rules for the purpose of profiteering from it later.BUT, RAKYAT MALAYSIA, WOULD YOU ALLOW SUCH DESTROYANCE OF OUR MERDEKA HERITAGE AND LET OUR PEOPLE'S LAND FUNNELED INTO POCKETS OF CRONIES CAPITALISTS?
Write in Objection.
Action NOW.
https://www.facebook.com/NoMegaTower
—–
Anger brewing as 118-storey mega tower project set to take off
| | |
| --- | --- |
| Harakahdaily, | 28 June 2013 |
Jun 28: Will Malaysians come out in droves to oppose the controversial mega-tower project in Kuala Lumpur, similar to how the Turkish city of Istanbul was recently rocked by protests amid opposition on a plan to develop Gezi Park?
"We only get its shadow," quips a cartoon by local cartoonist Rossem
This scenario is likely if a group of activists and NGOs opposed to the construction of the tower make good their promise to mobilise public support in their campaign to stop the mega-project.
"This is a warning to the mayor. If you refuse to listen to the people, we will have a big rally like Bersih and all Malaysians will come in support," Thasleem Mohd Ibrahim, who heads the Pertahankan Taman Merdeka Negara launched early this year, was quoted as saying by Malaysiakini, during a joint press conference today with Batu member of parliament Tian Chua and other activists.
…..
The so-called 'Warisan Merdeka' tower project – 118-storey high – was first announced by prime minister Najib Razak in his Budget 2011 in October 2010, sparking a public outcry and intense debate in the cyberworld about the wisdom of spending huge amount of money on another mega-structure in the capital.
Activists have decried that Kuala Lumpur mayor Ahmad Phesal Talib had stealthily gone ahead with the project, after City Hall put up a notice last week near the historic Stadium Merdeka. They also maintained that the project would involve the change of land status from open space and institution to commercial use.
The project, costing RM5 billion when first announced,  will be carried out by Permodalan Nasional Berhad, a government arm set up under the Bumiputra Investment Foundation chaired by Najib.
The notice by City Hall states that any objection to the project should be submitted by July 2. It also informs that the project would comprise of luxury apartments, hotel, shopping mall and office space.
Anger brewing as 118-storey mega tower project set to take off
—–
Kuala Lumpur Mayor has received an application for CHANGE OF USE OF LAND (FROM OPEN SPACE AND INSTITUTION TO COMMERCIAL) and amendment of layout plan of the Merdeka Heritage sites consisting a 5 bilion 118 storey office tower, 2 blocks of 40 storey service department, a block of 40 storey hotel. This include THE CHANGE of Reserved People's Merdeka Park, Schools, Institution and Road for COMMERCIAL
PURPOSE.
Never has a project public hearing nor public consultation eversince PM announced this so call 'Warisan Merdeka' COMMERCIAL PROJECT in 2011, now our mayor silently put up a notice board on the site and small notices on 4 printed papers, announcing that you have 14 days to make objection.Our government's land grab techniques and land use transformation has always amused us.–
For those who wanted to write in for objection, DO IT NOW and submit BEFORE 2.7.2013.Important Notes:
In most cases, the objection letters are ignored unless you:
•Post/expose your objection letter and action through medias.
•Make sure you have a copy of the letter that gets stamped 'received' by DBKL.
•Copy the objection letter to the Housing and Local Govt Ministry, Urban Wellfare Ministry, Land and Mines Ministry and PM Dept.Action now.
Save Merdeka Heritage.
Save Rakyat's lands from cronies capitalists.
————————————————————————————-