_____________________________________________________________
Someone has been hard at work overnight. The flags were spotted this morning and photos were spread on social media.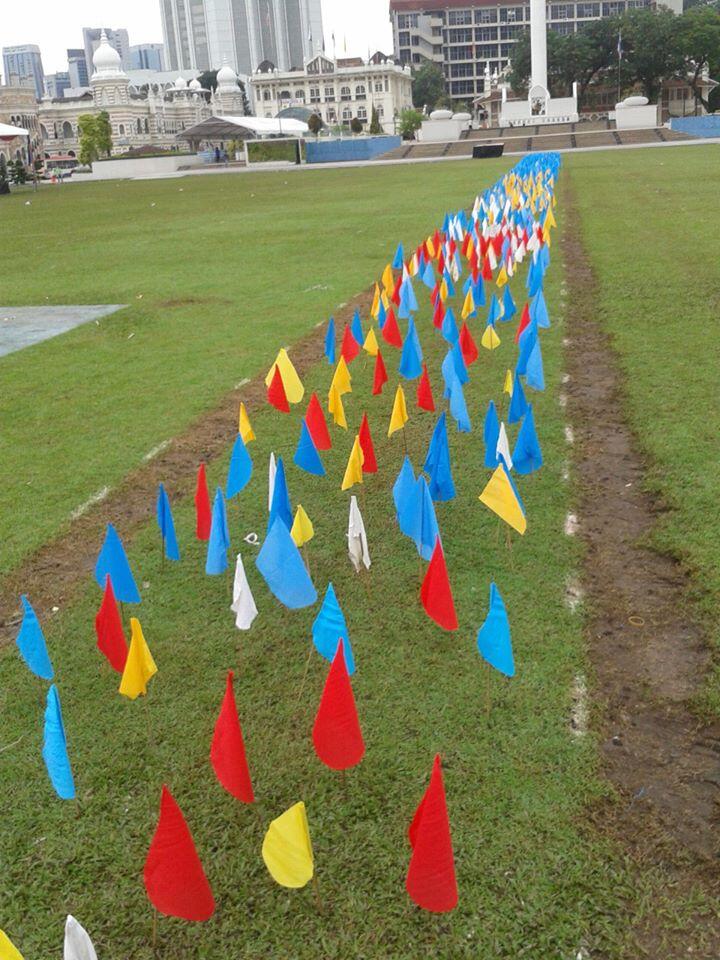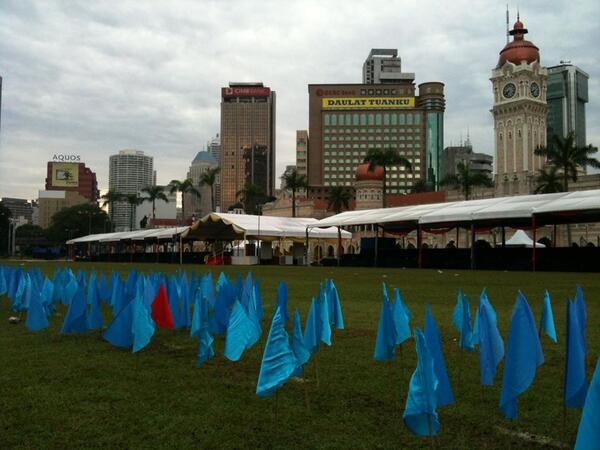 ——–
WARPED, DESPERATE MIND AT WORK: MUHYIDDIN WANTS POLICE TO PROBE MALAYSIAN SPRING!
Saturday, 04 May 2013 07:29
Muhyiddin Asks Police To Probe Allegation On Attempt To Start 'M'sia Spring'
MUAR– Deputy Prime Minister Tan Sri Muhyiddin Yassin has asked the police to investigate an allegation that small flags had been planted in the capital allegedly as the focal point of a demonstration if Pakatan Rakyat were trashed in the 13th general election.
"This allegation surfaced on blog sites and spread via text messages, claiming that if Pakatan were defeated at the polls, they will take to the street.
"Maybe this place is the starting point, I do not know. It seems they have predicted the outcome of the election, but what is feared they want to create chaos and will not accept the decision made by the people.
"So, I hope the authorities will investigate the matter and the inspector-general of police should look into the allegation. I hope this is not true. But if it is true, the police must get to the bottom of it," he told reporters after handing over letters of offer and house keys to owners of Rumah Mesra Rakyat 1Malaysia (RR1M) in Kampung Renchong, Muar, Friday.
According to several blog posts, the multicoloured flags were allegedly said to represent youth wings of Pakatan Rakyat who would converge at the focal point to start the 'Malaysian Spring' on Sunday afternoon if the election results were not in their favour.
It is a copycat attempt to topple the government similar to public uprising that swept several West Asian countries which had been dubbed the Arab Spring.
Muhyiddin said the bid to take down the government through uprising would be harmful to the country for the Barisan Nasional (BN) had always respected the people's decision at the polls.
http://www.malaysia-chronicle.com/index.php?option=com_k2&view=item&id=96752:muhyiddin-asks-polic
——–
THE LATEST VIDEO!
Published on Apr 29, 2013
Colourful "flowers" made of cloth have bloomed all over Petaling Jaya and Kuala Lumpur, symbolising the unity in the midst of diversity among Malaysians.
Malaysian springtime in Bangsar
——–
MALAYSIAN SPRING
The idea has caught on like wild fire!
Fahmi Fadzil, Nurul Izzah's political secretary, told The Malaysian Insider that she had only specifically adopted the Lucky Garden roundabout "spring" in her letter to the Kuala Lumpur mayor Datuk Seri Ahmad Phesal Talib on April 15.
"We hadn't known it was going to be bigger than that," he said, adding that Nurul Izzah would now have to list out every single area where "flowers" are being planted and officially adopt all of them as part of her re-election campaign so that they can exist.
Malaysia Chronicle
Saturday, 27 April 2013 09:01
Malaysian Spring ! 马来西亚之春!
Written by  MAILBAG
Working for Change: For a week, a group of volunteers led by Ng Sek San, Malaysia's foremost landscape architect, worked day and night to make 20,000 odd flower like flags of Pakatan and Bersih colours.
SPRING FLOWERS BLOOM
On a cool Sunday morning (14 Apr 13), residents of Bangsar, an upscale suburban in Lembah
Pantai constituency, came out in force with their MP, Nurul Izzah Anwar to usher in Malaysian Spring.
Click on the link for the rest:
http://www.malaysia-chronicle.com/index.php?option=com_k2&view=item&id=92651:malaysian-spring–马来西亚之
——–
Malaysian Insider
'Malaysian Spring' growing beyond Bangsar despite EC curbs, say residents
By Emily Ding
April 27, 2013
KUALA LUMPUR, April 27 — The "Malaysian Spring" movement of little coloured flags has grown from a roundabout in middle-class Bangsar to nearby suburbs in the city to show support for some Election 2013 candidates despite the Election Commission (EC) frowning on the practise, say Bangsar residents.
Some 16,000 multicoloured mini flags, dubbed "flowers", were planted inside the Jalan Tempinis roundabout in Lucky Garden on April 14, and adopted by PKR's Nurul Izzah Anwar as part of her Lembah Pantai re-election campaign in the May 5 general election to prevent Kuala Lumpur City Hall (DBKL) officers from uprooting them.
But an EC enforcement team have told residents that the flags in other areas are not part of Nurul Izzah's campaign and must be taken out, said Malaysian Spring founder and well-known landscape architect Ng Seksan.
"They said that they will write to us officially on Monday, but they have removed about 3,000 'flowers' in Bandar Utama and another few thousand in Damansara Perdana last night," Ng told The Malaysian Insider this morning.
——–
Click on the following! You'll  be wonderfully amazed!
Thursday, 18 April 2013
7.00pm
Lucky Garden, Bangsar.
#malaysianspring #GE13 #PRU13
——–
Bangsar Spring pt 1
Published on Apr 14, 2013
14/4/2013
Bulatan Ara Kiri, Bangsar Lucky Garden.
Hari ini dalam sejarah., warga Bangsar bangkit menentang DBKL yg berat sebelah menjalankan tugas hanya ura-ura mereka menghias bulatan rounabout dgn bendera motif menyokong BERSIH 2.0 dan Pakatan Rakyat pd masa yg sama menutup mata terhadap pencabulan undang2 yg di buat oleh BN dgn bendera dan signboard mereka yg merata2 tanpa halangan DBKL., hari ini warga Bangsar menang menentang apparatus pemerintah dan bendera flora kecil di pulangkan walaupun sudah di rampas masuk ke van DBKL oleh pegawai2.
——–
Published on Apr 14, 2013
Inilah hakikatnya., bila Rakyat bangkit hak dan bendera mereka di pulangkan walaupun sudah di rampas DBKL ke dalam van mereka.
Bangsar Spring pt 2
——–
Dear Friends, let's have a picnic date, at Lucky Garden's roundabout 🙂 – join Seksan at 5pm aye!
15 April 2013: Surat Aduan Kepada Datuk Bandar Kuala Lumpur berkenaan percubaan untuk mencabut 16,000 bendera pelbagai warna di bulatan Taman Lucky, Bangsar.
Bangsar folk fight DBKL to keep their Malaysian 'Spring' http://www.themalaysianinsider.com/malaysia/article/bangsar-folk-fight-dbkl-to-keep-their-malaysian-spring/
Malaysian Insider
"Some monkeys up there must have given orders to these DBKL people. I don't blame these DBKL men," he said.
"To me, Nong Chik has done the worst things. He is the one ruling this wilayah. He can do anything. As an old man, I'm very sad about this country."
Bangsar folk fight DBKL to keep their Malaysian 'Spring'
KUALA LUMPUR, April 16 — Angry Bangsar residents reclaimed their right to free expression last weekend at a roundabout in Lucky Garden here by replanting 16,000 mini flags Kuala Lumpur City Hall (DBKL) officers had dismantled.
A group of citizen volunteers, led by landscape architect Ng Seksan, had planted the multicoloured "flowers" at the Jalan Tempinis roundabout on Sunday morning with PKR Lembah Pantai MP Nurul Izzah Anwar after a walkabout campaign at the wet market, only to have them dismantled at about 5.30 the same evening.
"A lot of residents saw what was happening and came out to protest, and after long negotiations, the DBKL officers relented and decided to leave," Seksan told The Malaysian Insider.
"The residents were very angry and were shouting at the DBKL men, and even cars driving along the roundabout were horning in protest too. It got quite rowdy," he said, but added that there were no violent exchanges.
He said eight DBKL officers had been sent to remove the flags, and about 40 nearby Bangsar residents had come out to protest.
"They were mak ciks and uncles and anybody that was there in the area. I didn't know them," he said.
Seksan said he had been about to take the removed flags back with him, but the residents had stopped him and said they would help him replant the "flowers".
http://www.themalaysianinsider.com/malaysia/article/bangsar-folk-fight-dbkl-to-keep-their-malaysian-spring/
———————————————————————