..
AP News
The superspreaders behind top COVID-19 conspiracy theories
By DAVID KLEPPER, FARNOUSH AMIRI and BEATRICE DUPUYFebruary 15, 2021
.
GREATGAMEINDIA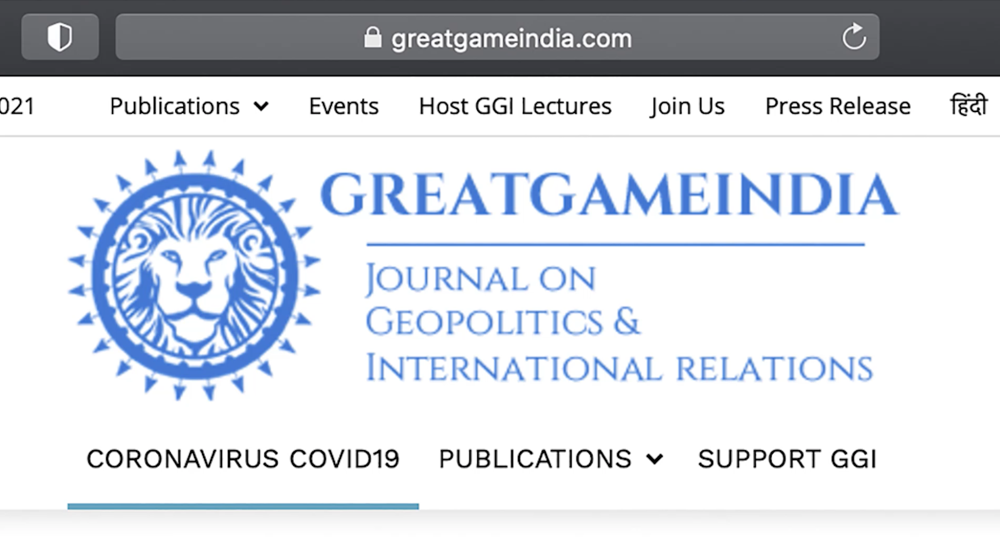 WHAT IT IS: A website that was an early promoter of the theory that the coronavirus was engineered.
Its Jan. 26, 2020, story on "Coronavirus bioweapon-How China Stole the Coronavirus From Canada and Weaponized It" was picked up by far-right financial blog Zero Hedge and shared to thousands of social media users before it was promoted by conservative website RedStateWatcher and received more than 6 million engagements.
COVID CLAIM: GreatGameIndia claims that the virus, which has now killed more than 2 million people worldwide, was first found in the lungs of a Saudi man and then sent to labs in the Netherlands and then Canada, where it was stolen by Chinese scientists. The article relies in part on speculation from Dany Shoham, a virologist and former lieutenant colonel in Israeli military intelligence.
Shoham was quoted discussing the possibility that COVID is linked to bioweapon research in a Jan. 26, 2020, article in the conservative U.S. newspaper The Washington Times. In that article, Shoham was quoted saying there was no evidence to support the idea that the virus has escaped from a lab, but GreatGameIndia did not include that context in its piece.
"We do stand by our report," said website co-founder Shelley Kasli wrote in an email. "In fact, recently Canadians released documents which corroborated our findings with Chinese scientists… A lot of information is still classified."
EVIDENCE? The coronavirus most likely first appeared in humans after jumping from an animal, a World Health Organization panel announced this month, saying an alternate theory that the virus leaked from a Chinese lab was unlikely.
America's top scientists have likewise concluded the virus is of natural origin, citing clues in its genome and its similarity to SARS, or severe acute respiratory syndrome. Vincent Racaniello, a professor of microbiology and immunology at Columbia University, who has been studying the virus since its genome was first recorded, has said it is clear that the virus was not engineered or accidentally released.
"It is something that is clearly selected in nature," Racaniello said. "There are two examples where the sequence tells us that humans had no hand in making this virus because they would not have known to do these things."
For more:
https://apnews.com/article/conspiracy-theories-iran-only-on-ap-media-misinformation-bfca6d5b236a29d61c4dd38702495ffe
..
WIRED
Mar 19, 2020 9:00 AM
How One Particular Coronavirus Myth Went Viral
From an obscure Indian site to ZeroHedge to, well, everyone, here's the trajectory of a fake story about Covid-19.
.
Until January, GreatGameIndia.com—an Indian website that bills itself as a "Journal on Geopolitics and International Relations"—was a microscopic blip on the internet, reaching just 30,000 to 50,000 visitors a month. It published numerous conspiracy theories about anything from Indian politics to the 2014 crash of Malaysian Airlines Flight 17 in Ukraine. In contrast, CNN.com has more than 500 million page views a month, and a local newspaper such as the South Florida Sun-Sentinel has more than 4 million monthly page views, according to web analytics firm SimilarWeb.
That changed on January 26, when Great Game India published an article about the origins of the novel coronavirus. The article was called "Coronavirus Bioweapon–How China Stole Coronavirus From Canada And Weaponized It." The article claimed that two Chinese spies smuggled the virus from a lab in Winnipeg to a military lab in Wuhan, where the virus "leaked" out and began infecting people. (Great Game India did not respond to multiple requests for comment.)
According to NewsWhip, a social media analytics platform, that first article in what would become a misinformation bandwagon received only 1,600 likes, shares, or comments on social media. But later that day, ZeroHedge reposted the article, word-for-word, adding a hint of speculation in the headline: "Did China Steal Coronavirus From Canada And Weaponize It?" The true answer, of course, is no, but the provocative headline begs readers to click and read—and share—the lengthy conspiracy theory, which reaches the conclusion that Chinese spies did steal the virus from the Canadian lab.
ZeroHedge started as a financial blog in 2009, created by a Bulgarian hedge fund analyst who was barred from the U.S. financial industry in 2008 for insider trading. The site is now best known for its pro-Kremlin commentary and false stories about Hunter Biden that spurred waves of right-wing misinformation during the impeachment hearings last fall. ZeroHedge currently ranks in the top 900 sites in the US, and its article about the Canada-China coronavirus myth garnered more than 24,500 social media engagements, more than 15 times what the original post on Great Game India received.
Also that day, ZeroHedge's post caught the eye of someone at RedStateWatcher.com, which immediately reposted ZeroHedge's story. The anonymously operated conservative site regularly reposts false content from other unreliable right-leaning sites.
Red State Watcher is among the 140 most popular sites in the US. Its Facebook page— @DonaldTrump4President—has more than four million followers (though NewsGuard did not find the coronavirus hoax article shared on this Facebook page). Because of cooperation between some of the internet's most egregious misinformation sites, Great Game India's post had reached exponentially more readers than any story on that site could do on its own.
.
Soon the false story that originated on an obscure website in India began to appear on platforms such as Reddit and on many Facebook and Twitter feeds. Now, weeks after the original post, this story has appeared in the social media feeds of countless Americans. So long as social media platforms continue to fail to warn their users about the nature of sites promoting misinformation, it will remain easy for even a small group of unreliable sites to hijack social media to amplify misinformation.
For more:
https://www.wired.com/story/opinion-how-one-particular-coronavirus-myth-went-viral/
..
Great Game India, Operation Infektion, and Coronavirus Origin …
https://www.logically.ai › great-game-india-covid-myths
6 Apr 2020 — In this in-depth report, we explore a persistent coronavirus origin myth – that it is a leaked bioweapon – tracing it back to a little-known …
Great Game India, Operation Infektion, and Coronavirus Origin Myths.
Published: Apr 6, 2020 4:41:24 PM
Co-ordinated disinformation around the origins of infectious diseases is nothing new. In 1983, under the codename Operation Infektion, the Soviet Union began a years-long campaign to seed the idea that the US had manufactured HIV/AIDS at a military lab in Fort Detrick, Maryland. The story was originally published in a fringe pro-Soviet newspaper in India as an anonymous letter to the editor which served as the baseline for further reporting years later, all referring back to the letter. Later, the Soviet Union bolstered the claim with a scientific report by husband and wife Biologists Jakob and Dr. Lilli Segal who suggested that the AIDS virus was synthesised from two separate retroviruses. Further into the report, they stated that their hypothesis is based on extrapolations and no concrete data, but maintained this was enough evidence for it to be credible. The 'long game' played by the Soviets with tenuous evidence by experts had paid off. By the late 80s, variations of the story had appeared in over 80 countries – eventually being read out on US prime-time news. To this day, the belief persists in the US, especially among the African-American community, that AIDS was engineered by the government. Though Operation Infektion is the most famous and analysed case, similar speculation about engineered biological weapons ran rife in the case of Swine Flu, Bird Flu, and SARS – though now, such claims are ripe to be spread at an accelerated rate via the Internet. This history of speculation leads us to the current Coronavirus crisis.
The story of this specific viral COVID-19 origin myth requires us first to look at a known far-right conspiracy website "Zero Hedge", an Austrian financial blog that started out with libertarian leanings before branching out into non-financial news and openly espousing alt-right viewpoints and conspiracy theories.
.
About Great Game India
Great Game India is a blog-style news website that publishes a mixture of current affairs reports on "on geopolitics and international relations" and historical investigative pieces. Though well-presented, a cursory glance at subheadings reveal the conspiracy theories underpinning the site's reporting and worldview. Under "Science & Society" we find "Mind Control" and under "Intelligence & Espionage" we quickly find "Demonetization – War on Cash". In addition to their main site, Great Game India also runs gginews.in, a more conventional news outlet covering a wide range of geopolitical issues related to India, with backlinks to Great Game India's main website.
Great Game India bills itself as a "journal on geopolitics and international relations" – though the print version of the journal has been "suspended temporarily" since June 2017 and complaints have been lodged against the website for not sending copies of their journals out. The journal issues are behind a paywall, but contents are viewable. GGI is clearly intending to portray itself as a serious scholarly venue, but it lacks several key features of basic transparency and accountability associated with academic research; authors are not named and there is no information on review processes or editorial policy.
GGI also heavily publicise a book "from their editors"; India in Cognitive Dissonance – self-published through Notion Press in February 2020. This text is billed as a "hard-hitting myth-buster, a timely reminder for the decadent Indian society; a masterpiece on Geopolitics and International Relations from an Indian perspective". Though the book has an average of four out of five stars on goodreads, albeit from three reviews, it has received a notably damning review on Amazon.in.

The IP addresses referring to both Great Game India and GGINews are hosted by Website Welcome in the US. Website Welcome is the company responsible for Hostgator's private name servers. Consensus from WhoIs.com, WebofTrust, and /r/webhosting is that "as long as they get paid, they don't care what is hosted on their servers". There are numerous reports of phishing and spam alongside legitimate businesses hosted on Website Welcome.
The "Stolen Canadian SARS Sample" conspiracy
Why did an article from a little-known Indian conspiracy website with an out-of-print journal and a self-published book of dubious quality go viral when compared to stories of a similar theme from other websites or personalities?
Key here is the construction of the story that went on to be republished by Zero Hedge. In a move lifted from the Marvel Studios playbook, Great Game India had distributed their COVID-19 origin story across a variety of texts, publishing numerous articles before posting the piece in question: Coronavirus Bioweapon – How China Stole Coronavirus From Canada and Weaponized It. This article, despite being two months old, is still a pinned post at the top of their homepage. Since its publication, they have inserted backlinks to older articles and published approximately 30 supplementary articles using their bioweapons claims as a base to construct a timeline for this conspiracy.
The viral article contains a Wikipedia-like contents panel, giving their assertions a sense of concrete structure and logical flow: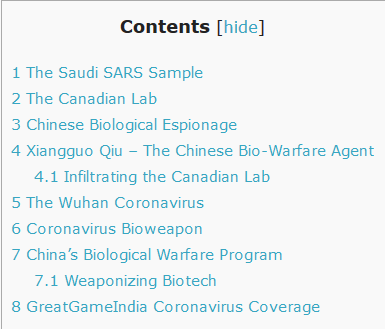 Great Game India begins their construction of the article by establishing credibility with a link to a peer-reviewed medical paper: 'Isolation of a novel coronavirus from a man with pneumonia in Saudi Arabia' in the New England Journal of Medicine. They then link to an article from 16/05/2013, Canadian Lab Acquires Coronavirus Sample, that had been lifted word-for-word from an article published two days prior by Helen Branswell of The Canadian Press, though no credit is given. A small line of text indicates that this article had been modified on 12/02/2020 to link to Great Game India's Coronavirus articles and to weave this news into the narrative they assembled.
Much of the rest of the viral article is constructed in the same way, backlinking to previous Great Game India reporting, often using other news outlets as a source (often CBC), and sensationalising claims to fit their constructed narrative. A particularly egregious example is their reporting on Dr. Frank Plummer, a renowned HIV/AIDS researcher who died in Kenya shortly after Great Game India's viral article was published. CBC reported on his death and gave information about his life, while Great Game India, despite linking to CBC's story, ran the headline Frank Plummer – Canadian Scientist Key To Coronavirus Investigation Assassinated In Africa?Beyond the headline, there is no further reference to assassination or evidence given to support the claim. Similar sensationalising and conjecture can be found across their report. For instance, the Chinese researchers to which their story refers were ejected from the Canadian laboratory due to an administrative error. Great Game India reported on this as such, but with "administrative error" marked in scare quotes, and linking this incident to the unrelated arrest of Huawei executive Meng Wangzhou by Canadian authorities. As shown in the table of contents above, they frame this sequence of events as "Chinese Biological Espionage."
Great Game India's viral article and wider reporting on Coronavirus is constructed in a way to mask elements of truthful reporting and legitimate sources through a network of links back to their own website. These backlinks often land on tagged article lists, repeat to link back to the same article, or otherwise keep readers on Great Game India's website rather than leaving to assess the sources they (rarely) link to.

For more:

https://www.logically.ai/articles/great-game-india-covid-myths
..