..
It's false to accuse Guan Eng of destroying Tabung Haji
Mohd Sheriff Mohd Kassim Published: Feb 23rd, 2020
COMMENT | The sale of the four Lembaga Tabung Haji hotels to a Ministry of Finance Inc special purpose vehicle (SPV) called Urusharta Jamaah Sdn Bhd has been manipulated by racists to accuse Finance Minister Lim Guan Eng as being involved in a DAP conspiracy to destroy Tabung Haji, the biggest Islamic institution in the country.
Hate messages are circulating in social media to call for Lim to be killed, according to an article in The Edge Malaysia.
They are saying DAP wants to bring down the Malays.
While de facto Islamic Affairs Minister Mujahid Yusof Rawa has been quick to explain why the sales were made to the special purpose vehicle, other Pakatan Harapan ministers have preferred to stay silent against the serious threats against Lim. This is not fair to him.
For the information of the public, the Urusharta Jamaah SPV is modelled after Danaharta Modal Sdn Bhd, which was set up after the 1997/98 financial crisis as a rescue operation to save businesses which were being threatened with insolvency and bankruptcy as the banks struggled with their debt crisis.
The Danaharta rescue provided the companies with breathing space to reform and reorganise their businesses until they became healthy again to repay their debts and retake their assets.
Danaharta was internationally praised for its successful rescue operation. After its mission was accomplished, Danaharta was closed down.
It had served its role as an SPV of MoF Inc, with a beneficial impact on the corporate sector and the economy.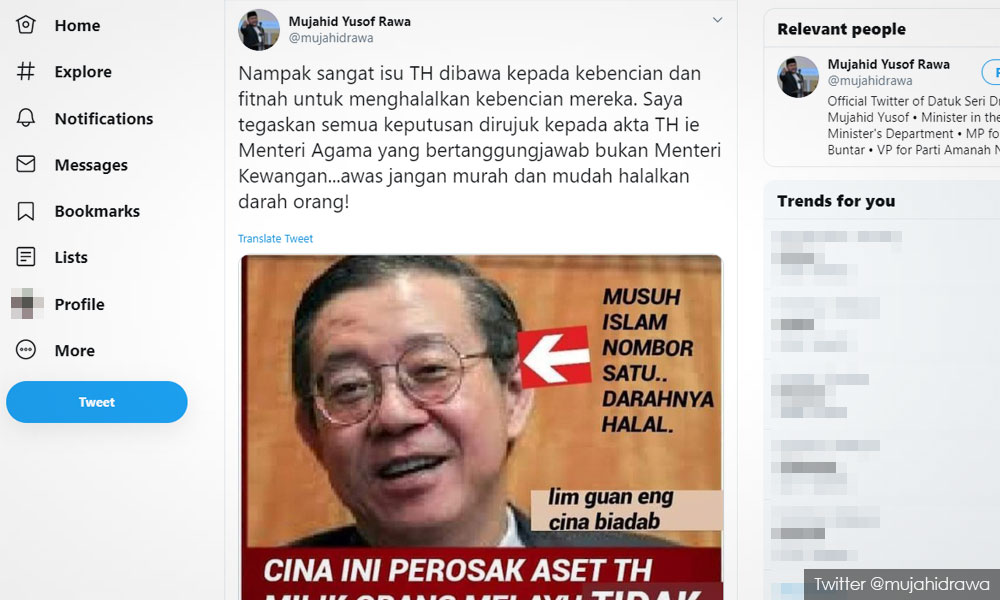 The SPV for helping Tabung Haji to revive its non-profitable assets like the four hotels, the shipyard etc was set up with the same modus operandi as Danaharta.
It's also an MoF Inc entity like Danaharta. It has its own management team and is governed by its own board.

As it is MoF Inc-owned, naturally the finance minister and Treasury civil servants must have a say on its governance.
It had to give the approval for Urusharta to raise sukuk to pay Tabung Haji for the assets it bought over, including the four hotels.
Later, when the four hotels have restructured into profitable operations, they will be transferred by selling them back to Tabung Haji.
Thus, it is completely false to accuse Lim of using the SPV to destroy Tabung Haji.
In fact, Lim should be praised for providing the ministerial support to Urusharta Jamaah so that Tabung Haji's assets can be restored to their market value.
For information also, the Danaharta rescue model, which was adopted for Urusharta Jamaah, was based on the Swedish model for asset recovery.
---
MOHD SHERIFF MOHD KASSIM is a former managing director of Khazanah Nasional Berhad and former chief secretary of the Finance Ministry.
The views expressed here are those of the author/contributor and do not necessarily represent the views of Malaysiakini.
https://www.malaysiakini.com/news/511914
..