..
Excerpts from:
Wife of Malaysian ex-PM Najib's 10-day trial marked by screaming matches and crying supporters
Rosmah Mansor, the self-styled former 'First Lady of Malaysia', married to disgraced former PM Najib Razak, faces 20 charges including money laundering
Her trial has also featured claims of emergency medical situations and shouting matches between her lawyer and the lead prosecutor
Published: 12:00pm, 21 Feb, 2020
Updated: 10:05pm, 21 Feb, 2020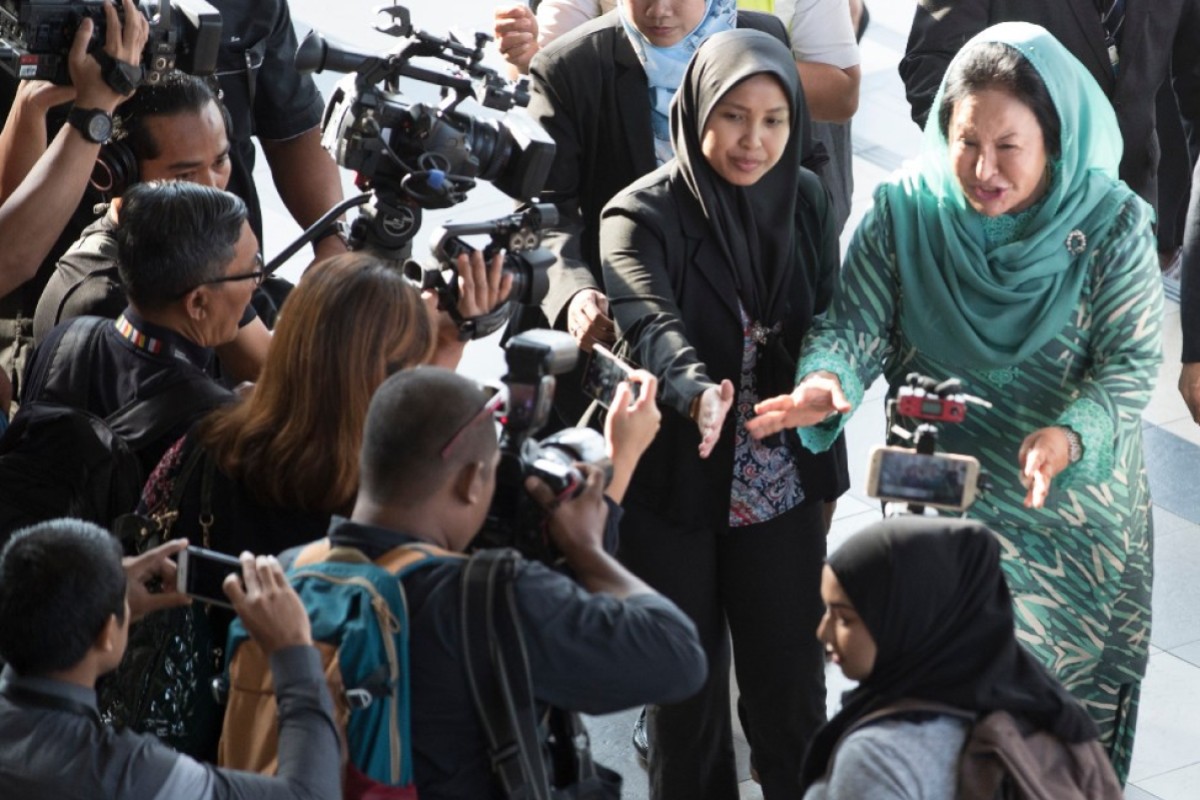 Rosmah Mansor. Photo: AP
The trial of Rosmah Mansor, the self-styled former "First Lady of Malaysia", has been adjourned until March 9, after 10 days of proceedings marked by explosive witness statements on multimillion-ringgit cash withdrawals, emergency medical situations and crying supporters outside the courthouse.Witnesses in Rosmah's trial have claimed that the wife of disgraced former prime minister Najib Razak had pushed to expedite the solar energy project related to the bribes she is charged with receiving, with a witness on Thursday saying his business partner had told him a sum of 5 million ringgit (US$1.2 million) withdrawn from a bank was for someone called "RM".
A screaming match broke out between Rosmah's lawyer Jagjit Singh and lead prosecutor Gopal Sri Ram on Thursday over the latter's supposed hearing difficulties, after Sri Ram asked a witness to speak up as he was "deaf".
Later, when Jagjit attempted to clarify a point during questioning, Sri Ram accused Jagjit of sleeping, only for Jagjit to tell him off loudly. This led to Sri Ram asking him not to shout, and Jagjit snapping back: "I am shouting because you yourself said that you are deaf."
"Don't ever cry … You are all made of better stuff," she told several women on Wednesday. Last week, proceedings were adjourned early after Rosmah refused to leave the courtroom at lunchtime, claiming she felt unwell.
.
.
The court also heard from another witness that during Najib's nine-year stint in power, Rosmah had a First Lady of Malaysia (FLOM) division created for her directly under the prime minister's office.
"Prior to Najib's administration, the wives were only given the help of a private secretary to coordinate the programmes of the prime ministers that required their attendance. Before this, the FLOM division never existed within the prime minister's office," said Huzairi Zainal Abidin, who was director of secretariat and services management in the prime minister's office at the time.
.
.
On another date, Rosmah's husband Najib – who is himself facing over 40 corruption charges linked to the 1Malaysia Development Berhad (1MDB) financial scandal, and is facing trial in a neighbouring courtroom – was asked to leave court when he entered to visit his wife in the dock and provide moral support.The former leader was asked to remove himself as he was a potential witness in Rosmah's case, in which she stands accused of three counts of dishonestly soliciting 194 million ringgit (US$46.8 million) in bribes connected to contracts for a solar project involving more than 350 rural schools in the state of Sarawak.
https://www.scmp.com/week-asia/politics/article/3051703/wife-malaysian-ex-pm-najibs-10-day-trial-marked-screaming
..
..