..
..
..
..
Caught on video: Toddler lands on PLUS highway… from moving car
By Mohd Amin Jalil – February 11, 2020 @ 7:13pm
SEREMBAN: A two-year-old boy was flung out of a car and landed on the fast lane of the North-South Highway (PLUS) after the vehicle he was in was rammed by another car.
The incident took place around 3.20pm yesterday at KM 235.5, of the north-bound Ayer Keroh Melaka-Senawang stretch of the highway.
It is understood that the incident occurred as a result of a race between two other vehicles, a Honda Jazz and a Perodua Myvi.
Negeri Sembilan Traffic Police (Investigation and Enforcement) Department chief, Superintendent Ibrahim Abd Kadir, said white Myvi, in the left lane, was engaged in dangerous driving with the Honda, which was in the far right lane.
"One of the cars suddenly changed direction and veered towards a Honda Civic, which was in the middle lane.
"This startled the driver of the Civic, who lost control of his vehicle and rammed into the metal road divider, before bumping into the rear of another car in the middle lane.
Kanak-kanak dua tahun terjatuh ditengah lebuhraya Plus, arah selatan akibat dua kenderaan dipandu secara merbahaya – Polis



Orang awam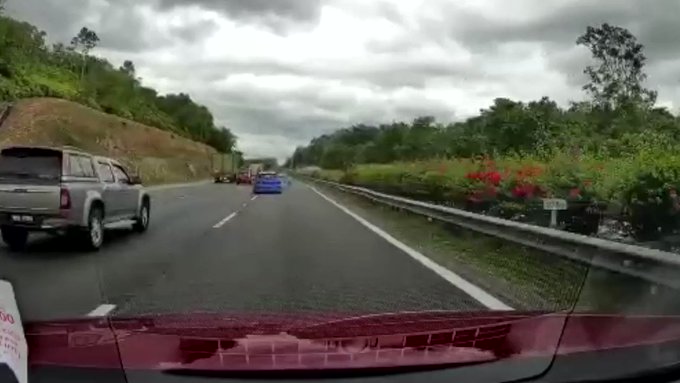 1,171Twitter Ads info and privacy2,120 people are talking about this
"As a result of the crash, a passenger in the Civic, a two-year-old boy, was thrown out of the car and landed in the fast lane.
"The victim was taken to the Tuanku Jaafar Hospital (HTJ), Seremban for treatment," he said.
It is understood that the boy, who was in his mother's lap in the front passenger seat, was thrown out of the window as a result of the impact.
Ibrahim said investigations have identified the two vehicles which were being driven recklessly. Action, he said, will be taken under Section 42(1) of the Road Transport Act 1987.
"Upon conviction, offenders can be jailed for a maximum of five years and fined no less than RM5,000 and a maximum of RM15,000," he said.
A 59-second video recording of the incident via a dashboard camera has since gone viral on social media.
https://www.nst.com.my/news/nation/2020/02/564663/caught-video-toddler-lands-plus-highway%E2%80%A6-moving-car
..
KUALA LUMPUR: "Mereka asyik menangis dan ia memang menyedihkan," demikian kata saksi yang dikenali sebagai 'Chang' ketrika mengimbas kembali detik-detik mendebarkan membabitkan insiden seorang kanak-kanak lelaki yang tercampak keluar dari kereta di Lebuhraya Utara Selatan (PLUS), pada Isnin.
Menurut Chang, 30, yang juga pemilik akaun Facebook Alan Chang, kejadian berlaku begitu pantas dan mengejutkan memandangkan dia tidak pernah berdepan dengan insiden sedemikian sebelum ini.
"Masa itu saya dengan isteri terkejut dan tertekan sebab pertama kali kami tengok kejadian seperti itu. Nasib baik ada abang-abang lori dan mereka turun dengan cepat untuk papah kanak-kanak itu sebelum serahkan kepada ayah mangsa.
"Seorang lagi mangsa yang memandu kereta Perodua Myvi warna kelabu merupakan seorang doktor dan dia membantu merawat kanak-kanak itu di tepi jalan."Ada juga penunggang motosikal dan pemandu lain memberhentikan kenderaan mereka untuk menjaga laluan trafik," katanya ketika dihubungi Astro AWANI, hari ini.
Menceritakan lebih lanjut, Chang berkata walaupun kanak-kanak itu tidak mengalami kecederaan serius, namun keadaan ketika itu begitu getir dan sebak.
Chang memaklumkan berada di lokasi kejadian bersama pengguna jalan raya lain sekitar 30 minit bagi menghulurkan bantuan, selain menenangkan keluarga mangsa.
"Saya pun rasa sangat tension dan sedih sebab ibu bapa dan anak-anaknya sangat takut. Mereka asyik menangis dan memang menyedihkan melihat keadaan mereka.
"Tetapi susah nak buat apa sebab kami pun sedang menunggu ambulans datang dan nasib baik ada Dr Chong. Dia membalut (luka) kanak-kanak itu," ujarnya.
Chang yang juga pemilik rakaman 'dash cam' kejadian memberitahu telah membuat laporan polis di Balai Polis Kepong sebaik tiba di Kuala Lumpur, semalam.
Justeru, dia menasihatkan agar pengguna jalan raya tidak memandu dalam keadaan berbahaya sehingga boleh mengancam nyawa orang lain.
Terdahulu, rakaman video berdurasi selama 59 saat yang dirakam menggunakan 'dash cam' tular di laman sosial.
Menerusi rakaman itu, dua pemandu kereta jenis Perodua Myvi kelihatan berlumba dan menukar lorong sesuka hati sebelum menghimpit kereta Honda Civic mengakibatkan pemandu tersebut hilang kawalan lalu melanggar penghadang jalan.
Akibat perlanggaran itu, seorang penumpang kanak-kanak lelaki yang berada di dalam kereta Honda Civic telah tercampak keluar dan terjatuh di atas lorong kanan lebuh raya.
Kemalangan berlaku di Kilometer 235.5 Lebuhraya PLUS Ayer Keroh-Senawang arah utara dekat Seremban.
Menurut Ketua Polis Daerah Rembau, Deputi Superintendan Anuar Bakri Abdul Salam, kes kini disiasat mengikut seksyen 42 (1) Akta Pengangkutan Jalan (APJ) 1987.
http://www.astroawani.com/berita-malaysia/mereka-asyik-menangis-dan-memang-menyedihkan-saksi-insiden-budak-tercampak-atas-lebuh-raya-plus-230444